operation bluestar
Ex-RAW official confirmed UK role in book: Dal Khalsa
Amritsar, January 15
Radical Sikh outfit Dal Khalsa today claimed that former R&AW officer B Raman had also revealed in his book that officers of the British Security Service (MI-5) visited the Golden Temple to assess the ground situation before giving their advice to then Indian Prime Minister Indira Gandhi prior to Operation Bluestar in 1984.
Factionalism to fore as YAD leaders clash during protest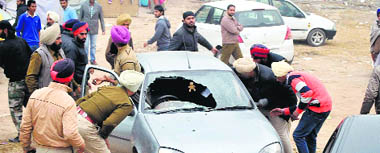 Fatehgarh Sahib, January 15
A dharna in front of the Deputy Commissioner's Office led to a clash between two warring factions of the Youth Akali Dal (YAD) each led by Harinder Pal Singh Chandumajra, national general secretary, and Ajay Libra, district president.

Police personnel arrive after a clash between two groups of YAD in Fatehgarh Sahib on Wednesday. — PTI

Wanted YAD leader spotted with Rakhra
Patiala, January 15
The district police today failed to arrest Youth Akali Dal Patiala president Capt Preetinder Singh, booked in an attempt to murder case a week ago, even as the latter led a protest here.



Rural Development Minister Surjit Rakhra (blue turban) with Patiala YAD chief Preetinder Singh (right) at a protest in Patiala on Wednesday. Tribune photo: Rajesh Sachar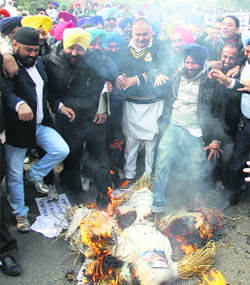 Akalis hold statewide protests; lay siege to Bajwa's house
Qadian (Gurdaspur), January 15
A large number of Youth Akali Dal (YAD) activists, led by the outfit's national general secretary Jagroop Singh Sekhwan, laid a siege to the palatial bungalow of Punjab Pradesh Congress Committee (PPCC) chief Partap Singh Bajwa here today.








Akali Dal supporters hold a protest against PPCC chief Partap Singh Bajwa in Fazilka on Wednesday. Tribune photo

Rajpura farmers demand land back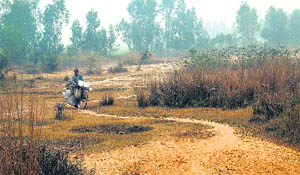 Patiala, January 15
Hundreds of residents of eight villages of Rajpura, whose land was acquired to set up an industrial estate in 1994, today held a protest march outside the office of Patiala Deputy Commissioner, demanding the state government reclaim the unutilised land and hand it back to the farmers.


The vacant land near the Rajpura highway which was acquired by the state government to set up an industrial estate. Tribune photo: JS Virdi

Cong link Dhindsas' relative to Dawood
Chandigarh, January 15
A day after SAD secretary general Sukhdev Singh Dhindsa levelled allegations against PPCC president Partap Singh Bajwa, Congress leaders hit back at him today.


youth cong takes to streets: Policemen stop protesting Punjab Youth Congress workers, led by unit president Vikramjit Chaudhary, from entering the tehsil complex in Jalandhar on Wednesday. They demanded a CBI inquiry into the alleged involvement of SAD minister Bikram Majithia in the drug racket. Tribune photo: Sarbjit Singh
Congress 'chakka jam' protest today
Patiala, January 15
The Punjab Congress will hold a two-hour "chakka jam" protest in support of their demand for expulsion of Revenue Minister Bikram Singh Majithia and a CBI probe into the multi-crore drug racket across the state tomorrow.
BSP bid to stop BJP's 'samman yatra' foiled
Hoshiarpur, January 15
BJP SC Morcha national president Sanjay Paswan today said the party respected great leaders of the SC community from any party. He said Kanshi Ram was a great leader of the community in north India and that he was a saint, which is why they had organised a "samman yatra" for him. "If the BJP comes into power, we will recommend it to bestow the prestigious Bharat Ratna award to him just like Dr Ambedkar," he said.
Moga MLA trying to take control of truck union: SAD leader
Moga, January 15
Two groups of the Moga Truck Operators' Union have turned against each other after local MLA Joginder Pal Jain announced Jagroop Singh Takhtupura as the union president without holding any election.
Verka finds support against CBI probe
Amritsar, January 15
A day after Congress MLA Rajkumar Verka opposed a CBI probe into the drug racket, a group of Congress leaders from Majha region, including Verka, today demanded that its investigations be handed over to a commission headed by a retired Supreme Court Judge.



SGPC panel submits report on Patna clash
Amritsar, January 15
The SGPC probe panel, which had been to Patna to investigate into the recent violent clash at Takht Sri Patna Sahib, today submitted its report to SGPC chief Avtar Singh Makkar.
Bhola now in Phagwara police custody
Jalandhar, January 15
Taking big names in the multi-crore drug racket is likely to cost dismissed DSP Jagdish Bhola dear. The Punjab Police, it seems, is gearing up to book him in multiple cases.
PSPCL-NHAI tug of war delays widening of road
Jalandhar, January 15
With the National Highway Authorities of India (NHAI) and the Punjab State Power Corporation Limited (PSPCL) being at loggerheads over certain charges, the widening of 102-km Pathankot-Amritsar National Highway 54 has been delayed. The project is said to cost Rs 705 crores.
PSEB secy's selection caught in row
Mohali, January 15
After four months of appointing secretary of the Punjab School Education Board (PSEB), an apparent war of words continues between the board and office of Principal Secretary (Education) over the verification of the selected candidate's M. Tech degree and his administrative experience.
Milkha Singh's statue to be unveiled at Ludhiana village
Bathinda, January 15
In a first, a 16-feet statue of athlete Milkha Singh will be installed at a stadium in Jarkhar village in Ludhiana this week. Milkha Singh would unveil 16-feet statues of him and hockey legend Dhyan Chand.
Govt-aided school teachers' demands under review: Maluka
Fatehgarh Sahib, January 15
Punjab Education Minister Sikander Singh Maluka has assured teachers of government-aided schools that either they would be merged with their government counterparts or the school managing committees would be allowed to fill the vacant posts.
Unemployed ETT teachers block roads in Barnala
Barnala, January 15
Hundreds of unemployed ETT (EGS and AIE) teachers, who have been agitating since December 16 at Cheema village (near Barnala) to get regular jobs, today blocked traffic at the Bathinda T-point here and raised slogans against the state government.
59 licences cancelled, 123 cases registered under PNDT Act: Jyani
Hoshiarpur, January 15
State Health and Family Welfare Minister Surjeet Kumar Jyani today said the Health Department had taken strict action under the Pre-Natal Diagnostic Techniques (PNDT) Act to curb female foeticide in the state.
Theatre artistes campaign against female foeticide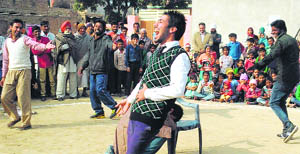 Abohar, January 15
Theatre artistes took to rural roads to voice against female foeticide. Their five-day campaign, supported by the Punjab Sangeet Natak Academy and the North Zone Cultural Centre under the Beti Bachao Abhiyan, aimed at urging people to stop the menace.

Theatre artistes stage a street play, drawing a large crowd at a village in Abohar. A Tribune photo

GNDU to fund research in Canadian institutions
Amritsar, January 15
From now on, any PhD student of the GNDU who wish to visit any institute in Canada for research will be provided free return ticket by the university.



Alberta Premier keen on economic ties with state govt
Amritsar, January 15
Canada's Alberta Province Premier Alison Redford has said that her state is keen on strengthening economic ties with India, particularly Punjab, through industry-to-industry linkages, knowledge sharing and increased trade and investment.




Canada's Alberta Province Premier Alison Redford at the Golden Temple in Amritsar on Tuesday. Tribune photo: vishal kumar

How many errant cops penalised, HC asks state
Chandigarh, January 15
The Punjab and Haryana High Court is tightening the noose around policemen and jail officials involved in drug racket in Punjab. A Division Bench of the High Court has asked the state of Punjab to elaborate upon the number and particulars of errant cops and officials and the departmental action initiated against them.



Missing girl returns, alleges rape
Abohar, January 15
The girl who had gone missing from Nai Abadi on January 10 returned home today and alleged that she was raped by a neighbour.