Jyoti Murder Case
Another witness turns hostile
Panchkula, January 15
In yet another setback for the prosecution, another witness turned hostile today in the Jyoti murder case stating that he does not know anything about the case and the police never recovered the Altis car used in the crime by the accused to reach Panchkula to execute the murder, from his residence.
HP restricts ammonia use in fertilisers
Solan, January 15
With the Centre restricting the use of ammonia in various fertilisers by introducing the Ammonia Control Order, 2012, following reports of its use by anti-social elements to make explosives, the state government has banned its use from January 7.
Complete project reports in time: CM to officers
Shimla, January 15
Taking a serious note of delays in the completion of detailed project reports (DPRs) of various projects, Chief Minister Virbhadra Singh today directed the officers concerned to prepare the DPRs within a time-bound frame and warned that erring officials would face strict action.
Tribune impact
IGMC to bring in 60 more cushioned trolleys
Shimla, January 15
The Indira Gandhi Medical College and Hospital (IGMC) has decided to expand its 24x7 Emergency by adding 60-cushioned trolleys to accommodate more patients. Most of the patients rough it on ice-cold trolleys as the hospital has only 15 beds, and these remain occupied most of the time. The IGMC does not have enough blankets and cushioned trolleys to accommodate the fresh lot of patients.
Illegal mining continues in border areas of Una district
Una, January 15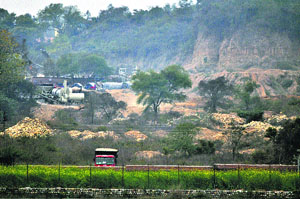 Illegal mining is continuing along the borders of Punjab in Una district. In many areas, hills are being destroyed and rivulets getting choked due to illegal mining. A survey by The Tribune in areas along the border revealed that about 100 heavy-duty tippers cross into Punjab from Himachal every day. These tippers carry crushed material and gravel.
A monsoon rivulet vandalised due to mining along the border of Punjab in Una district.

Debris litters roads dug up for telecom cables
Shimla, January 15
Residents yesterday slammed the PWD and the SMC for leaving roads littered with heaps of debris dug up by a private telecom operator for the laying of cables that has made movement of the public hazardous.
14-quintal butter idol prepared on Sankranti
Kangra, January 15
Pilgrims from all over the country have started thronging this temple town since yesterday morning to pay obeisance at the Bajjreshwari temple here and have a glimpse of the preparation of a 14-quintal butter idol of the "pindi" of the goddess on Makar Sankranti.
Digital radiography at IGMC
Shimla, January 15
Chief Minister Virbhadra Singh today inaugurated the digital radiography system worth Rs 1.66 crore at the Indira Gandhi Medical College (IGMC), Shimla.

Vigilance grills Anurag again
Dharamsala, January 15
BJP MP from Hamirpur and president of the Himachal Pradesh Cricket Association (HPCA) Anurag Thakur was today questioned by the Vigilance and Anti-Corruption Bureau at Dharamsala. Sources here said Anurag was questioned regarding the cases filed against the HPCA. The Vigilance had earlier questioned Anurag in the cases pertaining to conversion of the HPCA society into company.
People will teach Cong a lesson: Anurag
Bilaspur, January 15
People are fed up with the Congress mismanagement and misrule at the Centre and in states. They are waiting for an opportunity to teach the party a lesson. This was stated by Bharatiya Janata Yuva Morcha national president Anurag Thakur while addressing a public meeting at Nog village under Binola gram panchayat, 20 km from here, on Friday.
Anurag fires salvo at Virbhadra
Una, January 15
Anurag Thakur, MP, today dared Chief Minister Virbhadra Singh to file a defamation case against BJP leaders who had levelled allegations of corruption against him. He was talking to mediapersons at Guglehar village in Gagret block of Una district.
Microchip to curb cattle menace
Shimla, January 15
Cattle will soon have microchip identification, making it possible for authorities to track their owners to check the increasing stray animal menace in the state. Since slaughtering of cattle is banned, the number of stray cattle is swelling. They damage crop in rural areas and become traffic hazards in the cities, but there was no mechanism to track the owners of these stray cattle.
6.75 lakh saplings to be planted in Chamba
Chamba, January 15
This year, the Forest Department has planned to plant 6.75 lakh medicinal saplings in forest areas of Chamba district. A four-year extraction cycle has also been formulated for the medicinal plants in the district and 93 plants have been allowed to be exported.
BJP to step up stir against Virbhadra
Shimla, January 15
The BJP has decided to intensify its stir seeking the removal of Chief Minister Virbhadra Singh by undertaking a signature campaign, which will be submitted to the President of India.
Ex-servicemen pay homage to martyrs
Mandi, January 15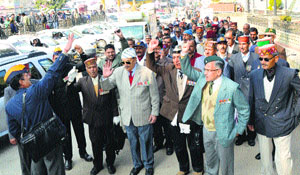 Ex-servicemen and their families paid homage to martyrs by organising a march in Mandi town on Army Day today. Ex-servicemen and their wives, including war widows, assembled at the Kargil Park and paid floral tributes to martyrs after observing a two-minute silence in their memory. Later, the ex-servicemen marched from Seri Manch to Victoria Bridge through the bazaar.
Ex-servicemen march on Army Day in Mandi on Wednesday. Photo: Jai Kumar

Soil conservation officer booked
Nurpur, January 15
Following a court order, the local police today registered a case under Section 3 of the SC-ST Prevention of Atrocity Act against sub-divisional soil conservation officer, Nurpur, and a junior draughtsman of his office.
Married woman raped at Baijnath
Palampur, January 15
A 37-year-old married woman hailing from Mahajerna village under Baijnath police station, 20 km from here, was allegedly raped by Vinod Kumar of the same village last night.
bjp chargesheet
CM should seek CBI probe: Satti
Shimla, January 15
State BJP chief Satpal Singh Satti today said rather than threatening BJP leaders of filing a defamation case against them, Chief Minister Virbhadra Singh should seek a CBI probe into the chargesheet submitted by the BJP to the Governor.
Rs 25 crore okayed for road repair
Una, January 15
The Union Ministry of Surface Transport has sanctioned Rs 25 crore for upgrading the Bankhandi-Jhalera section of the state highway as part of its inter-state connectivity projects.
Two bikers killed in road accident
Nurpur, January 15
Two bikers died on the spot when their motorcycle hit a private bus stranded on the roadside near Bharmar on the Jassur-Jawali link road last evening.
'Restore bus services on 7 routes'
Bilaspur, January 15
Residents of various villages here have urged the government to restart bus services on seven routes. These services were plying through the Malokhar area. They said these HRTC buses were running through Berry Navgaon to stations like Shikroha-Shimla, Nichar-Mandi, Dharampur-Shimla, Delhi-Bagha, Shimla-Smella, Dharamsala-Shimla and Solan-Bagha. These long-route services were running into losses and, therefore, withdrawn. They said the HRTC had failed to streamline its own functioning and there was no reason that such long-route services should run into losses. — OC
Bilaspur lad bags youth award
Bilaspur, January 15
Ishan Akhtar of Diara sector was given the National Best Youth Award-2013 at the National Youth Festival organised at Punjab Agricultural University (PAU), Ludhiana, yesterday. The award was conferred on Ishan by Sports Minister Jitender Singh Bhanwar on the behalf of the Department of Youth Services and Sports, Government of India. Ishan is the grandson of freedom fighter Mirza Hussein Beg. He has been actively associated with several social activities in the district. — OC
No AI flight to Kullu on Thursdays
Kullu, January 15
Air-India (AI) has announced to reduce its flights to the Kullu-Manali airport at Bhuntar, 10 km from here. Air-India station manager at Bhuntar said the schedule for the Delhi-Kullu operations was altered and there would be no flights on Thursdays till January 31. With no flights on Tuesdays, now the valley will have flights only for five days in a week. The decision was taken by the higher management and the exact reason for reducing the flights was not known. The manager cited that low bookings might be a reason. — OC