HPCA case: IAS officer to be quizzed today
Dharamsala, January 5
Kamlesh Kumar Pant, a 1993-batch IAS officer, who is on a Central deputation as Joint Secretary, Defence Production, has been summoned by the state Vigilance and Anti-Corruption Department for questioning at Dharamsala tomorrow.
Skill allowance scheme fails to achieve target
Dharamsala, January 5
The Kaushal Vikas Bhatta (Skill Development Allowance) scheme of the state government is not likely to reach all deserving youth in the state due to lack of recognised centres for providing skill development courses. Sources said in the current financial year, the state government had set a target of providing allowance to about 28,000 youth in Kangra district.
Single window for power producers
Shimla, January 5
In its bid to cut down on long delays, the state government has come out with a single window for independent power producers (IPPs) to give clearance to power projects in three months time, while the Ministry of Environment and Forests (MoEF) has been asked by the Centre to clear or reject a project in six months time. Top officials say the single window for power projects will cut down the delays from three years to three months as per new guidelines of the HP power policy.
Maharashtra shines in ice-skating championship
Shimla, January 5
The two-day 10th National Ice-Skating Championship concluded here yesterday with Maharashtra skaters reigning supreme, winning 30 out of 84 medals followed by Karnataka with 19 medals. Interestingly, the Snovit Club, Pune, contributed seven medals to the Maharashtra tally.
Longer session must to hone ice-skaters' skills: Secy
Shimla, January 5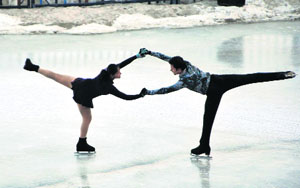 The longer ice-skating session spanning four to five months is a must to hone the skills of skaters to prepare them for international events and make skating a mainstream sport, says secretary of the Shimla Ice-Skating Club and president of the Ice-Skating Association of India Bhuvanesh Banga.

Participants in action during the National Ice-skating Championship at the Ice-Skating Rink in Shimla on Saturday. Photo: Amit Kanwar

BSNL lines in Gandhi Nagar, Shastri Nagar go amiss
Kullu, January 5
BSNL landline telephones in Gandhi Nagar and Shastri Nagar localities of the town have been out of order over the last seven days. The BSNL SDO here has said repair work on a culvert near Mahajan Department Store was being carried out by the PWD, due to which the telephone wires were badly damaged and exposed during excavation of the ground.
Siddu draws tourists to carnival
Manali, January 5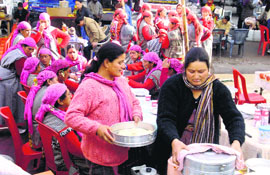 Stalls of the traditional dish "siddu" are attracting the attention of both tourists and local residents towards the National Winter Carnival. "Siddu" is a unique dish for tourists, who cannot find it elsewhere in the country, but local residents are also thronging the stalls to taste its variety of flavours.
Local women at 'siddu' stalls during the National Winter Carnival in Manali on Sunday. Photo by writer

Mankotia, Sushant in touch with AAP
Dharamsala, January 5
With the Aam Aadmi Party (AAP) gaining popularity in Delhi, many leaders, who have been sidelined by the Congress and the BJP, are entering the new party. Not just former leaders, many youth, student leaders and intellectuals are joining AAP.
Leaking pipes inconvenience people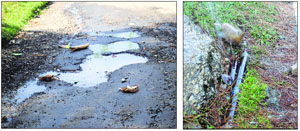 Palampur, January 5
Leakage in pipes of the Irrigation and Public Health (IPH) Department in different parts of the town has been creating a lot of inconvenience to the public. Requests made by the locals to the IPH authorities have also gone unheard in the past year.
Leakage from a pipe reduces a road to a picture of misery; (right) water gushes out of a leaking pipe near Sughar village in Palampur. photos by writer

BJP leaders' effigies burnt again
Bilaspur, January 5
Congressmen from Bilaspur Sadar continued with their campaign of burning effigies of former Chief Minister and top BJP leader PK Dhumal outside Shahid Smarak at Changar sector here yesterday.
State has 1.5 lakh TB patients: WHO
Kangra, January 5
Men are outnumbering women tuberculosis (TB) patients in the state. Of the 1.5 lakh notified tuberculosis patients undergoing treatment under the Revised National Tuberculosis Control Programme (RNTCP), 5 per cent are children.
Workshop held under Beti Hai Anmol programme
Nurpur, January 5
The Health and Family Welfare Department's Gangath medical block organised a workshop under Beti Hai Anmol Prgramme at the Civil Hospital premises here yesterday. The prime objective of this workshop was to educate people on the falling gender ratio in Nurpur sub-division and make them aware about Pre-Conception, Pre-Natal Diagnostic Technique (PCPNDT) Act-2003.
AAP, HLP take on CM, Dhumal
Shimla, January 5
Accusing the BJP of shedding crocodile tears over the issue of corruption against Chief Minister Virbhadra Singh, the Aam Aadmi Party (AAP), the CPM, the Himachal Lokhit party (HLP) today claimed that PK Dhumal had done nothing to strengthen the Lokayukta in the state.
Forum orders replacement of defective shoes
Sundernagar, January 5
The Consumer Forum, Mandi, yesterday directed Harish Traders at Sen Complex, Mandi, and Mirza International Limited, Industrial Estate, New Delhi, to replace a defective pair of shoes within 30 days, failing which they were further directed to refund Rs 2,900, the price of the shoes, to the complainant.
Former minister for starting work on Pini-Talpini road
Kullu, January 5
Satya Prakash Thakur, former Horticulture Minister and president of the Kullu Zila Sadak, Parivahan Evam Janhit Vikas Samiti, at a press conference here on Friday, said if work on the Pini-Talpini road was not started within one month, the samiti would gherao the Superintending Engineer of the PWD.
State to spend Rs 3,836 crore on education
Nurpur, January 5
The Himachal Pradesh Government is spending Rs 3,836 crore on education in the current fiscal year. This was stated by Chief Parliamentary Secretary, Education, Neeraj Bharti, while presiding over the annual prize distribution function of the Government Senior Secondary School at Nagrota Surian in Jawali sub-division yesterday.
Hamirpur will have defence academy, says Anurag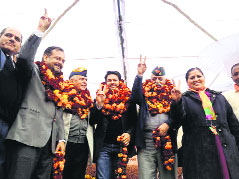 Sujanpur, January 5
Hamirpur MP Anurag Thakur has announced a defence academy for Hamirpur district. Addressing a rally of the ex-servicemen cell of the BJP here yesterday, he said, "Students after passing Class V will be enrolled in this academy so that they could join the armed forces and services of ex-Army officers would be taken to prepare the students."
Hamirpur MP Anurag Thakur and others wave at ex-servicemen at Sujanpur on Saturday.

Tehsil for Balh area inaugurated
Mandi, January 5
Excise and Taxation Minister Prakash Chaudhary inaugurated a new tehsil for the Balh area at Ner Chowk in a function held here today. Addressing a gathering, the minister said all panchayats of Balh and 12 panchayats of Nachan would be covered under the new tehsil, which would cater to a population of nearly 1.10 lakh. It would save time and money of residents.
Health Dept raids highway dhabas, takes food samples
Bilaspur, January 5
A team of the Health Department, led by Dr Atul Kayastha, raided a number of dhabas from Bilaspur town to Kiratpur Sahib on National Highway No. 21 (Chandigarh-Manali road). The team took samples of three food articles prepared and served at these dhabas.
Man held for wife's murder
Kangra, January 5
The Kangra police yesterday arrested Ramesh Kumar of Ghatta village here for murdering his 35-year-old wife Sunita, a mother of three, the police said. Kangra subdivisional police officer Ashok Verma said Sunita had died on December 31 while Ramesh claimed that she died a natural death. But before the body could be cremated, the father of the victim, Pain Singh of Paloti Dehra, suspecting a foul play, informed the police about it.
Auhar govt school holds annual function
Bilaspur, January 5
Children are the real wealth and precious assets of any country and it is in schools that the foundation of brave and daring soldiers, promising leaders, social reformers, cultural crusaders and great men and women of tomorrow is laid.
CM, Governor urged to fill vacancies in HPU
Shimla, January 5
Himachal Pradesh University (HPU) executive council member Waryam Singh Bains has asked Chief Minister Virbhadra Singh and Chancellor and state Governor Urmila Singh to fill the teaching and non-teaching staff vacancies in the university in a time-bound manner.
Five Independent MLAs support Virbhadra
Shimla, January 5
Five Independent MLAs in the Assembly today issued a statement backing Chief Minister Virbhadra Singh, as he had come under fire from the BJP. All five MLAs, Rajinder Rana, Balbir Verma, Manohar Dhiman, Karnesh Jung and Pawan Kajal, issued a statement in favour of Virbhadra. Taking a dig at the BJP, especially Dhumal for remarks against the CM and his family in the media for hiding their own misdeeds, they said they backed Virbhadra.
Cabinet behind CM
The Virbhadra Cabinet issued a statement today, asking that if there was an iota of truth in the BJP allegations against the Chief Minister, then why didn't they approach the Lokayukta. — TNS
Patwari arrested
Dharamsala, January 5
The Vigilance and Anti-Corruption Bureau, Kangra, has arrested a patwari on graft charges. SP, Vigilance, Bimal Gupta in a press statement here yesterday said Ajay Kumar of Mant village had approached them with a complaint against the patwari. He had alleged that he wanted the patwari to execute a revenue correction of his land. The patwari, however, allegedly demanded Rs 2,000 from him for the job. Today the Vigilance laid a trap and caught him red-handed while accepting the bribe. A case under the Prevention of Corruption Act has been registered against the accused. — TNS
Man dies as car rolls off road
Chamba, January 5
One person was killed and another seriously wounded when the car they were travelling in rolled down the road near Sukrain Bain on the Chamba-Pathankot highway, 44 km from here, yesterday, as per a report received here. The report said the deceased had been identified as Karam Chand and the injured as Ravinder Kumar, adding that the police were ascertaining the cause of the accident. — OC
Woman dies in road mishap
Kangra, January 5
A woman, Sita Devi, was killed on the spot when a truck (HP 67-2741) hit the car (HP 46 1008) she was travelling in at Basti Kuhalla under Jawalamuhki police station, the police said here today. The police have registered a case under Sections 304-A and 279, IPC, against the truck driver. The truck driver was arrested and the truck impounded. The body was handed over to the family after postmortem. — OC
Snowfall in Chamba
Dalhousie, January 5
The higher mountain ranges of Chamba, Bharmour and Pangi valleys today experienced a heavy snowfall, while it rained in low-lying areas, reports said. Residents remained confined to their houses. — OC