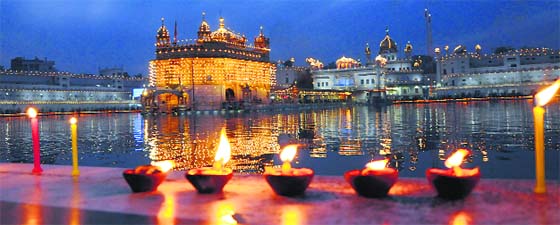 The Golden Temple illuminated on the occasion of the birth anniversary of Guru Gobind Singh on Tuesday. Photo: Vishal Kumar
Grievance panel to start work next week
Jalandhar, January 7
The newly constituted four-member grievance committee will start touring the state from January 14 after a meeting with AICC general secretary Shakeel Ahmed.
Congress workers protest, seek CBI probe
Amritsar, January 7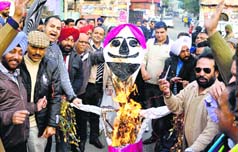 Congress workers today burnt an effigy of Revenue Minister Bikram Majithia at his home turf and Bhikhiwind, demanding that his "role in drug trafficking" be probed. They also blocked NH-15 at Harike in Tarn Taran for more than an hour. People's Party of Punjab also held a protest on the issue.


Congress workers burn an effigy of Bikram Majithia in Jalandhar on Tuesday. A Tribune photograph

Sack Majithia, demands Youth Cong
Jalandhar, January 7
The Punjab Youth Congress has demanded that minister Bikram Majithia be sacked from the Cabinet and a CBI probe be ordered into the sensational disclosures by druglord Jagdish Bhola.
More ministers may be involved: Khaira
Chandigarh, January 7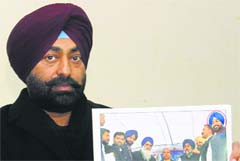 Former Congress MLA and party spokesman Sukhpal Singh Khaira today demanded a CBI probe into the sensational disclosures made by drug kingpin Jagdish Bhola regarding the involvement of Revenue Minister Bikram Singh Majithia in the racket.





Sukhpal Khaira shows accused Bittu Aulakh's picture with the Deputy CM. A Tribune photo

PPP seeks removal of 'illegal' SAD hoardings
Muktsar, January 7
People's Party of Punjab (PPP) district president Jagjit Singh 'Honey Fattanwala' today sought legal action against Shiromani Akali Dal (SAD) leaders for installing hoardings of Maghi Mela on government buildings.
SAD to sound poll bugle at Maghi Mela
Abohar, January 7
SAD will sound Lok Sabha election bugle at the conference to be held in Muktsar on January 14 on the eve of Maghi Mela.
Sardulgarh MLA keen to contest from Bathinda
Mansa, January 7
Congress legislator from Sardulgarh (Mansa) Ajit Inder Singh Mofar is willing to contest from Bathinda in the coming Lok Sabha elections. The parliamentary constituency is represented by Harsimrat Kaur Badal.
AAP to launch poll drive from Fatehgarh Sahib
Fatehgarh Sahib, January 7
The Aam Admi Party (AAP) will launch its election campaign for the Lok Sabha elections in the state from the historical district of Fatehgarh Sahib. Sanjay Singh, convener for Lok Sabha elections, would address the first public rally in the state at New Grain Market in Sirhind in Fatehgarh Sahib on January 10.


Rural development Director appears before rights panel
Chandigarh, January 7
A senior official of the Punjab Government has expressed regret to the Punjab State Human Rights Commission for delay in filing a report pertaining to alleged misuse of grants and unauthorised occupation of panchayat land.
PIMS docs may call off strike today
Jalandhar, January 7
The striking doctors of the Punjab Institute of Medical Sciences (PIMS) are likely to call off their 28-day-old agitation tomorrow following assurances by one of the newly inducted seven members of the management for considering all their demands shortly.
SGPC official 'diverts' donor's money to own account
Amritsar, January 7
The role of an SGPC official has come under scanner for allegedly despoitsing Rs 1.5 lakh donated by a Mumbai resident to the Golden Temple in his personal account.
Govt on back foot over Bhola's charges, looks for a way out
Chandigarh, January 7


A day after alleged drug kingpin Jagdish Bhola raised a political storm linking Revenue Minister Bikram Singh Majithia with the illicit drug trade in Punjab, the state government is in a fix on how best to deal with the raging controversy. The government remained undecided on whether or not to order an inquiry against the minister till late in the evening. Government sources said top functionaries in the Home Department held closed-door meetings to take a call on initiating an inquiry.
No CBI probe: Sukhbir
If a criminal names the Prime Minister or Sonia Gandhi or Rahul Gandhi, will you hold an inquiry against them? Bhola must prove his allegation against Majithia.~
Mining at Ropar quarries to resume anytime
Ropar, January 7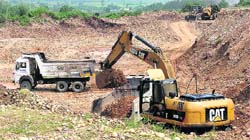 The nearly three-year ban on mining of sand and gravel at five quarries in the district is likely to be lifted this week. Sources said the Punjab Pollution Control Board (PPCB) issued a no objection certificate in this regard yesterday and the state government was expected to approve mining in these quarries tomorrow. The quarries are located at Surewal, Bhalan, Kiratpur Sahib, Palasi and Dayapur. Around 73,000 tonne of sand and gravel can be extracted from the 73-hectare Surewal quarry in a year and 12,000 tonne of raw material from the 6-hectare Bhalan quarry.
Now, liquor vendors told to get licence by February 4
Sangrur, January 7
All liquor vendors in the state have been directed to obtain food licences and get registered by February 4. Under the Food Safety and Standards Act (FSSA), running a liquor business without the licence would now be a punishable offence.
Manrajwinder's parents to visit Oz High Commission today
Hoshiarpur, Janaury 7
The news of Melbourne assault victim Manrajwinder recovering from coma has brought a sigh of relief to his family members here. His father has returned from abroad and now both his parents are ready to go to Australia to see him. They got their medical examination done at Chandigarh from an authorised physician of the Australian High Commission today. They will appear before the high commission tomorrow morning for a visa.
National Institute of Electronics to be set up in Ropar soon
Ropar, January 7
The National Institute of Electronics and Information Technology will set up its campus at 12 acres of land at Birla Farm near here soon. The institute will offer degrees ranging from graduate to PhD in electronics product design and technology. It will also offer an MTech and a PhD in information technology.
Sangrur civic body to earn Rs 30 lakh from hoardings
Sangrur, January 7
The local municipal council will earn about Rs 30 lakh from hoardings and advertisement boards to be put up at various places in the city.
Firecracker unit catches fire, owner dies
Qadian (Gurdaspur), January 7 An owner of a firecracker factory was killed when the premises caught fire at Mansoor Ke village near here today.
Sikh Rattan for former ragi
Amritsar, January 7
The Shiromani Gurdwara Parbandhak Committee (SGPC) has decided to give Sikh Rattan award to Bhai Gurmej Singh, former "hazoori ragi" of the Golden Temple, Professor of Sikhism to Dr Kirpal Singh, a historian, and Shiromani Ragi award posthumously to the late ragi Amrik Singh Jakhmi for their contribution to promote Sikhism.
Administrative work takes a hit as posts lying vacant
Gurdaspur, January 6
It's a double whammy for the residents of this border district.
Abohar FM station hanging fire as govt fails to provide land
Abohar, January 7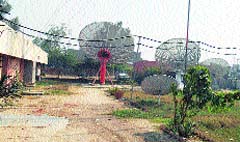 The Punjab Government has failed to provide land for an FM radio station that the Union Ministry of Information and Broadcasting had approved last year.




The Doordarshan centre in Abohar is a picture of neglect as it is surrounded by shrubs and garbage. Tribune Photo

Fazilka villagers oppose setting up liquor factory
Fazilka, January 7
Residents of 14 villages in the district are up in arms against a proposal of setting up a liquor factory at Hiranwali village, 10 km from here.
Hoshiarpur MP asks PM to intervene
Jalandhar, January 7
Rajya Sabha MP from Hoshiarpur Avinash Khanna has urged the Prime Minister, the Union Home Minister and the External Affairs Minister to initiate an investigation into problems faced by Pakistani Hindus and Sikhs settled in Punjab and elsewhere in the country.


Another drug racket busted, kingpin held
Patiala, January 7
The district police have unearthed another international synthetic drug racket worth Rs 6,000 crore with the arrest of its mastermind, Canadian national Devinder Singh alias Dev, from Rajasthan.
Bhawanigarh woman held for killing mother-in-law
Sangrur, January 7
With the arrest of a woman and her paramour, the police today claimed to have solved a murder case.
Moga girl abducted, gang-raped
Moga, January 7
A 16-year-old Dalit girl, who was abducted from Bahina village in the district by three youths on January 2, was allegedly gang-raped by them in Una district of Himachal Pradesh.