State of Industry Amritsar
Yards of trouble for textile units

The government has announced measures to attract industrial investment but the state's existing industry is in doldrums. The Tribune takes a look at the industry in Amritsar, Jalandhar and Ludhiana.
Neeraj Bagga
Tribune News Service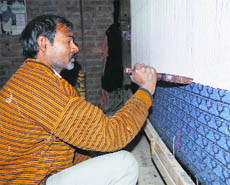 Amritsar, January 22
The centuries-old textile industry in the city is struggling for survival, grappling with labour scarcity, high taxes and high power rates. It has an annual turnover of over Rs 1,000 crore, half of it coming from the shawl industry alone.
It has two mega units - OCM, established during the British rule and now owned by a US-based private equity fund named WL Ross and Company, and Swadeshi.
Data with the Punjab Industries Department shows there are 856 registered textile units in the city. However, there is no exact information on the number of employees in these units. Also, there are hundreds of unregistered handlooms. These are of three kinds — powerloom, automatic and shuttle-less Rapier — with electronic jacquards.
Government apathy
PL Seth, a textile unit operator, said the government's indifference could be gauged from the fact that no textile policy had been chalked out after 2006. He said after agriculture, textile was the most labour-intensive sector offering jobs to a large number of people. "The government is giving power subsidy to the tune of about Rs 7,000 crore to farmers. A mere 10 per cent of this amount could do wonders to bolster the textile sector in the border district," he claimed.
Staff scarcity
Labour unions say that more than 5,000 weavers are working in this sector. Labour leader Amarjeet Singh Assal complained of unhygienic working conditions and long working hours. With Punjabi youth reluctant to work in factories and labour from UP and Bihar only a trickle, the units are facing a severe labour shortage.
A large number of small and medium category units have shifted to the computerised rapier shuttle-less looms. But there are few hands to operate and mend these looms. These computer-operated looms weave yarn like cotton, polyester, silk and nylon. But large industries have turned to the state-of-the-art dobby shuttle-less looms.
The state government's plan to upgrade curriculum in ITIs with the assistance of a German firm is still to take off. The Punjab Institute of Textile Technology, the only one of its kind in Punjab, Haryana, Himachal Pradesh and Jammu and Kashmir, has failed to deliver, says textile industrialist Kamal Dalmia.
Ancillary units
Dyeing and finishing units, spinning mills, 4,500 modern embroidery machines and 400 shuttle-less Rapier looms with electronic jacquards and cone dyeing and printing industries lend ample support to the city's textile industry. Rough estimates suggest that textile goods, such as high-quality tweed, shawls and stoles, worth Rs 200 crore are sold to countries all over the world.
Tax trouble
Textile industrialist Bhupinder Khosla says that VAT on yarn within the state is 6.05 per cent while the CST on the same from outside the state is 2 per cent. As a result, manufacturers and traders pass on the high input cost to the retailers. Also, the high VAT prevents the dealers from getting registered, which affects tax collection.
He says the VAT on yarn must be brought down to 2 per cent to bring it on a par with VAT on cotton and paper. "This move can revive allied textile industries like spinning and weaving," he suggested.
Liquidity crunch
SK Wadhwa, who manufatures blankets, said the textile industry in the country was going through a tough period and needed Rs 11,000-crore liquidity for restructuring. As of now, industrialists were getting term loan (advance given for setting up industry) and loan on the working capital at an interest of 13 to 14 per cent per annum. "Extremely high rates of interest make it unviable to invest in the textile business," he explained.
Shuttle-less loom
Though the government has increased capital subsidy from 20 per cent to 30 per cent on Rapier shuttle-less looms, the steep rise in the US dollar and Euro rates has neutralised the effect. Hence, the government needs to reduce import duty to f 5 per cent from the existing 17.45 per cent, say manufacturers. "This will also help convert 20 lakh manual looms to shuttle-less looms as per the Ministry of Textile plan chalked out last year," they say.
The shawl industry being the mainstay of the textile sector, the chant to announce Amritsar as a city of shawls is growing louder, especially as Amritsar-manufactured shawls are sold as "Kashmiri shawls" in the rest of the country. PL Seth, whose family is one of the oldest players in the industry, said only enterprising industries with adequate liquidity could capitalise on the subsidy extended by the Union Government.
He said the textile industry, the oldest in the city, had got no help from any political party. " Like other existing industries in the state, we are dismayed with the new industrial policy that has nothing to offer."
The General Manager, District Industries Center (DIC), Surjit Singh, said various textile associations had been asked to inform his department about the problems they faced. " As per the Industries Facilitation Act, their problems can be taken up by a district-level committee headed by the Deputy Commissioner," he added.
(To be concluded)