Tandon: Cong engineered massacre
Chandigarh, January 29
Senior BJP leader Balramji Dass Tandon, in a press release, today said, "Rahul Gandhi has accepted that the Congress leaders were undoubtedly involved in the anti-Sikh riots in Delhi in 1984." He said it was evident that the Congress had engineered the riots.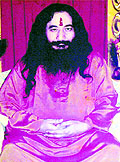 Nurmahal dera chief dead: Doctors
Nurmahal, January 29
Divya Jyoti Jagrati Sansthan head Ashutosh Maharaj died at Satgur Partap Singh Apollo Hospital, Ludhiana, late last night. But dera officials insisted that the godman was in"samadhi". Dr Kapil Chib, Medical Superintendent, Apollo Hospital, said they got a call from the dera late last night. "We rushed our team there. But by the time our medicos reached there, the patient was dead," he said.

Divya Jyoti Jagrati Sansthan head Ashutosh Maharaj
Govt can't meet teachers' unjust demands: Maluka
Bathinda, January 29
As the teachers' unions continue their protest to demand increase in salaries and regular jobs, Punjab Education Minister Sikander Singh Maluka said the state government was helpless.

Sikander Singh Maluka, education minister
Give names of tainted cops, Congress to EC
Chandigarh, January 29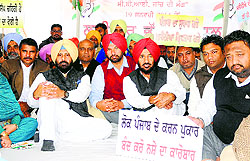 Punjab Pradesh Congress Committee (PPCC) vice-presidents Surinder Pal Singh Sibia and Kewal Singh Dhillon today asked the office of the Election Commission of India to make public the list of 90 tainted police officers who had received adverse remarks for biased performance in their election work earlier.


PPCC workers on the 11th day of their chain fast in Chandigarh on Wednesday. Tribune photo: S Chandan


Badal Govt taking illegal decisions, says Congress
Patiala, January 29
Punjab Government decisions to distribute tubewell connections through halqa in-charges (area chiefs) of the SAD and the BJP and making it mandatory for a central cooperative bank officials to tie blue turban have not gone down well with the Congress that termed the decisions as "unconstitutional and illegitimate dictates".




Inquiry into allegations against Fatehgarh Sahib ADC ordered
Chandigarh, January 29
The state government has ordered an inquiry into the allegations of corruption made against the Additional Deputy Commissioner of Fatehgarh Sahib, MS Jaggi. Fatehgarh Deputy Commissioner Sahib Arun Sekhri has been asked to give a report in this regard.

VAT refund scam: Now Excise Dept to hold probe


Chandigarh, January 29
About two months after the Punjab and Haryana High Court ordered a CBI probe into VAT refunds, a Division Bench today quashed the orders. The Excise Department has now been asked to carry out the probe.

Govt flip-flop on CEO's appointment


Chandigarh, January 29
The Punjab Government committed a faux pas, recommending the name of a senior IAS officer for appointment as the Chief Election Officer even though he is on deputation with the Centre.

Survey detects Rs 10-cr stamp duty evasion in Mohali dist


Mohali, January 29
In what points to large-scale graft and irregularities, stamp duty evasion of over Rs 10 crore has come to light so far in a preliminary survey carried out by two world-class firms in Mohali district.

Patwaris call off stir on SAD leader's assurance
Fatehgarh Sahib, January 29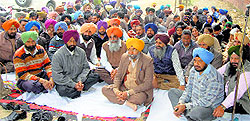 Members of the Revenue Patwar Union and the Ministerial Staff Union, Fatehgarh Sahib, who were sitting on a dharna for the past 15 days called off their protest after former SAD MLA Didar Singh Bhatti assured them that justice would be delivered to them.

Didar Singh Bhatti, former SAD MLA, with striking patwaris in front of the DC's office in Fatehgarh Sahib on Wednesday. A Tribune photograph


Guest faculty burn copies of degree


Hoshiarpur, January 29
College guest faculty burnt their copies of degree on the eighth day of their protest at Tanda today. Lectures in MRPD Government College, Talwara; Giani Kartar Singh Memorial Government College, Tanda; and Government College, Hoshiarpur, are protesting for 10 per cent increment on their salaries as promised by the Punjab Government, provision of dearness allowance, and being engaged for the entire year.

CM's Sangat Darshan wields power, literally


Muktsar, January 29
The Punjab State Power Corporation Limited (PSPCL) knows how to pull strings for a Chief Minister Parkash Singh Badal's function. The authorities supplied power to the venue of Chief Minister's Sangat Darshan programme, organised here today, through a "kundi" connection. As the Community Hall, the venue for the programme, does not have an electricity meter, the power was drawn from Goneana village near the city.
Dhee Punjaban Virasti Mela was organised by the Punjab Cultural Promotion Council at Sikh National College, Banga. The theme of the event was to highlight the culture of Punjab.


Girls perform during the 'Dhee Punjaban Virasti Mela' festival at Sikh National College in Nawanshahr's Banga city on Wednesday. A Tribune photograph


Film on militancy hits roadblock
Jalandhar, January 29
The Central Board for Film Certification in India has refused to issue a certificate to a film related to Khalistan militancy in Punjab, "Kaum De Heere". The jury members said the film glorified the assassins of former Prime Minister Indira Gandhi. The film is based on the lives of Beant Singh, Satwant Singh and Kehar Singh, who assassinated Indira Gandhi in 1984.




US court to hear Cong's plea in rights violation suit
New York, January 29
A US court will hear on March 19 a motion filed by the Congress seeking dismissal of a human rights violation lawsuit against it in connection with the 1984 anti-Sikh riots.

Phoolka deserves SAD ticket: NRIs
Vancouver, January 29
A section of the Punjabi diaspora has urged the ruling Shiromani Akali Dal to allot a Lok Sabha ticket to senior human rights lawyer HS Phoolka in the larger interest of the community. The demand has come after there were reports that he was being fielded as an Aam Aadmi Party candidate from Punjab in the forthcoming parliamentary elections.

Murder accused appears in UK court
London, January 29
An Indian-origin woman charged with the murder of her three-year-old son has made a second private appearance in a Scottish court. Rosdeep Kular (33) appeared in a private hearing yesterday at the Edinburgh Sheriff's Court. She is also accused of attempting to defeat the ends of justice in connection with the death of Mikaeel Kular.

Remove liquor vends along highways in a month: HC
Chandigarh, January 29
The Punjab and Haryana High Court today directed the States of Punjab and Haryana to remove liquor vends that dot national highways within a month. The Bench of Chief Justice Sanjay Kishan Kaul and Justice Arun Palli also asked the two states to place their excise policies before the court by March 18.

HC: Won't allow political parties to hijack drug issue
Chandigarh, January 29
Pradesh Congress chief Partap Singh Bajwa's apparent attempt to take credit for a CBI probe into the drug menace today suffered a setback with the Punjab and Haryana High Court making it clear that political parties won't be allowed to highjack the issue.

Businessman 'held' for printing fake currency
Moga, January 29
The Moga police have reportedly arrested an influential businessman of Nihalsinghwala town along with his associate from Saidoke village. The police have reportedly seized a large number of fake currency and drugs from their possession.

37 quintals of poppy husk seized
Sangrur, January 29

In a joint operation by the Sangrur police and the Counter Intelligence Wing, Jalandhar, 185 bags containing at least 37 quintals of poppy husk were seized from a truck at Sular Gharat village near Dirba. The police nabbed two persons while the third managed to flee.


The seized bags of poppy husk at Police Lines in Sangrur on Wednesday. A Tribune photograph

school kids forced to pick up trash
Child rights panel registers case
Faridkot, January 29
The National Commission for Protection of Child Rights (NCPCR) has registered a case on a complaint alleging that a Chief Parliamentary Secretary (CPS) of Faridkot area forced some schoolchildren to pick up trash at his family function on January 16.
impersonation case
PSEB asks DGP to expedite investigation
Mohali, January 29
The Punjab School Education Board (PSEB) has written to the state Director General of Police (DGP) and other police officers to expedite their investigation into an impersonation case against an official of the board.
Cash, mobile phones of police recruits stolen
Hoshiarpur, January 29
Under-training recruits at Police Recruits Training Centre, Jahan Khelan, were robbed of cash and valuables today. Recruit constable Raghuvir Singh complained to the police that on returning to their rooms after attending a law class, under-training recruits found locks of their suitcases broken.