State of Industry Amritsar
Fan units battle winds of change
Neeraj Bagga
Tribune News Service
Amritsar, January 24
Once a flourishing sector, the fan-manufacturing industry of Amritsar has now been facing the worst ever financial crisis. From over 2,500 units some years ago, their number has come down to less than 10.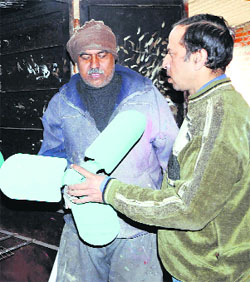 Technicians making fans at a factory in Amritsar. Photo: Vishal Kumar
The industry used to produce a vast range of ceiling, table, exhaust and pedestal fans. Brands like Unison Fans, Universal Fans, Atlas, Grindlay, Neelam and ABC had become household names across the country when the industry was at its peak here.
Data procured from the Punjab Government shows that at present, a mere seven units are registered with the Department of Industries and Commerce in Amritsar. These units also include some ancillary units that produce fan components, including wire and plastic parts.
Those associated with the industry cite a slew of reasons for the present crisis.
Change in policy
As Satnam Singh, former fan manufacturer who is now into hotel business, puts it: "Leave side announcing any bailout package, no government ever bothered to even constitute a commission to take stock of the problems facing the industry."
Satnam says the Centre's decision to change its policy (in the early 1990s) that used to ensure nationwide uniform prices of raw material came as a major blow. "The cost of raw material like iron, steel, coal and copper shot up in Amritsar. As a result, our fans became much costlier than other parts of the country," he recalls. The decade-long militancy was the final nail in the coffin, he remembers. Kiranjit Singh, who is still running ABC Mechanicals, says locally manufactured fans could not compete with high-end brands like Usha, Orient and Cromptonas these companies started selling fans at quite lesser rates.
Screw units better off
Though the fan industry is struggling for survival, the plight of the wire drying and wood screw manufacturing units is comparatively better.
Surinder Mohan, who established his wire drying unit in 1958 and claims himself to be a pioneer in the field, says over 2,000 tonnes of screws used to be manufactured in Amritsar in a month. He says there used to be about 100 wire drying units and close to 500 units manufacturing wood screws and nuts and bolts.
The local industry gets raw material in the shape of iron wires (known as mild steel rods) in coils from Jharkhand (Jamshedpur). A fraction of it also comes from Mandi Gobindgarh. Wire drying units convert mild steel rods into coils and thin wires, which are used to manufacture screws and nuts and bolts.
He says with the scrapping of the freight equalisation policy in the early nineties, the uniformity in the prices of raw material across the country came to an end. Subsequently, the number of these units dwindled. Currently, about 300 small-scale units are involved in rolling out screws, nuts and bolts whereas the count of wire drying units is less than 40.
A manufacturer, Sameer Goel, says Amritsar is still the biggest manufacturer of wood screws. Nails manufactured here are supplied to Jammu and Kashmir and Himachal Pradesh while wood screws and bolts are sold al over the country.
Availability of expert artisans at cheap wages and marketing teams with a well-knit network across the country provide an edge to these units. A majority of the units qualify as a cottage industry as these are located in houses.
Surjit Singh, General Manager, District Industries Centre (Amritsar), says wood screw and wire drying associations have been told to organise at least 20 units to become eligible for grants up to Rs 25 crore from the Union Government under its scheme for the revival of medium and small enterprises. "The funds can be used for setting up modern machinery. But, no association has come forward so far," he says.
(To be continued)
Key problems
* The Amritsar fan industry has failed to compete with the low-cost variants of high-end companies
* The change in policy that ensured uniformity in the prices of raw material dealt a major blow
* The decade-long militancy made matters worse
* From 2,500 units two decades ago, the number has tumbled to less than 10