M A I N N E W S
special to The Tribune

Cameron orders probe into Thatcher link
Sikh diaspora expresses outrage, presses for full disclosures
Shyam Bhatia in London

British Prime Minister David Cameron has asked his Cabinet Secretary to urgently look into the government's role in the events which led to the military operation at the Golden Temple in 1984 and establish the facts, said a foreign office spokesman.


India seeks info from UK Govt
New Delhi: India on Tuesday said it had sought information from the UK Government on the claims that Margaret Thatcher's government may have helped Indira Gandhi plan Operation Bluestar in 1984. "We have seen these reports in newspapers. We have sought information from the UK Government in this regard and without factual information I cannot comment further," MEA spokesperson Syed Akbaruddin said. PTI
The documents — suggesting that the Margaret Thatcher government helped India plan Operation Bluestar — have proven deeply embarrassing for the British Government. A foreign office spokesman said: "These events led to a tragic loss of life and we understand the very legitimate concerns that these papers will raise. The PM and the foreign secretary were unaware of these papers prior to publication. Any requests today for advice from foreign governments are always evaluated carefully with full ministerial oversight and appropriate legal advice."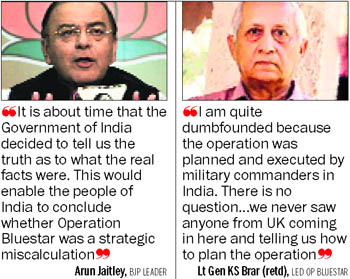 The Sikh diaspora has expressed outrage and are calling for an urgent and detailed inquiry into the British Government's alleged role in Operation Bluestar. The documents reveal that Britain's elite Special Air Service unit may have been involved in planning the 1984 operation.
UK Sikh Council head Gurmel Singh said in a media statement: "Thousands of innocent men, women and children were killed in the attack, which took place on one of the holiest days in the Sikh calendar. This is and remains one of the darkest episodes in Sikh history.
"I am calling for an urgent inquiry into the UK Government's involvement in the events of 1984, including a full disclosure of all documentation."
UK Sikh Federation spokesman Gurjeet Singh was quoted as saying that Britain's ruling Conservatives need to understand that 1984 "is far more important than the 1919 massacre given that the majority of British Sikhs are born in the UK and the events of 1984 are very fresh in their minds and many of those who perpetrated those killings of innocent Sikh pilgrims have not been punished".
Labour MP Tom Watson, whose West Bromwich constituency near Birmingham contains many Sikhs, said on Monday that British Sikhs would "expect some answers from the Foreign Secretary. Another Labour MP and NRI, Virendra Sharma, who represents the Ealing Southall constituency in West London, said: "People are angry because it was not publicly known that Thatcher was helping the Indian Government. It was wrong in principle to help other governments in such actions."