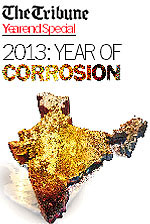 Pak Def Min for Kargil probe
Islamabad, January 2
Pakistan's Defence Minister Khawaja Asif has said that an inquiry should be held into the Kargil episode and a case should be filed against former military ruler Pervez Musharraf and his then colleagues for the 1999 coup.
Musharraf in hospital after chest pain


Former military ruler General (retd) Pervez Musharraf was taken to hospital on Thursday after he complained of chest pain while on his way to appear before the special court hearing the treason case against him.
Pervez Musharraf
Reining in bureaucracy: Haryana to have right to service commission
Chandigarh, January 2
With a view to rein in bureaucracy and provide time-bound services to the citizens, the Haryana Government has issued an ordinance to constitute the Haryana Right to Service Commission (HRSC).
Himachal Cong backs Virbhadra
HPCC chief says BJP charge malicious
Shimla, January 2


Himachal Pradesh Congress president Sukhwinder Singh Sukhu came out in defence of Chief Minister Virbhadra Singh for the first time today. In a statement, Sukhu said the allegations levelled by BJP leader Arun Jaitley against the Himachal CM were malicious and politically motivated.
OTHER PAGES

HARYANA: HSSB chief Poonia shown the door


HIMACHAL: No let-up in war of words over favour to firm by CM


CHANDIGARH: Punjab Police order probe


LUDHIANA: Allotment of land cancelled


DELHI: Activists protest 'inept' handling of gangrape case

BUSINESS: Sensex tanks 252 points to end below 21,000 mark

OPINIONS: Wages of subservience

SPORTS: Yuki takes out world No 16

WORLD: B'desh tense as non-stop stir continues



Lahore Log

The tribune guide to best colleges

Budget
2013-14

INDIA CHINA WAR 50 YEAR LATER

EARLIER FEATURES
Cabinet okays Prez Reference for Ganguly's removal
New Delhi, January 2


The Union Cabinet today cleared the proposal for a Presidential Reference for the removal of former Supreme Court judge AK Ganguly as head of West Bengal Human Rights Commission (WBHRC) in connection with sexual harassment allegations made against him by a law intern.
Justice AK Ganguly (retd)
The richer you are, the more alimony you'll have to pay
Punjab & Haryana HC ups monthly maintenance to wife of hotel owner by Rs 1.2 lakh; says it must ensure a life of dignity
Chandigarh, January 2
The Punjab and Haryana High Court has made it clear that the richer you are, the more monthly maintenance you pay to your estranged wife. It has, in fact, enhanced monthly maintenance paid to an estranged wife by Rs 1.2 lakh after making it clear that the status of the parties has to be taken into consideration while calculating the interim amount. The woman in question will now get Rs 18 lakh annually, as the high court has ordered a monthly maintenance of Rs 1.50 lakh for a car, a house corresponding to her standing and other requirements.
Govt scraps Agusta copter deal
January 2, 2014
After water, power sop for Delhiites
January 1, 2014
Kejriwal keeps free-water promise
December 31, 2013
Kejriwal: We'll deliver in 10 days
December 30, 2013
Kejriwal vows new working style
December 29, 2013
2002 riots: Modi says he was 'shaken to the core'
December 28, 2013
All in a day: Relief, jolt for Modi
December 27, 2013
Army orders court martial of 6 men in Machil encounter case
December 26, 2013
India, Pak DGMOs agree on new peace mechanism along border
December 25, 2013
Arvind Kejriwal to be Delhi CM
December 24, 2013