M A I N N E W S
PM says no 3rd term for him, Rahul fit for top job


Blames Modi for Gujarat riots, says he will be a disaster as PM


Asserts economy grew despite global crisis


Admits corruption an issue
Tribune News Service

New Delhi, January 3
Prime Minister Manmohan Singh on Friday declared that his innings as the executive head of the government will end after the Lok Sabha elections in May and endorsed Congress vice-president Rahul Gandhi's credentials for the top job while warning that Narendra Modi would be ruinous for the country.

"In a few month time, after the General Election, I will hand the baton over to a new Prime Minister," the PM said in his suo motu opening statement at a press conference here, his third such official interaction during his nearly 10-year tenure. Information and Broadcasting Minister Manish Tewari had the difficult task of conducting the proceedings as 200-odd media personnel vied with each other to pose questions to the Prime Minister.

The announcement effectively scotched speculative reports that the Prime Minister would throw in the towel allowing an interim arrangement by the Congress in the run-up to the General Election. Stating that the Congress will announce its Prime Ministerial candidate at an appropriate time, Manmohan Singh said: "Rahul Gandhi has outstanding credentials to be the PM candidate." Responding to a Rahul versus Modi, Dr Singh said: "I sincerely believe that without commenting on individual merit, it will be disastrous for the country to have Narendra Modi as Prime Minister."

In uncharacteristic style, the PM dismissed Modi's "weak Prime Minister charge" with a taunt. I do not believe in the kind of strength the country needs if it meant presiding over mass massacre of innocent citizens on the streets of Ahmedabad, he said in an obvious reference to the 2002 communal riots in the capital city of Gujarat. The 75-minute interaction saw the Prime Minister taking questions on a range of issues, emphasising that history would be a better judge of his tenure, underscoring that he strived to serve the country with sincerity and dedication.

Acknowledging the possible role of rising prices in the recent electoral reversals, he attributed it to both the international situation and rising farm incomes that also reflected in increased per capita expenditure in rural India.

On the perception of his government having been entangled in a series of scams, the PM sought to explain it as occurrences during UPA-1 and said the people still voted UPA back to power in 2009.

He said dealing with the scourge was not an easy process and political parties have to work together to deal "with the monster".

Seeking to point out that reports of corruption were at times over-accentuated by the media, the Comptroller and Auditor General and other entities, Manmohan Singh admitted there were irregularities, but reminded that he had advocated allocation of coal blocks via the auction route.

The PM expressed confidence that when history would be written, he would come out "unscathed to say there were no irregularities", but the dimension of the problem was overstated.

On party-government relations, the Prime Minster defended the division of labour between him and Congress president Sonia Gandhi and said her unstinted support enabled the government during difficult times. Rejecting the accusation of his remaining silent, the PM said he spoke in the party forum when required and would continue to do so in the future.

As for the government retracing its steps following Congress vice-president Rahul Gandhi's intervention, the Prime Minister justified it saying party views ought to be reflected and were not a disadvantage or drawback for the government. By running a successful coalition government over 10 years, the PM said the party had demonstrated its ability to do so. "The Congress ability to run a coalition government was to be tested, and we showed that the party can successfully manage the coalition to complete not one but two terms. In the process, there have been some compromises, but I can assure you that those compromises relate to peripheral areas. They do not affect our ability or our keenness to deal with national problems with the objectivity that is necessary."

On Narendra Modi

It will be disastrous for the country to have Modi as the PM. If you measure the strength of the PM by presiding over a mass massacre of innocent citizens on the streets of Ahmedabad, then I do not believe in it

Passing on the baton

Rahul has outstanding credentials to be the prime ministerial candidate

Visting Pakistan

I thought of it (visiting Pakistan) many times, but ultimately I felt the circumstances were not appropriate for my visit. I still have not given up hope of going to Pakistan

Inflation & price rise

Surge in global prices made price control difficult. We have not been successful in controlling inflation primarily due to rising food inflation

Corruption & AAP

Corruption is an issue. Aam Admi Party has been able to make success out of their concerns of eradication of corruption.

Best moment as PM

The best moment for me was when we were able to strike a nuclear deal with the United States to end the nuclear apartheid

The growth story

I think the five months that are there with us is a long period of time for us to revive the growth impulses of our economy. If I am successful in doing that, I think I would consider that as a job having been well done

Performance

I honestly believe that history will be kinder to me than the contemporary media, or for that matter, the Opposition parties in Parliament

Anti-Sikh riots

I think our government has done quite a lot, and I used the opportunity of a discussion in Parliament, to publicly apologise to the Sikh community on behalf of the government of our country

State of Indo-US ties

Our government attaches highest priority to strengthening the strategic partnership between the two nations




news analysis
Rahul's anointment as PM candidate a matter of time
Tribune News Service
New Delhi, January 3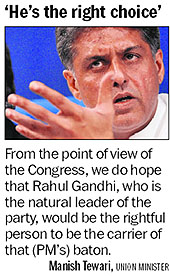 With Prime Minister Manmohan Singh today excusing himself from the race of the Congress' prime ministerial candidate for the forthcoming Lok Sabha polls, the stage appears set for the anointment of Rahul Gandhi.
Top Congress leader and AICC general secretary in charge of organisation Janardan Dwivedi gave this indication today when he said the anointment was a mere formality. He had a philosophical explanation for the delay in the much expected anointment.
"There are two parts of the story: one is about the principle and another is about the ritual. While it is clear that Rahul's name would come first when the issue of PM candidate of the Congress is discussed, there is a process the party needs to follow," he said.
The Congress Working Committee will meet on January 16 to draft the resolution to be passed at the January 17 AICC session. With the decks cleared for Rahul's elevation, frontal organisations of the Congress appeared caught in a huddle to position themselves behind the party vice-chief.
Top sources told The Tribune that the Mahila Congress had become the first party organisation to decide on moving a 'Rahul-for-PM-candidate' resolution at the AICC session. The Indian Youth Congress and the Sewa Dal are expected to follow. The huddle within the party to push for Rahul-as-PM resolutions indicates a
strong possibility of the Gandhi scion's elevation, with top leaders saying the move was essential to invigorate party cadres. "Who else but Rahul can enthuse the cadres? Also, Congress can no longer shy away from naming its PM candidate. People now want to know their leader," said a party leader.
Mahila Congress national president Shobha Oza admitted to a growing demand from state units to bring a resolution seeking Rahul's declaration as the PM candidate during the January 17 session. "We will move the resolution and are currently drafting it," she said. Sources indicated a similar move. The rush for resolutions is significant and could well be read as a strategic build-up by Congress to project Rahul as its PM face. Even at last year's Chintan Shivir, where Rahul was elevated as party V-P, decision was described as a mark of deference to pro-Rahul mood.