M A I N N E W S
India offers DGMO-level talks with China
New Delhi moves ahead on Border Defence Cooperation Agreement inked during PM's Beijing visit
Ajay Banerjee
Tribune News Service
New Delhi, January 12
The largely unmarked 4,057-km Line of Actual Control (LAC) between India and China has peace at hand after both sides accused each other of scores of border transgressions last year. What could make it happen is India's experience with Pakistan on keeping in touch at the Director General of Military Operations (DGMO) level to ensure border tranquility.
Government sources confirm that New Delhi has invited Deputy Chief of General Staff (CGS) of China's People's Liberation Army for talks on setting up more border meeting points and hotlines between the top military leadership of the two countries.
The Defence Ministry has cleared a formal invite, to be sent through the Ministry of External Affairs, to the PLA's Deputy CGS, who deals with operational issues and day-to-day matters, sources said. The PLA has no such post as DGMO, so the invite is directed to a General who will talk to the Indian DGMO, Lt Gen Vinod Bhatia.
A source said: "The process has just started, but the aim is to ensure peace. A direct contact between the top military brass will help in keeping either side in check".
This is in line with the Border Defence Cooperation Agreement (BDCA) inked on October 23 last year during Prime Minister Manmohan Singh's visit to Beijing.
India has similar DGMO-level arrangement with Pakistan. The DGMO's communicate with each other every Tuesday over a special hotline. They met last month in December at the Wagah-Attari land crossing and vowed to maintain ceasefire.
The BDCA proposes 'mutual consultations' to facilitate contacts and meetings between relevant organizations. It refers to establishing border personnel meeting sites in all sectors, as well as telephone contacts and telecommunication links at mutually agreed locations along the LAC. It points to setting up a hotline between the military headquarters of the two countries.
At present there are three meeting points for Brigadier-level officers to meet at Spanngur Gap in eastern Ladakh, Nathu La in Sikkim and Bumla in Arunachal Pradesh. There is keenness to have two more meeting points - one at Kibithoo in eastern Arunachal and the one in Himachal Pradesh. As an interim measure for the first time Brigadier level officers met on January 1 at Bumla. Normally, the meetings take place on six-designated days in a year. Brigadiers on either side of the divide can also seek a flag meeting on any contentious issue.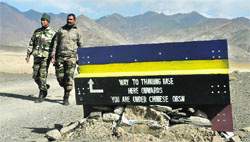 What's on table
* The invite for DGMO-level contact follows Border Defence Cooperation Agreement (BDCA) between the two sides during PM Manmohan Singh's visit to China last October
* BDCA proposes 'mutual consultations'. It refers to establishing border personnel meeting sites and keeping a hotline
* The 4,057-km LAC is unmarked. Usually, as per protocol, troops withdraw at seeing each other. Yet at times a stubborn face-off follows like the one at Depsang plains, Northern Ladakh, in April last year