No criminality in 60 coal block allocations: CBI
New Delhi, January 12
The CBI has found no criminality in the allocation of about 60 coal blocks, which are likely to be taken out of the purview of its ongoing probe after taking the Supreme Court's permission. Agency sources said this will be mentioned in the status report to be filed by the agency before the Supreme Court tomorrow.
Sukhbir-Sidhu differences show at Amritsar function
Amritsar, January 12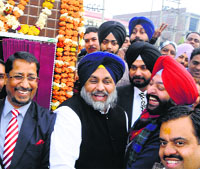 Differences between Punjab Deputy Chief Minister Sukhbir Singh Badal and local MP Navjot Singh Sidhu were clearly visible at the opening of Kitchlu Chowk flyover in Amritsar today.
(From left) Punjab minister Anil Joshi, Deputy CM Sukhbir Badal and MLA Inderbir Bolaria share a lighter moment as Amritsar MP Navjot Sidhu looks on in the background during a function in Amritsar on Sunday. Photo: Vishal Kumar

OTHER PAGES

PUNJAB: Net house farming catches fancy of Hoshiarpur villagers


HARYANA: Scam-hit Haryana AAP's next battleground, says Yadav


HIMACHAL: Aleo power project reservoir collapses; bridge threatened


CHANDIGARH: AAP sounds LS poll bugle in city


LUDHIANA: Killer string claims life


DELHI: Driver murders wife, daughter

OPINIONS: Another NRI show

SPORTS: Oz Open: First day, first show

WORLD: Protesters gather ahead of Thai capital 'shutdown'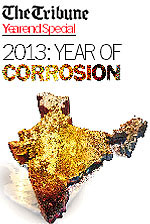 Lahore Log

The tribune guide to best colleges

Budget
2013-14

INDIA CHINA WAR 50 YEAR LATER

EARLIER FEATURES
Affordable energy critical for growth: PM
New Delhi, January 12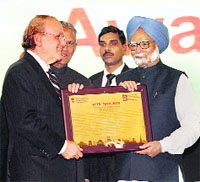 Prime Minister Manmohan Singh today said the government was encouraging domestic and global companies to explore energy supplies sector under a stable and enabling policy environment to bridge the demand and supply gap.
Prime Minister Manmohan Singh presents Lifetime Achievement Award to American author and economic researcher Daniel Yergin in Greater Noida on Sunday. pti
Chinks in security exposed as Andaman received terror alert
Havelock Island, January 12
Security agencies were recently alerted about a possible terror threat in line with the 26/11 Mumbai attacks in the Andaman and Nicobar Islands, an international tourist destination. Senior government officials of the island administration said the alert was sent by India's central intelligence agencies. "Following their alert, we took steps to guard our airport, helipads and crowded areas. The threat was on Havelock Island as maximum tourists throng the place," said Andaman and Nicobar Islands Chief Secretary Anand Prakash.
25 chargesheeted in J-K CET scam
Srinagar, January 12


The Crime Branch of the J&K Police today presented a chargesheet to the special judge (anti-corruption), Kashmir, against 25 persons in a scam involving the sale of Common Entrance Test (CET)-2012 question papers for selection to medical colleges. The accused include the former head of Board of Professional Entrance Examinations (BOPEE) Mushtaq Ahmad Peer and 12 students who got admission in the MBBS course by fraudulent means in 2012.

Moily wants SC's ex-judge probed
January 12, 2014
India 'expels' US diplomat after Devyani indicted in NY
January 11, 2014
US court rejects Devyani's plea
January 10, 2014
Better times ahead, PM assures diaspora
January 9, 2014
Priyanka chairs key Cong election meet
January 8, 2014
Can't be business as usual, India tells US
January 7, 2014
GSLV propels India into exclusive club
January 6, 2014
AAP's grand plan: To contest most LS seats
January 5, 2014
PM says no 3rd term for him, Rahul fit for top job
January 4, 2014
M'rashtra Govt partially accepts inquiry report on Adarsh scam
January 3, 2014
Govt scraps Agusta copter deal
January 2, 2014