Better Jalandhar: Traffic chaos

MC, cops must work in tandem to solve problem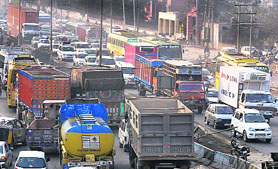 The traffic problem in the city has its genesis in the lack of co-ordination between the Municipal Corporation officials and the traffic police. The laidback attitude of the residents contributes in no small measure to civic woes. The Tribune Reporter Nikhil Bhardwaj traces roots of the problem
Residents do not care two hoots about the traffic rules, traffic police lack infrastructure to implement traffic norms and the Municipal Corporation adopts lackadaisical approach when it comes to removing encroachments to ensure smooth flow of traffic. And this is what makes the Jalandhar city chaotic in terms of traffic management. Until and unless the traffic police, MC and residents facilitate each other, it would not be possible to improve the traffic scenario here.
The traffic police are responsible for making the city residents aware about traffic rules and challan them if they do not abide by them while the MC is accountable to remove illegal encroachments on the roads. Both these agencies are not performing their duties well to streamline the traffic scene.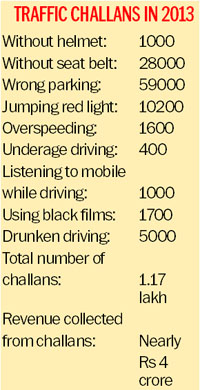 Information obtained from traffic police revealed that they had issued 1.17 lakh challan for various violations last year and put about Rs 4 crore in the government exchequer.
Police officers, on the condition of anonymity said their bosses had categorically told them to issue maximum challans everyday due to which the police pay less attention on traffic jams and traffic chaos in the city.
Proposal ignored
The traffic police had filed a proposal to the MC Jalandhar to minimise four chowks, including BSF chowk, Namdev chowk, Jyoti Chowk and Manbro chowk of the city, where the traffic always remained disrupted but officials said their proposal files have been gathering dust in the MC office for the past over several years. Assistant Commissioner of Police (traffic) Mohinder Singh said the police have also been serving reminders through repeated proposals to the MC every year but the files are pending with the MC for years.
Reacting to this, Superintendent Engineer (B&R) Kulwinder Singh admitted that the traffic police had sent proposals to mininise traffic on certain chowks in the city to improve traffic conditions. He said police proposal was under consideration and if the MC considered their proposal viable, chowks would be minimised for public convenience. Asked why the proposals were not cleared for years, he reiterated that getting a clearance was not an easy task as it involved approval of various departments, including powercom. "Earlier, MC had acted on the traffic police proposals and had removed Guru Nanak Mission chowk, Footbal chowk and BMC chowk, which have smoothened the traffic. Now, traffic police proposal to minimise the four chowks is also under consideration and after getting mandatory approvals, MC will minify these chowks too," SE informed.
64 die in road mishaps
Blame it on the broken city roads or lack of property equipment with the city traffic police, accidents continue to suck lives out of innocent people. The city had witnessed 64 fatal accidents last year, which took the lives of 64 persons and has also rendered 54 seriously injured. In all these accidents, the main cause was drunken driving, rash driving and broken roads. Traffic officials said they did not have speed radars to check over-speeding, the vital cause of accidents on road. Similarly, traffic police have only three alcoholmeters to check drunken driving, the other important cause of accidents. Traffic cops, on request of anonymity, said the city traffic police had ten alcoholmeters of which seven have developed technical fault and are lying unused adding that police had also apprised the senior authorities about the faulted alcoholmeters but nothing fruitful has been done so far. Traffic police sources said it had managed to issue over 5,000 challans of drunken driving last year and collected over Rs 28 lakh as fine from the violators.
Encroachments turn roads into narrow streets
If the MC acts against encroachments, city traffic scene may see improvement. Illegal encroachments at various places in the city have turned the city roads into narrow streets. Outside the Inter State Bus Terminal (ISBT), several illegal shops, including fast food shops, dhabas, juice vends and other kiosks, have been illegally constructed. Had MC paid heed to remove the same, traffic chaos outside ISBT would have been better. So is the plight of Garha road, Jyoti chowk, Rainak Bazaar, Milap chowk, Ladowali road, Purani Sabzi Mandi to name the few. Interestingly, traffic scene is so worse outside civil hospital that many a times ambulances or patients ferrying in their own vehicle get stuck in the traffic and can not reach the hospital on time. Similarly, traffic chaos outside the city's main fire station extends huge inconvenience to the fire tenders. Fire station official on request of anonymity said many a times, fire tenders got stuck in the traffic and failed to reach spot on times to douse flames.
ACP traffic condemns MC
ACP traffic Mohinder Singh said one of the main reasons of traffic jams in the city is desynchronised traffic lights. Due to the issue, vehicles often get stuck in traffic jams. The traffic police keep informing the MC officials about the desynchronised traffic lights but MC officials hardly take timely action. "If traffic lights timing remain synchronised, traffic can run at a smooth pace without any unwanted disruptions," the ACP said.
Traffic police seek residents' co-operation
Until and unless residents cooperate with the traffic police in maintaining traffic discipline, the police alone cannot control the traffic.
What residents say
Until and unless, encroachments on roads are removed, traffic chaos will continue to prevail in the city. Several roads have turned into narrow streets due to the illegal encroachments which are actually causing traffic jams.~
Nitin Sharma, A Businessman
Traffic police alone cannot achieve success in maintaining traffic discipline until residents agree to follow traffic rules. People park vehicles on road wherever they like thereby causing traffic chaos.~
Sandeep Jain, a doctor
Traffic police often concentrate more on issuing challans and hardly bother to maintain traffic discipline on road. Many a times, I have noticed that traffic cops, instead of easing out traffic jams, are more concerned about nabbing offenders.~
Robin Sharma, private employee
Cops who are bound to enforce law themselves break traffic rules. Many a times, I have noticed cops driving without seat belt, without helmet, indulging in triple ridding or jumping red light. If law enforcing people become law breakers, why will a layman care about the traffic rules.
Pardeep Nayyar, a businessman