Man clobbers expectant wife
Panchkula, January 17
An eight-month-old expectant woman was clobbered allegedly by her husband following a heated exchange late last night at their residence in Gunthala village near Chandimandir. The victim was taken to the Alchemist hospital, Sector 21, here in a critical condition where she delivered a premature baby girl and died moments later. The couple had got married on January 29 last year.
HIV+ patient undergoes kidney transplant
Chandigarh, January 17
For 35-year-old Harish (name changed), an HIV/AIDS patient, the stigma of being isolated from society was not all that aggravated his struggle. Diagnosed with renal (kidney) failure, he also suffered resistance from the medical fraternity for his survival.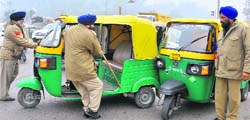 LPG-run auto operators protest
Chandigarh, January 17
On the call of "Rasta Roko" given by the Tricity Auto Rickshaw Union, hundreds of LPG-run auto-rickshaw operators assembled at the Hallo Majra light point to register their protest against the recent hike in fuel prices.
Mohali residents left high and dry
Mohali, January 17
Residents are having a tough time following the disruption in supply of water to Mohali due to the ongoing repair work at the Kajauli waterworks.
Narendra Modi gets backers in city youth
Chandigarh, January 17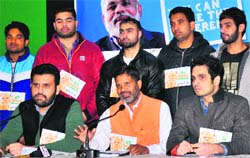 With an aim to counter the Aam Aadmi Party's rising popularity among the youth, a group of supporters of Narendra Modi today launched a "Team Modi" campaign to garner support for the BJP's prime ministerial candidate in the upcoming Lok Sabha elections.

Members of "Team Modi", a newly launched campaign to garner support for BJP's prime ministerial candidate, address mediapersons in Chandigarh on Friday. Tribune Photo: S Chandan
Fog leaves air passengers stranded for third day
Chandigarh, January 17
For the third day in a row, low visibility led to the grounding of most of the flights at the Chandigarh domestic airport here today. Only two of the 11 flights could operate throughout the day owing to dense fog. Over 1,500 passengers were affected due to the cancellations. The rail traffic was also affected, with four long-route trains being delayed at the railway station.
GMADA retrieves 2 acres of encroached land
Mohali, January 17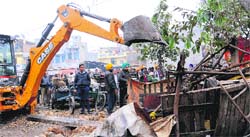 The enforcement wing of the Greater Mohali Area Development Authority (GMADA) retrieved about two acres of encroached land around Mohali village.




GMADA officials remove encroachments at Phase I in Mohali on Friday. Tribune photo: Vicky Gharu
PGI panel raids chemist shop, finds violations
Chandigarh, January 17
Serious violations, including untidiness, litter, expired medicines and a defective refrigerator were found at a chemist shop in the PGIMER campus during a raid conducted by PGI estate committee two days back.
'Safai sewaks' hold protest in Mohali
Mohali, January 17
Garbage has started piling up in homes and markets here as the strike by private "safai sewaks" continued today. The "safai sewaks" are protesting against the new contract system of garbage collection which the Municipal Corporation plans to adopt.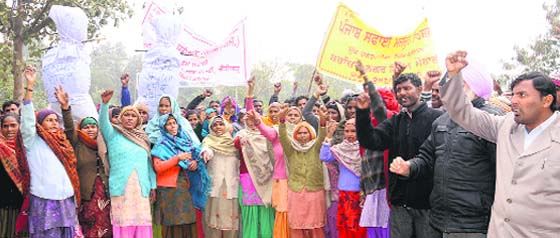 Safai sewaks stage a protest at Phase X, Mohali, on Friday. Tribune photo: Vicky Gharu
RWAs flay property tax
Mohali, January 17
Members of various residents' welfare associations held a dharna in front of the office of the Deputy Commissioner. They were protesting against the levying of property tax on residents.
BJP workers protest against police chief's absence
Panchkula, January 17
BJP workers today staged a protest outside the office of Panchkula Commissioner of Police Ajay Singhal at the Mansa Devi Complex in Sector 5. They had gone to submit a memorandum to the officer but he wasn't available during the public meeting hours which led to the protest.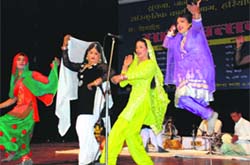 Artistes perform during 'Saang Utsav' at the Tagore Theatre, Sector 18, in Chandigarh on Friday. Tribune photo: Manoj Mahajan
P'kula DLSA to act as mediator
Panchkula, January 17
The Mediation Centre of the Panchkula District Legal Services Authority (DLSA) has decided to take up the marital disputes at pre-litigation stage so as to prevent breakup of marriages and split up of families.
Cong leaders take part in AICC meeting
Chandigarh, January 17
The leaders of Chandigarh Congress participated in the All India Congress Committee (AICC) meeting in Delhi.
F&CC poll: BJP-SAD name candidates
Chandigarh, January 17
The BJP-SAD alliance today named BJP councillor Saurabh Joshi and SAD councillor Malkiat Singh as candidates for the MC's Finance and Contract Committee (F&CC) elections.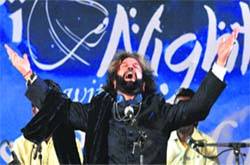 Hans Raj Hans casts a spell
Chandigarh, January 17
Punjabi Sufi singer Hans Raj Hans enthralled the audience with his captive singing at the closing ceremony of the Road Safety Week, organised by the Chandigarh Traffic Police.

Sufi singer Hans Raj Hans performs during the closing function of Road Safety Week, organised by the Chandigarh Traffic Police at St Stephen's School, Sector 45, Chandigarh, on Friday. Tribune photo: Pradeep Tewari
Philately exhibition begins at PU
Chandigarh, January 17
Busy in taking notes about stamps displayed a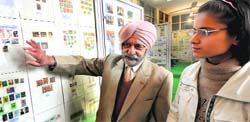 t the philately exhibition, Chandipex-2014, which began today at Panjab University, Sohan Singla, a student of Bhavan Vidyalaya, and a visitor here, expressed surprise that why the kings of our country used these stamps and inland letters to send information to their near and dear ones; didn't they have e-mails to do so?
A stamp collector talks to a student at a philately exhibition at Panjab University on Friday. Tribune Photo: Pradeep Tewari
Draw of lots at Bhavan Vidyalaya Junior School today
Chandigarh, January 17
After missionary schools, all eyes are now set on the draw of lots for admission to the entry-level class at Bhavan Vidyalaya Junior School in Sector 33, which will be held on the school premises tomorrow.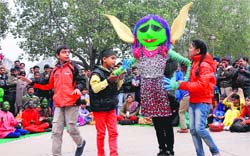 Children's theatre fest kicks off
Chandigarh, January 17
Children's Theatre Festival began at the Sector 17 Plaza here this afternoon. On the first day of the festival, four short plays were staged in which 40 students of the government schools participated.

Children enact a scene from a play, "Kagaj Ki Gudiya", at the Sector 17 Plaza, Chandigarh, on Friday. Tribune Photo: Manoj Mahajan