American Hustle's cast rocks at SAG Awards
The 20th Annual Screen Actors Guild Awards gave David O Russell's con-man comedy American Hustle the top prize, making it the front-runner for Oscar gold.
The comedic film, loosely based on the Abscam scandal of the late '70s, received just two nominations at the awards, but it won the big one: outstanding performance by a cast in a motion picture.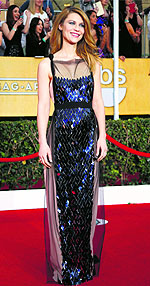 One for the camera:

Actress Claire Danes arrives at the 20th annual Screen Actors Guild Awards in Los Angeles, California. — Reuters

Its star Bradley Cooper, practically yelling his approval, paid tribute to director David O Russell for the film.
Hustle and 12 Years a Slave are among the leading Oscar nominees, and at the SAG Awards the two films faced off for outstanding ensemble—the SAG Awards' equivalent of Oscar's best picture.
12 Years..., about a freeman forced into slavery in 19th-century America, led all SAG Awards nominees with four nominations.
Matthew McConaughey of Dallas Buyers Club took home the Screen Actors Guild Award for outstanding performance by a male actor in a leading role. He plays an AIDS-afflicted man in the film.
Cate Blanchett, who also won a Globe, won the SAG Award for lead female actor for her role in Woody Allen's Blue Jasmine.
Lupita Nyong'o and Jared Leto led off the awards by winning prizes for supporting female actor and supporting male actor, respectively.
Leto, who stars as a transgender woman in Dallas Buyers Club, paid tribute to those who have been victims of AIDS, "that terrible disease." Nyong'o, who plays a slave terrorised by a plantation owner in 12 Years a Slave, won over competition that included Oprah Winfrey (Lee Daniels' The Butler) and Jennifer Lawrence (American Hustle).
Rita Moreno accepted the Screen Actors Guild's Life Achievement Award. She and presenter Morgan Freeman fell into their old Electric Company roles, pronouncing out "SAG-AFTRA." In the television categories, Modern Family won comedy series ensemble. It is the show's fourth straight SAG Award.
Veep's Julia Louis-Dreyfus and Modern Family's Ty Burrell won the honours for their performances in TV comedies. Michael Douglas (Behind the Candelabra) and Helen Mirren (Phil Spector) also took home trophies. Breaking Bad won drama series ensemble and star Bryan Cranston took home the award for male actor in a drama.
Downton Abbey star Maggie Smith won an award for female actor in a drama series. — PTI
Bipasha's dance lessons
Bipasha Basu has launched her fitness DVD Unleash, which features her working out with regular people using dance methods. The launch was in South Mumbai.
A quick turn
At a recent awards function, Kareena Kapoor Khan ran into her ex-boyfriend Shahid Kapoor backstage. She did a quick U-turn. She returned to rehearse her steps only after he had completed his rehearsals and left.
Meet Alia Bhatt, the singer
Alia Bhatt, who has lent her voice to a song in her upcoming film Highway, says that if she fails as an actress, she will turn to singing. When director Imtiaz Ali asked her to croon a number in Highway, she jumped at the idea.
"I am not a singer... I think I am a bathroom singer. When I was asked to sing, I was excited and thought of trying it (singing) out. A R Rahman sir was very patient with me. If I fail as an actress, I will become a singer," Alia said at a film's promotional event.
When the team of Highway was traveling, since it is a road movie, Alia would often sing Rahman's song Jiya Re Jiya. That's when Imtiaz thought of exploring her singing talent. Music maestro A R Rahman told her to practice and said that if she learnt singing for two years, she could have her album.
According to Alia, who is geared up for the highway journey in a de-glam avatar with Randeep Hooda, both acting and singing are difficult. "I am just two films old when it comes to acting and it's my debut as a singer with Highway. For me both are difficult," she said. — PTI
Like a house of cards
Director duo Abbas-Mustan were supposed to direct John Abraham and Abhishek Bachchan in the Bollywood remake of Vettai. Now it seems that the production house wants to replace the actors so the director duo will walk out too.
Making a small difference
Vidyut Jamwal, who is known for his martial arts and fitness levels, received a letter from a fan who was inspired by him to exercise and lose weight.
Of time and tide
Hrithik Roshan has returned to the sets of Bang Bang after nearly four months. He is in Shimla with Katrina Kaif and director Siddharth Anand. He was on a break due to health reasons.