SC raps police over AAP dharna
Issues notice to Centre, Delhi
R Sedhuraman
Legal Correspondent


What court says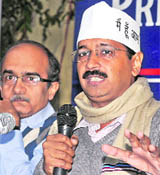 Police were responsible to ensure that the constitutional provisions were respected and the law was enforced


A PIL has sought a probe and prosecution of Kejriwal and Bharti


The ministers had violated the prohibitory order which was in force near the dharna venue


Bharti allegedly detained four African women suspecting them to be involved in drug peddling and prostitution
New Delhi, January 24
The Supreme Court today pulled up Delhi Police for their failure to prevent the recent dharna by Delhi Chief Minister Arvind Kejriwal, his Cabinet colleagues and party supporters in the heart of the city. The court sought the response of the Centre and the Delhi Government to a PIL seeking CM and Law Minister Somnath Bharti's prosecution.
"Tell us why you permitted them to assemble and stage a dharna when the prohibitory order was in force? The police can't close their eyes and let it happen in the first place. You allowed the dharna to continue for so long. There must have been some reason for this," a Bench comprising Justices RM Lodha and SK Singh asked Additional Solicitor General Sidharth Luthra.
The ASG said the police had registered an FIR. Unconvinced, the Bench asked: "Why were you not in a position to prevent them from gathering or to disperse the unlawful assembly?" The court said the city Police Commissioner should give the reasons within a week.
The court said it had the responsibility to ensure that the constitutional provisions were respected and the law was enforced.
The Bench has sought explanation by Janaury 31 from the Police Commissioner.
The court was told that the "lawmakers have become law-breakers", which was manifested by Kejriwal and his ministers who staged the dharna, hampering preparations for the Republic Day.
The Bench was hearing two PILs, one of them by advocate Manohar Lal Sharma who has sought a probe and prosecution of Kejriwal and Bharti. While both had violated the prohibitory order that was in force near Rail Bhavan, the venue for the dharna, the law minister was also guilty of unlawfully detaining four African women on the suspicion that they were involved in drug peddling and prostitution, the PIL said.
The prosecutors demanded action against policemen who refused to arrest the foreign nationals at Bharti's insistence. The city police come under the Union Home Ministry, not the Delhi Government.
Sharma contended that ministers, who had constitutional obligations, had no right to hold agitations in violation of Section 144, CrPC, which barred assembly of five or more persons.
The Bench directed the Centre and the state governments to file their responses within six weeks.