Soul music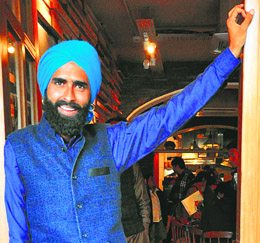 Singing is like meditation for Kanwar Grewal. It is in every word he says, every line he hums...
Walking straight out of his world where nothing is defined; those loops hanging from his ears, a blue saafa tied neatly around his head, the man in a strong blue coloured kurta pyjama sits amidst curious onlookers and those who would be scrapping every bit of his existence. Kanwar Grewal, the singer, the Sufi; the malang we think we know too well (thanks to the YouTube videos on his live singing shows) does not flinch, prying eyes don't cast any spell. Nothing can distract him from the bliss of the present moment.

Divine melody: Kanwar Grewal. Photo: Parvesh Chauhan

Loud & clear
Singer Aman Trikha, who has to his credit hits like Go Govinda, Po Po and Hookah Bar, believes in hardwork and leaving nothing up to chance…
The problem with Bollywood is that it typecasts and seldom breaks rules. A formula hit film is followed by similar pot-boilers, a hit item number brings in a deluge of them; an actor who does a few high flying stunts gets the tag of an action hero! "A singer with a hit peppy number in his account gets flooded with offers and ends up singing more peppy numbers," says Aman Trikha, who has to his credit hits like Go Govinda, Po Po, Hookah Bar and many more similar tracks.
Sweet cadence
Singer Yuvraj Hans has a soft voice. So is his music. In Chandigarh, he shares notes…
The rumblings in his heart create a beautiful sound that only he can hear. He plucks notes, carefully; vary of the fact that this is the most delicate thing. Days are stretched to months, but he cannot take any chance. "It is a matter of utmost importance," says Yuvraj Hans placing his hand on the heart. "Somewhere, I don't know exactly where, all my songs are here, they live here and I nurse them well," he is still slowly patting his heart. Yuvraj Hans, his trademark moustache twirled just right, sun-glasses hiding his eyes, comes to Chandigarh to perform for an NGO Teach A Child at SD College 32.
They mean business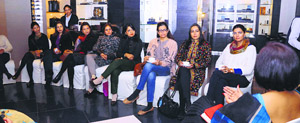 It was an afternoon session of exchange of ideas, solutions and challenges at Mont Blanc in Park Plaza when the Fab Forum from the Fabwomen foundation held a meet for the businesswomen of the town.
Participants discuss business ventures in Ludhiana
Fiery taste
Barbecue is one of the oldest methods of cooking, but if you are a novice, then experts are here to help you out
A barbecue is as close as you can get to playing with fire, some smoke and not getting burnt. Throw in some food, call friends over and it's the perfect way to celebrate the winter chill with sizzling platters.
Get glamorous
I don't wear make-up unless I have to. I'll just wear mascara and a Neutrogena lip balm with SPF. My mascara brand varies; I just pick it up while I'm travelling. Right now I'm using the Dior show mascara.
Chatter box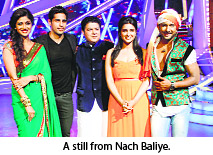 Final countdown
This Saturday we will watch the couples of Nach Baliye-6 burn the dance floor with some of the most energetic, dynamic and popular dance groups. Gurmeet and Debina will be seen with Fictitious group, Asha Ritwik with Loyola Dream Team, Ripu Shivangi with D Maniax, Kiku Priyanka with winners of India's dancing superstar MJ 5 and last but not the least Vinod Raksha with Rohan and Group.
First day first show
Sallu does it again!
Jai Ho
Directed and produced by Sohail Khan along with Sunil Lulla, Jai Ho is an action drama feature film that stars Salman Khan and newcomer Daisy Shah along with Sana Khan and Suniel Shetty in major roles. The film has Tabu playing Salman's sister, while Danny Denzongpa plays the villain. It is a remake of Telugu film Stalin.
Astro turf
ARIES: Your card Eight of Wands suggests that extra money is likely to come from somewhere. You will start off in a confident, optimistic mood. Life is not likely to run according to plan.
The year ahead
If your birthday is January 25...
Career front will be progressive and finances will be good this year. Favorable opportunities will come your way. Health will be fine. This is the year of expectation; do not push forward and take no decisions. Postpone everything. It'll be a busy 2014.
Write note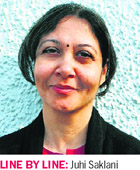 Filmi Escapes-Travel With Movies is another book that comes from Juhi Saklani, a freelance writer, editor, and photographer, who unknowingly spent a lifetime building up her credentials for writing this book! It goes without saying that she is passionate about movies—anytime, anywhere. "I have seen Sholay 37 times, I mourned Dev Anand and Shammi Kapoor's demise with a day off," says the writer who made an effort to find out Meena Kumari's real name and who Mangesh Desai was! Juhi has also authored Hinduism: A guide to Beliefs and Practices and an illustrated biography of Gandhi. However her real triumph is when people turn to her with deeply existential questions such as — What is Kader Khan doing these days? She smiles, "This is the love that we have for the filmi duniya." — TNS