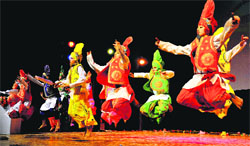 Students perform bhangra at a function on the Republic Day eve at Tagore theatre in Chandigarh
on Saturday. Tribune photo: S Chandan
No field staff of Píkula police among awardees
Panchkula, January 25
Panchkula police officials were in for a shock when the list of awardees released by the district administration saw no senior police official among the field staff being honoured on Republic Day tomorrow. No one has been honoured for specialised work, this year.
PU to hike hostel fee by 10%
Chandigarh, January 25
The Panjab University authorities have decided to hike the hostel fee by about 10 per cent from next session. The proposal was approved by the Dean, Student Welfare (DSW), and will be tabled at the syndicate meeting scheduled for next month.



Women most vulnerable to sexual, verbal violence at construction sites: Study
Chandigarh, January 25
The seminar on ĎWomen and Violence: Lessons learnt and future strategiesí organised by the Department-cum-Centre for Womenís Studies and Development concluded here today.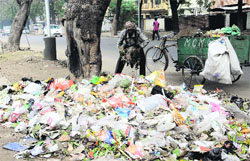 Safai sewaks resume work
Mohali, January 25
Striking safai sewaks resumed work here this morning only after their demand to meet the Deputy Commissioner was met. A meeting of representatives of the protesters with the Deputy Commissioner was arranged around 9.30 am by the authorities of the Municipal Corporation. It was after meeting the district head that the work of lifting garbage was started by them around 10 am.
A sweeper collects garbage at Phase IV in Mohali on Saturday. Tribune photo: Vicky Gharu
City gears up for R-Day celebrations
Chandigarh, January 25
The UT Administration is geared up for the Republic Day celebrations to be organised at the Parade ground in Sector 17.
5 lakh eligible voters yet to be registered in state
Mohali, January 25
The State Election Commission has registered over 7 lakh new voters. Still, around 5 lakh persons, who have attained the age of 18 or above, are yet to be registered as voters. This was stated by Raminder Singh, Chief Electoral Officer, Punjab, who was in the town today to attend the state-level function to mark the National Votersí Day.
Mayor HC Kalyan to list his predecessorís achievements
Chandigarh, January 25
The achievements of his predecessor would be the major part of the speech by Mayor HC Kalyan during the Republic Day (R-Day) function.
UT Administration celebrates R-Day
Chandigarh, January 25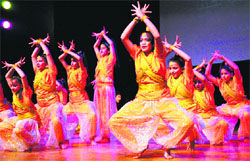 On the eve of 65th Republic Day, a cultural function was organised by the UT Administration at Tagore Theatre, Sector 18, here today. The Advisor to the UT Administrator, KK Sharma presided over the function as the chief guest.



Students present a cultural item at Tagore Theatre in Sector 18, Chandigarh, on Saturday. Tribune Photo: S Chandan
Police conduct major checking exercise
Chandigarh, January 25
In the wake of Republic Day celebrations, the Chandigarh Police undertook a major checking exercise today.

Presidentís medal for brave fireman
Chandigarh, January 25
Randhir Singh, a fireman with the Fire and Emergency Services, Chandigarh, has been awarded with the Presidentís Fire Service Medal for gallantry.


Randhir Singh

Shaurya Chakra for braveheart who battled terrorists
Chandigarh, January 25
City braveheart Lt Col Bikramjit Singh of 16 Light Cavalry, who died while fighting terrorists who had attacked an Army establishment at Samba near Jammu in September last year, has been decorated with the Shaurya Chakra.
Lt Col Bikramjit Singh
Nargis Fakhri adds glam to HIL start
Chandigarh, January 25
The first match of the Hockey India League (HIL) started amidst glamour at the newly built stadium of Mohali this evening. The opening match was played between Jaypee Punjab Warriors and Delhi Waveriders.
Security beefed up for R-Day celebrations
Mohali, January 25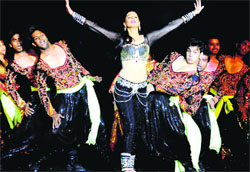 Elaborate security arrangements and other preparations have been made for the Republic Day celebrations to be held here tomorrow.






Nargis Fakhri performs during the opening ceremony of the HIL; at the hockey stadium in Phase IX, Mohali, on Saturday. Tribune photos: Vicky Gharu
Dept attributes weather changes to polar vortex
Chandigarh, January 25
Polar vortex, which is globally affecting the weather pattern, especially in the United States and Europe, has started affecting North India.
Píkula student brings laurels to country
Chandigarh, January 25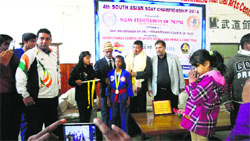 Ishika Goel, a student of The British School, Sector 8, Panchkula, brought laurels to the country by winning a gold medal in the 4th South Asian Sqay Championship - 2014 held at Kathmandu, Nepal, from January 18 to 21.



Ishika Goel being honoured at Kathmandu in Nepal. A Tribune photograph


Moot court contest at PU
Chandigarh, January 25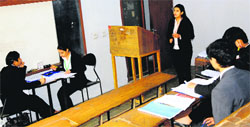 The Department of Law in collaboration with Surana and Surana International Attorneys organised Philips C Jessup moot court competition 2014 India-North rounds.

Students take part in the international law moot court competition at the Department of Law in Panjab University, Chandigarh, on Saturday. Tribune Photo: S Chandan
Patriotic fervour grips SIS Public School in Mohali
Chandigarh, January 25
The SIS Public School, Phase VII, Mohali, celebrated Republic Day. Students presented a cultural extravaganza on the occasion.