Yamunanagar-Panchkula
Four-laning of highway runs into rough weather
Yamunanagar, January 27
Union Minister and Ambala MP Kumari Selja's dream project of four-laning of the National Highway-73 between Yamunanagar and Panchkula has run into rough weather. Gammon Infra Private Limited, which bagged the contract for project in July 2012, has decided to pull out of the project.
Quality medicines for VIPs, cheap ones for 'aam aadmi'
Rohtak, January 27
If doctors serving in the Health Department are to be believed, cheap drugs are supplied across Haryana under the recently launched Mukhyamantri Muft Ilaj Yojna while VIPs, including the Chief Minister and MLAs, get quality drugs purchased from private suppliers.

Kashyap INLD's candidate for Rajya Sabha seat
Chandigarh, January 27
Playing the backward classes card in the run-up to the parliamentary and state Assembly elections this year, the Indian Naitonal Lok Dal (INLD) today named Ram Kumar Kashyap as the official candidate for the Rajya Sabha seat from the state.
Quash FIR against doc couple: IMA
Sirsa, January 27
Members of Sirsa chapter of the Indian Medical Association (IMA) are up in arms against the Health Department and the Food and Drug Administration (FDA) after an FIR was registered against a doctor couple in an alleged case of female foeticide.
Vehicle crushes two car crash survivors
Ambala, January 27
Two youths had a miraculous escape after their car rammed into a tree near Saha on the Ambala-Jagadhri road last night, but could not escape death as they were crushed under the wheels of a speeding vehicle after they stepped on the road.
Varsity authorities booked for fraud
Rohtak, January 27
the orders of a local court, the police have registered a case of fraud and criminal intimidation against four persons, including top officials of a local university. The persons named in the FIR are Baba Mast Nath University Vice-Chancellor, the Controller of Examination, a department head and a polytechnic Principal. They have been booked in connection with issuance of fake roll numbers to a batch of polytechnic students in 2012. The FIR has been lodged on court orders on the basis of a complaint filed by Rahul Singh, who was among the students. On the other hand, the university authorities maintain that they had not done anything against the law and will produce the relevant documents in court. — TNS
Sanskrit scholar receives President's award
Chandigarh, January 27
President Pranab Mukherjee has bestowed the Rashtrapati Award upon Dr Rameshwar Dutt Sharma for his outstanding contribution to the Sanskrit language and to shastras. The award also carries a cash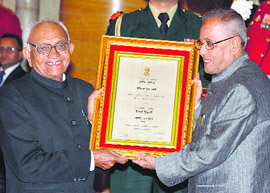 prize of Rs 5 lakh. Dr Sharma, a Sanskrit scholar, has over 10 published works to his credit. He has traced 60 rare manuscripts of scholars of Haryanavi origin. He has served Haryana Sanskrit Academy as its director from 2005 to 2011. He has also been the Secretary of Haryana Sanskrit Sammelan since 1978. A recipient of the Haryana Sanskrit Gaurav, conferred by the Government of Haryana, he is currently vice-chairman, Haryana Sanskrit Academy, Panchkula. He is engaged in the propagation of the Sanskrit language. — TNS

President Pranab Mukherjee presents the Rashtrapati Award to Dr Rameshwar Dutt Sharma. A Tribune photo

Padma Shri dream come true: Coach
Rohtak, January 27


Sunil Dabas, the coach of the Indian women kabaddi team since 2005, has got the Padma Shri award. A Dronacharya awardee, she belongs to Mohammedpur Majra village in Jhajjar district. She is first woman coach from Haryana and first woman kabaddi coach in country to get Dronacharya Award. The team coached by her won six international gold, including at Asiad 2010 and World Cup 2012. Talking over telephone, she said it was a dream come true for her. — TNS
Jewellery shop burgled in Karnal
Karnal, January 27
A jewellery shop at Sarafa Bazaar was robbed of ornaments worth Rs 70,000 here today. Expressing concern over the incident, all jewellery shop owners in the bazaar pulled their shutters down. They held a protest against the failure of the police to nab the culprits. Ramesh Sarin, president of the Karnal Sarafa Bazaar Association, said the incidents of burglaries were on the rise. He said the police were encouraging anti-social elements by not taking action against them. The miscreants used a gas cutter to break open the shop and escaped with the valuables. — TNS
Vet science convention from today
Hisar, January 27
Lala Lajpat Rai University of Veterinary and Animal Sciences (LUVAS) will organise a national convention and 12th convocation of the National Academy of Veterinary Sciences on January 28 and 29. A university spokesperson said the convocation would be inaugurated by CM Bhupinder Singh Hooda and Agriculture and Animal Husbandry Minister Paramvir Singh would preside over the function. — TNS
2 held in murder case
Hisar, January 27
The police have arrested two accused involved in the murder of property dealer Sanjay Sharma, who was shot dead at his office in Pushpa Shopping Complex, here on Friday. The accused have been identified as Dinesh Punia and Krishan. Both had hatched a plan to kill Sanjay, who was Dinesh's business partner. Sanjay and Dinesh had differences owing to a land dispute. — TNS
AIG Jagjit Singh gets President service medal
Chandigarh, January 27
Jagjit Singh, Additional Inspector-General of Prisons, Haryana, has been awarded President Correctional Service Medal for meritorious service. An official spokesman said the award had been conferred on the eve of Republic Day. During his postings in various jails, Jagjit Singh had made efforts in improving environment in jails for prisoners and staff. — TNS
Employee electrocuted
Rewari, January 27
Bhupinder Kumar (32), an employee of SMI Mtech at Dharuhera belonging to UP, was electrocuted while working on a machine yesterday. The Dharuhera police have booked the management for causing death by negligence on a complaint by Davender, brother of the deceased. — TNS