Viplove files nomination papers
Shimla, January 28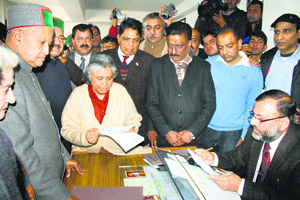 Viplove Thakur, a senior Congress leader, today filed her nomination for the Rajya Sabha seat falling vacant in April on the completion of the term of former Chief Minister and BJP leader Shanta Kumar. Chief Minister Virbhadra Singh, state Congress president Sukhwinder Singh Sukhu, ministers Vidya Stokes, Kaul Singh Thakur, GS Bali, Sujan Singh Pathania, Mukesh Agnihotri, along with several Congress MLAs and party leaders, were present.
Viplove Thakur files her nomination papers for the Rajya Sabha seat in the presence of Chief Minister Virbhadra Singh in Shimla on Tuesday.

RinGside view
Unforgiving humour
The absence of former Chief Minister PK Dhumal from the meeting held with all legislators to discuss priority schemes had CM Virbhadra Singh remark, "Naughty professor bunking classes." Whether it is the Congress or the BJP in power, former Chief Ministers usually do not attend these meetings held to discuss the development schemes which the legislators want to be taken up on priority. However, bureaucrats as well as ministers and MLAs present during the meeting were quite amused at the Chief Minister's spontaneous reaction to his predecessor's absence.
BJP's one-vote, one-note drive begins from Solan
Solan, January 28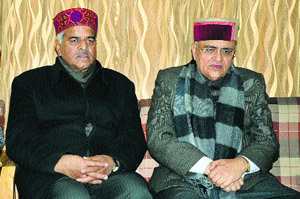 Balbir Punj, BJP state in charge, today launched the party's one-vote, one-note campaign to collect funds for the party's prime ministerial candidate Narendra Modi for the upcoming 2014 Lok Sabha elections here. Addressing mediapersons, he said they were yet to finalise the candidates for the Lok Sabha polls and the re-entry of those who had been expelled from the party would be considered on a case-to-case basis.
BJP state in charge Balbir Punj and MP Virender Kashyap address mediapersons in Solan on Tuesday.

CBI files chargesheet in cement scam
Shimla/Siund, January 28
After detecting forged records falsely claiming delivery through 41,152 trucks worth Rs 1 crore in the stores of the 800-MW Parbati project-II, the CBI has filed a chargesheet against six main accused —Three officials of the National Hydroelectric Power Corporation (NHPC), a general manger of Gammon India and the two private transporters at the special CBI court here.
Trials for national skiing championship held
Manali, January 28
Selection trials for the junior, sub-junior and children categories of skiing were conducted at the Solang ski slopes, 13 km from here, for selection of the Himachal Pradesh Junior Skiing team. The national junior skiing championship is being conducted on February 4 at Auli, under the banner of the Winter Games Federation of India (WGFI). It is being organised by the Winter Games Association of Uttarakhand, Ski Clubs Association and Uttarakhand Government.
Rs 16 crore for roads, bridges: Speaker
Palampur, January 28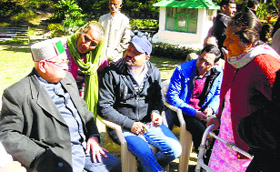 Himachal Assembly Speaker Brij Behari Lal said Rs 16 crore would be spent on roads and bridges in the Palampur constituency during the current financial year. Addressing mediapersons at the PWD rest house here, Butail said he had envisaged a plan to make Palampur a model constituency of the state. He categorically stated there would be no shortage of funds.

The darbar organised in Palampur in progress. Photo: Ravinder Sood
Gen Zorawar's statue re-installed at park
Bilaspur, January 28
Social organisation Chetna re-installed a statue of General Zorawar Singh at the General Zorawar Singh Park in Raura sector here in a largely attended function yesterday. The statue installed here earlier was disfigured by some anti-social elements recently.
Rajinder Rana to woo voters from Baddi
Solan, January 28
Desirous of contesting the parliamentary poll from the Hamirpur seat, Rajinder Rana, an independent MLA from Sujanpur, has chosen Baddi to reach out to people of his constituency residing in this industrial belt. Rana, who was in Baddi on Saturday, planned to organise a programme under the banner of a social organisation, Sarvkalyankari Society, on February 2. He would honour people from various fields for their outstanding contribution to society at the function.
7 shops catch fire in Shimla
Shimla, January 28
As many as seven shops were gutted while four shops and seven vends were partially damaged after a fire broke out in a wine shop in the Lower Bazaar of the city around 1.30 pm today. Short circuit in the wine shop was the likely cause of the fire. Fire tenders rushed to the spot as soon as the fire was noticed, said shopkeepers.
3-year jail for 2 youths
Una, January 28
Additional District and Sessions Judge Devinder Kumar Sharma today sentenced two local youths to three-year RI for severely beating up a driver from Hamirpur district. They were also fined Rs 5,700 each.
Cop held for taking bribe at Nahan
Nahan, January 28
The Nahan unit of the Vigilance and Anti-Corruption Bureau (VACB), led by Inspector Ishwar Singh and Sub-Inspector Manvinder Thakur, today arrested a policeman, Hari Krishen, for taking bribe. He was caught at Sarahan here while accepting a bribe of Rs 3,000 from Satish Kumar.
Cong, BJP fighting mock battle, says HLP
Bilaspur, January 28
The Himachal Lokhit Party (HLP) has taken the Congress and the BJP to task for "fighting a mock battle". HLP district president Daulat Ram Sharma said on Saturday that both parties had not taken any action against corruption and had ignored problems of people of the state.
AIDS control society on strike from tomorrow
Bilaspur, January 28
On a call given by the All-India AIDS Control Employees' Association, members of the HP State AIDS Control Contract Employees' Association have also decided to go on an indefinite strike from January 30.
Teenager dies in road mishap
Una, January 28
A 17-year-old boy who was seriously injured in a road accident at Dehlan village last night succumbed to his injuries. He died on the way to the PGI, Chandigarh. Police sources said the victim, Gaurav Kumar, was riding a bicycle when a Maruti car (HR-26-H-1870) hit him from behind. Gaurav was of Dehlan village. The body was handed over to the parents after postmortem, said DSP Surinder Sharma. He added that the vehicle had been impounded and a case registered under Sections 279, 337, 304-A, IPC, and Sections 185 and 187 of the Motor Vehicle Act. OC
AAP flays admn for 'indifference' towards freedom fighter
Dharamsala, January 28
The district unit of the Aam Aadmi Party (AAP) today condemned the district administration for its indifferent attitude towards Hoshiar Singh Thapa, a veteran freedom fighter, who was forced to resort to a dharna during the Republic Day function at Dharamsala. The freedom fighter sat on a dharna outside the venue for not being provided a place to sit at the function. He was later persuaded by officials of the district administration and provided a proper place to sit. AAP district coordinator Aman told the district administration to tender a written apology or they would be forced to sit on a dharna. TNS
Campaign on UPA policies
Chamba, January 28
In the wake of the coming Lok Sabha elections, the Congress has launched a door-to-door campaign to highlight the programme and policies of the UPA government at the Centre and the state. Rural Development and Panchayati Raj Minister Anil Sharma who kicked off the campaign of the Congress here yesterday, appealed to workers to thwart the false propaganda of the BJP of overlooking the development made by the Congress government. Congress district president Surinder Bhardwaj boosted the morale of party workers on the occasion. OC
Plea to upgrade Kangra polytechnic
Kangra, January 28
Former Parliamentary Secretary and a close aide of Chief Minister Virbhadra Singh, Surender Kaku today sought the upgradation of Kangra Government Polytechnic to an engineering college. Kaku said Technical Education Minister GS Bali had promised to set up a Government Degree College in the changer belt of the Kangra Assembly constituency. Seeking the Chief Minister's intervention into the matter, he also demanded the setting up of a satellite town here. Kaku criticised former Chief Minister PK Dhumal for inaugurating the Mini Secretariat in an incomplete condition. — OC
CM takes stock of damage
Shimla, January 28
Chief Minister Virbhadra Singh today said he would urge the Centre to get the Gorton Castle building reconstructed along the old lines as it was a heritage structure and part of the British legacy. "I am really pained to see such an imposing structure suffering huge damage in the fire and since it is under the CPWD, I will urge the Centre to restore it to its original look," he said. He visited the site to take stock of the damage and also spoke with Satish Lamba, Chief Accountant General (Audit). "We will have to shift our offices to the accommodation that we have in the Railway Board building," he said. — TNS
Woman receives burns, critical
Kangra, January 28
A 33-year-old woman today was admitted to the DRPGMC, Tanda, with 90 per cent burn injuries, the police said. SHO Bhadur Singh said the victim identified as Neha, a resident of Geora village, was cooking when her clothes caught fire. A woman tried to douse the flames, but by that time she had received 90 per cent burn injuries, the SHO disclosed. She was rushed to Gangath hospital from where she was referred to the DRPGMC, Tanda. The woman has an eight-year-old son and four-year-old twin babies. He said the investigation was in progress. OC
Chhatrari PHC sans doctor
Chamba, January 28
Residents of the far-off Chhatrari area in the district are unable to derive the benefits of health services provided by the state government in the absence of a doctor at the Primary Health Centre (PHC), Chhatrari. Reports said the PHC had been functioning without a doctor for the past some time despite persistent demands of locals. — OC