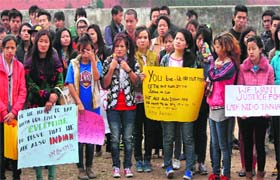 War against racism

: Students from Northeast protest in support of Nido Taniam, who was beaten to death at a market in Lajpat Nagar, New Delhi. Tribune photo: Manoj Mahajan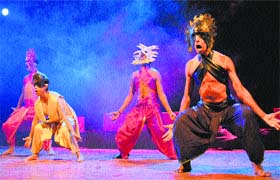 DONNING A NEW ROLE: Artistes enact a play 'Bahroopiya,' organised by Swarg Repertory, at Tagore Theatre in Chandigarh on Saturday. Tribune photo: S Chandan
Gang member spills the beans
Panchkula, February 8
A Sector 17-based family was in for a shock when it received a letter from a thief giving details of the theft that took place in their house 25 days ago. He wrote that he had refused to be a party to the theft. The family handed over the letter to the police.
Thieves take away jewellery, 750 USD
Chandigarh, February 8
Thieves struck at a house in Sector 38 (West) in broad daylight on Friday and took away 45 tolas of gold jewellery, Rs 70,000 in cash and 750 USD. Owner of the house, Davinder Kumar Sharma, had gone out and on return he found the house ransacked.
cancer survivors' day
Cancer survivor turns healer
Chandigarh, February 8
Cancer visited her -- uninvited. But she fought and won. Twenty-year-old Manpreet Kaur emerged strong and found her purpose in life. She now counsels families of those suffering from the disease.
State BJP chief hurt in mishap
Mohali, February 8
President of the Punjab unit of the BJP Kamal Sharma suffered injuries in a road accident near Mundi Kharar today. The Innova in which Kamal Sharma was travelling hit another vehicle. Following the accident, motorists entered into a heated argument with BJP leader, Subash Sharma. A commuter alleged that he was beaten up. A case has been registered. — TNS

Hi-tech vegetable market opened
Mohali, February 8
A hi-tech fruit and vegetable market was inaugurated by Punjab Chief Minister Parkash Singh Badal, here today. Addressing a gathering, the Chief Minister said the market was constructed at a cost of Rs 50 crore and no other state in the country has such a facility.

CM Parkash Singh Badal at the fruit and vegetable market in Phase XI, Mohali, on Saturday. Tribune photo: Parvesh Chauhan


Special industrial package to neighbouring states mars Punjab's interests, says Badal
Chandigarh, February 8
In a veiled attack on Congress-led UPA Government, Punjab Chief Minister Parkash Singh Badal today resented the special industrial package to certain states, including neigbhouring Himachal Pradesh, alleging that such decisions have an adverse affect on Punjab's industrial and employment scenario.
Terminal Ballistics Research Laboratory
Animosity among profs comes to fore
Chandigarh, February 8
The Terminal Ballistics Research Laboratory (TBRL), Chandigarh, has fallen prey to rivalries among eminent professors. The dispute between Dr AK Sharma (Scientist F) with the institute Director has led to repeated filing of complaints with the Ministry of Defence. A committee has also been constituted to examine the professor's conduct.
Heavy vehicles banned on Pinjore road
Panchkula, February 8
Perturbed at the death of a six-year-old girl and her grandfather in a road accident yesterday, their relatives blocked the highway in protest. The accident had taken place at Bairagi in Pinjore. Following the protest, the district administration banned the entry of heavy vehicles to Pinjore.
UT gives nod to regularisation of daily wagers
Chandigarh February 8
The Chandigarh Administration has approved the policy regarding regularisation of daily wage employees. It was a long-pending demand of the employees. This was stated by Pawan Kumar Bansal, Member of Parliament, while releasing the logo of the Fourth Delegates Conference of Coordination Committee of Government and MC Employees and Workers.
Fire breaks out at shop in Ramdarbar
Chandigarh, February 8
Goods worth several lakhs was destroyed after fire broke at shop No. 639 in Phase-II, Ramdarbar, here today. The police said the fire was noticed at around 1.40 am following which fire tenders from the Industrial Area fire station and Sector 32 fire station were rushed to the spot.
70 violators challaned during anti-encroachment drive
Chandigarh, February 8
The enforcement wing of the Municipal Corporation (MC) today issued 70 challans for encroachments in city markets. Inspector (Enforcement) Sunil Dutt stated that the team visited Sector 15, 21 and 22 and challaned 70 violators.
Dr Ambedkar Awaas Yojana
Draw for one-room flats on March 4
Chandigarh, February 8
The Chandigarh Housing Board (CHB) will hold a draw to allot one-room flats to Scheduled Castes under the Dr Ambedkar Awaas Yojana-2009. The decision to allot 320 one-room flats was taken on October 10, 2009. The draw will be held on March 4.
Dy Mayor holds Janata Darbar
Chandigarh, February 8
Deputy Mayor and BJP councillor Davesh Moudgil held a 'Janata Darbar' for residents of his ward. MC officials accompanied Deputy Mayor Davesh Moudgil to the darbar. Residents of Ward No. 22, including Sectors 31, 47, 48, Industrial Area, Phase II, were invited to the darbar, which was held at Community Centre, Sector 47.
Make city tourism hub: Bansal
Chandigarh, February 8
"More efforts are needed to promote Chandigarh as a major tourist destination, which is also a gateway to Himachal Pradesh." This was stated by local Member of Parliament and former union railway minister, Pawan Kumar Bansal, at HOSTOCON-2014 — two-day national seminar on 'Green hospitality and tourism industry: Status trend and future prospects' — at Panjab University today.


pu and college notes
Students from Tricity take part in job fest at MCM DAV
Chandigarh, February 8
A one-day job fest was organised at MCM DAV College for Women, Sector 36, today. As many as 1,370 aspirants got themselves registered, of which, 558 were shortlisted by various companies.

Students take part in the job fest at MCM DAV College for Women in Chandigarh on Saturday. Tribune photo: Manoj Mahajan

SCHOOL NOTES
Baking activity at Saupin's School
MOHALI: The pre-primary wing of Saupin's School organised a baking activity for the students of LKG and UKG on Saturday. Wearing aprons and caps, the tiny tots came dressed as little chefs. These activities help children understand skills such as measuring, mixing in proportion etc.

Children take part in the fancy dress competition at Paragon Senior Secondary School in Mohali on Saturday. Tribune photo: Parvesh Chauhan