Completion of sail plant
Congress MP seeks Defence Minister's intervention
New Delhi, February 10
Taking up the cudgels on behalf of Himachal Pradesh, Congress MP from the state Pratibha Singh has urged the Central Government to relax the rules to enable the completion of a plant of Steel Authority of India Ltd (SAIL), which is located on a notified land around an ordinance depot of the armed forces in Kandori, Kangra.
Double standards on land lease to outsiders: Dhumal
Hamirpur, February 10
Former Chief Minister PK Dhumal has accused the state government of adopting double standards.
AAP stages protest
Mandi, February 10
The state unit of Aam Aadmi Party (AAP) staged a dharna at Seri Mandi today. It submitted a charter of demands to the state government.
No alliance with any party in HP: AAP
Dharamsala, February 10
The Aam Aadmi Party (AAP) will not enter into a pre-poll alliance with any political party in Himachal. National observers of the party, Sandeep Bisht and Anup Singh, who were in Dharamsala on Friday, said AAP would not enter into an alliance with any party, including the Himachal Lokhit Party (HLP).
Strong political management to ensure BJP's victory: Shanta
Nurpur, February 10


BJP candidate for Kangra Lok Sabha seat Shanta Kumar today asked people to work aggressively for the next two months as strong political management would ensure victory for the BJP in the forthcoming Lok Sabha elections.

Rajya Sabha MP Shanta Kumar addresses BJP workers at Nurpur on Monday. Photo: Rajiv Mahajan

Shoddy skill development centres unearthed in Nahan
Nahan, February 10
The district administration has unearthed scores of fake institutes lacking both manpower and infrastructure to impart skills to youth for making them eligible to avail skill development allowance.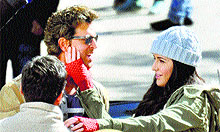 Bollywood actors Hrithik Roshan and Katrina Kaif during the shooting of the Hindi movie "Bang Bang" in Shimla on Monday. Photo: Amit Kanwar

Dry weather predicted for next 2 days
Shimla, February 10
The Met Department has predicted rain or snow at isolated places in higher hills in the next two days while it will remain dry in the rest of the state.



Snowfall in Manali
Public sector banks' strike hits services in state
Shimla, February 10
The nationwide two-day public sector banks' (PSB) strike observed by unions of 25 banks hit the banking services in the city and state today. All banking transactions came to a halt, hitting the industry, corporate houses, including government sector undertakings, and the public.
Chamba to get disaster control hub
Chamba, February 10
A control room will be set up at Chamba to garner information and facilitate activities for the prevention and preparedness of disasters. This was stated by Chamba Sub-Divisional Magistrate (SDM) Bachan Singh while presiding over a meeting of the sub-divisional-level Disaster Management Committee here on Thursday.
Doc's transfer irks Kangra residents
Kangra, February 10
Resentment prevailed among residents here after a doctor was transferred from the Kangra Civil Hospital to the Chamba District Hospital, where a physician is already posted.
AIPP to solve problems at village level
Kullu, February 10
All-India Panchayat Parishad (AIPP) national vice-president Satya Prakash Thakur said the AIPP aimed at strengthening the Panchayati Raj system at the village level.
Muslims' non-representation in state services flayed
Shimla, February 10
Concerned over the slow selection rate of candidates belonging to the Muslim community in government services in the state, All-Himachal Muslim Community chairman Naseem Diddan on Thursday said: "Since Independence no Muslim candidate has made it to the state cadre services."
Leopard attacks villager in Bilaspur
Bilaspur, February 10
Rajender Kumar Sharma, former president of the Naghyaar gram panchayat near Shah Talai, 65 km from here, had a narrow escape when a leopard pounced on him while he was returning to his village on scooter on Friday evening.
MLA grants Rs 2 lakh for Kullu school
Kullu, February 10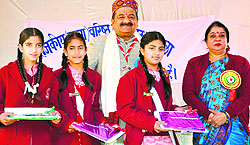 The annual prize distribution function of Girls Senior Secondary School, Sultanpur, was organised on the school premises here yesterday. Principal Poonam Sharma welcomed chief guest Maheshwar Singh, MLA, Kullu.


Kullu MLA Maheshwar Singh, along with Principal Poonam Sharma of Girls Senior Secondary School, Sultanpur, at the annual function in Kullu on Sunday

Fraud in co-op bank branches alleged
Solan, February 10
A case of daily collection agents embezzling cash deposited by account holders of the Barotiwala and Parwanoo branches of the Jogindra Central Co-operative Bank has come to light. An inquiry was initiated into this case on Friday.
Woman commits suicide over 'taunting', 1 booked
Hamirpur, February 10
Kulbir Singh of Sunali village here has got a complaint registered against a history lecturer working in a school for allegedly taunting his wife about her speech problem. The taunting led his wife to commit suicide, he alleged.
ASI held for taking bribe
Mandi, February 10
The Vigilance and Anti-Corruption Bureau (VACB), Mandi, caught an ASI red-handed while taking bribe last night. ASI Naseer Singh, posted at the Dharampur police post, was held for allegedly taking a bribe of Rs 10,000.
All-India Judo Championship gets underway in Una
Una, February 10
The two-day ninth All-India Judo Championship began at the Indira Gandhi Indoor stadium here today. Teams from 38 states, union territories, besides paramilitary forces, are participating in the event.