M A I N N E W S
AAP names 20 candidates to take on top players in Lok Sabha poll
Tribune News Service
New Delhi, February 16
The Aam Aadmi Party (AAP) today announced its first list of 20 candidates for the forthcoming Lok Sabha elections. The list names its challengers to political biggies such as Congress vice-president Rahul Gandhi, former BJP chief Nitin Gadkari, Samajwadi Party chief Mulayam Singh Yadav, Rashtriya Lok Dal chief Ajit Singh, Union ministers Kapil Sibal, Manish Tewari and Salman Khurshid, among others.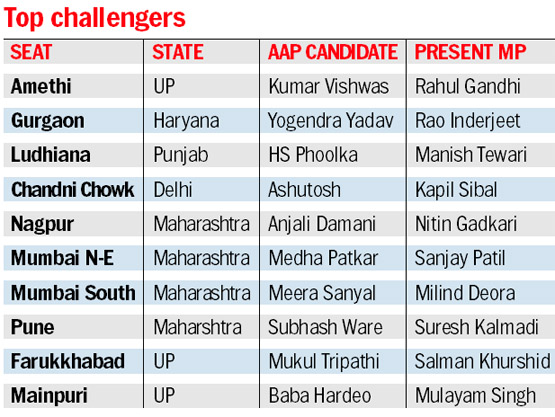 Though other parties have not yet announced their candidates, the AAP seems to have prepared its list taking into consideration the sitting MPs. The list comes two days after Arvind Kejriwal quit as the Delhi Chief Minister. It names party candidates from Delhi (two), Uttar Pradesh (seven), Maharashtra (six), Haryana, Arunachal Pradesh, Odisha, Madhya Pradesh and Punjab (one each). Another list is expected next week. Poet-turned-politician Kumar Vishwas will challenge Rahul Gandhi in Amethi, while Yogendra Yadav will contest against sitting MP Rao Inderjeet Singh from Gurgaon. Three days ago, Rao Inderjeet joined the BJP, leaving the Congress after 34 years.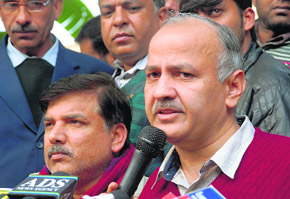 AAP leaders Manish Sisodia and Sanjay Singh address mediapersons in New Delhi on Sunday. photo: Manas Ranjan Bhui

Harvinder Singh Phoolka, the face of the legal battle for justice for anti-Sikh riot victims, will contest from Ludhiana, currently represented by Information and Broadcasting Minister Manish Tewari. Journalist-turned-politician Ashutosh will contest the Chandni Chowk seat in Delhi. Kapil Sibal is the sitting MP from here. Another former journalist Jarnail Singh, who hurled a shoe at Union minister P Chidambaram in the run-up to the elections in 2009, will contest the West Delhi seat. Anjali Damani, who is credited with having dug out the irrigation scam in Maharashtra, will face Gadkari from Nagpur, the home-base of the Rashtriya Swayamsevak Sangh (RSS).
Former CEO of the Royal Bank of Scotland Meera Sanyal will contest against Milind Deora from Mumbai South. Narmada Bachao Andolan spearhead Medha Patkar will be the candidate from Mumbai North-East, which is currently represented in Parliament by Sanjay Patil. In UP, Mukul Tripathi will be the AAP nominee against Union External Affairs Minister Salman Khurshid from Farukkhabad. Former UP bureaucrat Baba Hardeo will face Mulayam Singh Yadav from Mainpuri, while farmer leader Soumendra Dhaka will take on Ajit Singh (son of former Prime Minister Charan Singh) in Baghpat.
Social worker Subhash Ware is the AAP nominee for Pune. Suresh Kalmadi is the sitting MP from here. Mayank Gandhi, who has been with India Against Corruption (IAC), will be the AAP nominee from Mumbai North-West. Gurudas Kamat is the sitting MP. Vijay Baliram Pandhare, a former Chief Engineer with the Water Resources Department, will be nominee from Nashik. Sameer Bhujbal, son of Chaggan Bhujbal of the NCP, is the sitting MP from this seat.