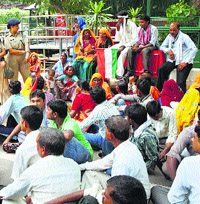 Keynote speaker: Hello folks! Today I am glad to present before you bright opportunities that await you in Punjab. Others have to knock on the window to be let in but for you my dear brothers all windows and doors are open. No clearances, no property tax, no rent, no electricity connection, no water connection, no norms, no hygiene and food safety standards, no VAT, and if you are lucky enough, you will not even have to bribe any official because they are hardly on duty. Without much ado I want to get down to business. So I declare the house open. Questions please….
Audience: Sir, can we fix our rehris, carts and stalls on the road?
Speaker: For the present any roadside meant for parking or any pavement meant for pedestrians will do. In future, depending on the cart/rehri investment rush, we may have to move on to the roads.
Audience: But sir, won't the people object?
Speaker: No, they are very generous, if they don't find parking space they will not bother to bother you but park in a no-parking area and may even end up paying a 800-rupee fine
Audience: I am sure though shopkeepers will not like it.
Speaker: No, they only object to property tax.
Audience: Are they dumb? How can they compete with our prices, we have no overheads, pay no rent or tax?
Speaker: Who cares? Good for us.
Audience: Can I put up my sewing machine on the pavement?
Speaker: You can surely do.
Audience: What about posh areas?
Speaker: You will face no problems even there. Yes, maybe in the beginning a few people may raise their concerns but none will pursue the cause. They will just moan and groan and thank God they are leaving the country soon along with their moneybags and subsidised degrees.
Audience: Oh no! If the entire rich and not-so-rich Punjabis move out, who will buy from us?
Speaker: Yes, surely one day it will be difficult to spot a Punjabi in Punjab but it will take another decade or so. By then, you would have probably earned enough.
Audience: Enough to fund a foreign tour?
Speaker: Oh my God! We are just talking about Punjab and the foreign bug has already got you!
Audience: Where will we stay?
Speaker: Well, if you can put up your stall anywhere, you can put up your shack anywhere.
Audience: Won't the Tourism Department object?
Speaker: Why?
Audience: Because the government wants to promote Punjab as an international tourist destination.
Speaker: Who said?
Audience: I have heard.
Speaker: Heard….even then, how will you come in their way?
Audience: Are not neat, tidy, pedestrian-friendly public spaces the first ingredient of an international tourist destination?
Speaker: Well, maybe, they have not figured that out yet.
Audience: Ha ha ha….
Speaker: Well, you know your ingredients and recipes are very good and that's what matters and before we move on to enjoy lunch, here are a few important ingredients…oh sorry …tips.
Always keep handy: A local councillor /NGO
Your last resort: Your voter ID
So my friends get ready to begin your businesses here, you will surely not be disappointed.