OPED —

Society
Our cities create gendered spaces
Men and women not only use the city space in different ways, they also experience it differently. Women have been disadvantaged by the physical layout of a city, by the distance between workplace and home. Rising crime rates against women demand that our cities be designed for spatial coexistence
Rajesh Gill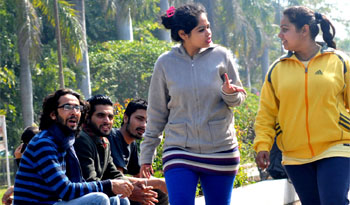 Cities are designed for the benefit of men. Models courtesy Department of Indian Theatre, Panjab University. Tribune Photo Pradeep Tewari
Despite a long history of urbanisation, a major challenge confronting contemporary cities all over the world is to make cities inclusive, safer, humane and sustainable not only environmentally, but also socially and culturally. Cities will have to evolve methods to forge democratisation, political participation by all urban residents, gender equality and full participation by all residents, irrespective of ethnicity, class, caste and religion. These objectives were forcefully brought out by the United Nations in the Second HABITAT Conference held in 1996 at Istanbul. After more than a decade, however, the Report of 'State of the World's Cities 2010/2011' by UN HABITAT exposes the increasing disparities/divide within cities of developing countries. The 2013 report is not very promising either on this front.
The report defines "inclusive cities" as
"Cities that share a few basic features that can take different forms in various conditions: they provide the opportunities and supportive mechanisms that enable all residents to develop their full potential and gain their fair shares of the "urban advantage". In an inclusive city, residents perceive themselves as important contributors to decision making, ranging from political issues to the more mundane routines of daily life….The concepts of human relations, citizenship and civic rights are all inseparable from urban inclusiveness."
Cities as masculine centres


Gender gap

By 2050 seventy per cent of the world's population will be living in urban areas.


Cities are associated with opportunities for wealth generation.


Urban women supposedly enjoy greater social, economic, political opportunities and freedoms than their rural counterparts.


The notable gender gaps in labour and employment, decent work, pay, tenure rights, access to and accumulation of assets, personal security and safety and representation in formal structures of urban governance, leave women for the last to benefit from the prosperity of cities.
An inclusive city, as defined for the purposes of this report, is one that provides all residents with adequate housing and decent basic services and facilitates equal access to social amenities, opportunities and other public goods that are essential to the well being of everyone. However, scholars led by Marxist feminists have argued that cities are masculine spaces, gendered enough to exclude women from core locales and public spaces. Literature indicates that unlike ethnic, class and racial differences in city spaces, gender specific spaces in a city are not obvious as one finds both men and women in all neighbourhoods. Yet it is true that in spite of this spatial coexistence, men and women not only use city space in different ways but also experience it differently. Early feminism emphasised that women had been disadvantaged by the physical layout of a city. The separation between work and home for instance had greatly reflected and reinforced this disadvantage. This dichotomy was associated by Wilson (2001) to the distinction between public and private domains, with the public linked to the city and the private to the home and the suburbs. Thus, it was argued that although both men and women share spaces in same houses and neighbourhoods, yet they occupy different spaces for work and leisure. Traditionally, men have been moving to their workplace every day, while women have stayed back at home, taking care of their role as homemakers. With this background in place, city centre or downtown was looked upon as a place for men and the suburbs were seen as natural spaces for women and children. The city could be thus divided into discrete male and female zones.
Sophie Watson (1988), another feminist scholar, argues that housing location and tenure have played a crucial role in creating patriarchal structures of injustice. Home ownership as the dominant form of housing tenure and suburbanisation as the premier residential site have gone to the disadvantage of women. Watson argues that the 'suburbanisation of home ownership' results into social and spatial relations that limit women's access to urban facilities, resources, labour market and finance capital, simultaneously reinforcing domestic relationships, again to the disadvantage of women.
Cities have also been interpreted by feminists from the standpoint of women's safety. Women often divide the city spaces into places that are 'safe' and those as 'unsafe'. Dora Epstein (1997) says,
"There is a story to this fearing, this fearing that maps the cityscapes into places I will go and places I will not. As speaking subjects, sentient members of urban terrains, we can narrate our cartographies of avoidance, our fearing, far better than we can narrate how the fearing came to be. We know, can articulate, what we have deemed 'unsafe'— the strange, the unfamiliar, the supposedly violent 'other' against we have insulated and barricaded ourselves-and what we have deemed as 'safe'— the lit, the populated, the orderly, or seemingly controlled to which we have clung. We felt justified when violence occurred in the realm of our 'unsafe'; felt shock when it occurred in our 'safe'."
The unsafe home, school
It has therefore been argued that the women, who consistently and in routine have to use the public spaces for work or other purposes, mark the areas which are safe and others as unsafe. However, all these spaces may not be the same for all women. While some of such spaces such as escalators/lifts, dark and secluded spaces, masculine spaces, may be identified by all women as unsafe, other spaces may be differently defined by women from different background.
Schools in many slum areas, as corroborated by the U.N. Report, are not child friendly and in some cases are even hazardous for girls. During menstruation, girls will not attend school if basic toilet facilities are not available at school. The heightened risk of sexual violence in poor, overcrowded classrooms hinders educational prospects for girls. The report further indicates that more or less unwillingly, girls often give in to unwanted sexual advances from boys or even teachers, leaving them exposed to unwanted pregnancies.
Reinforcing gender advantages
Geographers too have underlined the social relevance of spatial structures. According to another scholar, initial status differences between women and men create certain types of gendered spaces and that institutionalised spatial segregation reinforces existing male advantages. Another feminist geographer has argued that urban structure in capitalist societies reflects the construction of space into masculine centres of production and feminine suburbs of reproduction, whereby definitions of femininity and masculinity are constructed in particular places, most notably the home, workplace and community. How men and women should behave in the home are negotiated not only there but also at work, school and at social events. Dwellings often reflect ideals and patterns of relationships between men and women within societies and families.
Studies have shown that women in typically male occupations earned more and had higher status than women in typically women occupations. Women have continued to be concentrated in certain occupations all over the world, occupying separate workplaces from men. Thus in modern workplaces there are not only men's and women's jobs but also men's and women's spaces. Since more and more women are going out to work and since they do not share most of the workplaces with men, contact between the two genders is reduced. Since public status derives significantly from occupational skills, workplace segregation leads to lower status among women in cities too, spatial relations influencing women's status.
Studies from Thailand, Brazil and China, indicate that younger women easily become commodities selling exotica and sexuality as part of the sensuous image of tourism. Globalisation has also created a strong and sizeable section of consumers among women, particularly in cities. This is especially true in the off shore pink collar industries. Working as telephone receptionists, programmers and print shop workers, these urban women spend a substantial portion of their wages on fashionable clothes, shoes and cosmetics, considered essential for their work status. Some studies indicate that women in the metropolises have been transformed into compulsive shoppers, spending most of their time and money in the shopping malls.
Need for inclusiveness
The U.N. HABITAT Report also highlights the most vulnerable condition of women and girls in cities of the developing countries. It states that girls and young women living in poverty in cities consistently face steeper challenges than their male peers when it comes to acquiring the knowledge and skills they need to live healthy, productive lives. The Report further states that a majority of young female slum dwellers tend to bear children at an earlier age than their non-slum counterparts. Women who do work in developing countries tend to do so in the informal economy, owing to lack of formal job opportunities in many regions, leading to confinement of slum dwelling women to largely informal jobs. The report thus suggests that continued emphasis on expanded opportunities for girls and young women, therefore, would be an essential requirement if the Millennium Development Goals are to be met in cities.
With the increased crimes against women, especially in cities, a more participatory approach to urban planning, with an increased stress on "social planning" is urgently required. It is high time for urban planners to realise that cities even in countries like India that claim to be democratic, continue to be gendered instead of being inclusive.
The writer is Professor, Department of Sociology, Panjab University, Chandigarh.