Afghanistan's political transition
Anand Arni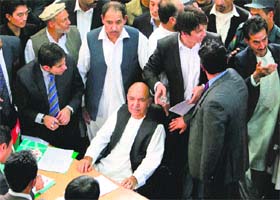 Qayum Karzai (C), older brother of Afghanistan's President Hamid Karzai, is a candidate for the Afghanistan presidential election. Photo: Reuters
Afghanistan will undergo another political transition in 2014 with the presidential election slated for April 5. Just as in 2004 and 2009, this election carries hope of ushering in new opportunities. Unlike then, however, the hope is tempered with profound uncertainty over the prospects of the candidates and the outcome of the election.
The ticket
President Hamid Karzai is constitutionally barred from seeking a third term. This opens the floor for other players. Of the 29 candidates who initially registered, only 11 remain representing a multitude of interests and alliances – Hidayat Amin Arsala aligned with Pakistan; Dr Abdullah perceived as having backing from India, Iran and the UK; ex-Royalists like Zalmai Rasool; Mujahideen leaders like Abdul Rasul Sayyaf; and President Karzai's elder brother, Qayyum Karzai.
The electoral formula is simple – the ticket has a president with two vice-presidential running mates. Nothing in the Afghan constitution stipulates that the President has to be a Pashtoon but, given their demographic weight (The Pashtoons comprise 42 per cent of the population, though these numbers are, at best, estimates, as the last official census in Afghanistan was in 1979) and the nature of the insurgency, it is inconceivable that a non-Pashtun could be a viable candidate, at least in the short term. Numerically, the two largest minorities are the Tajiks and the Hazaras and, therefore, the last two elections have seen a Tajik as first vice-president with a Hazara as second vice-president.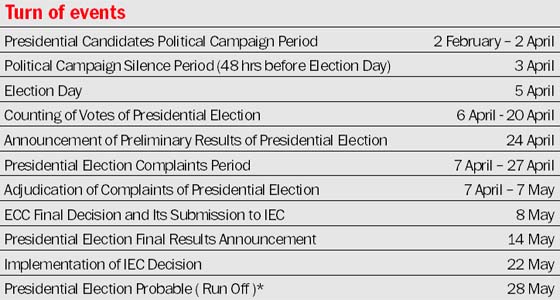 Certainties and uncertainties
Several dynamics are crucial to understanding how the election may play out. First, at the center of the political transition stands President Karzai. A shrewd politician, experienced in manipulating intersecting interests and affiliations to his advantage, Karzai's support is integral to influencing the outcome of the election. There is no clear favourite precisely because Karzai has not thrown his weight behind anyone yet.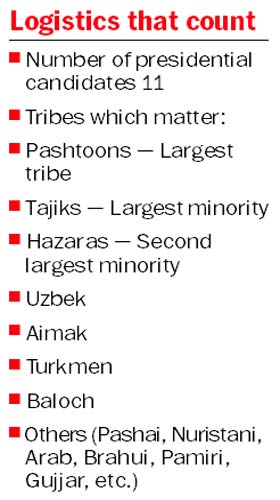 Second, given the absence of any outright favourite, this election is less about the individual and more about the team – the president and his vice-presidents. Assessing the frontrunner is, thus, about understanding who has the best team.
Third, while the Pashtun, Tajik and Hazara votes are likely to be divided among the contesting teams, the Uzbek votes would remain largely uncontested.
Fourth, while there are 11 teams, a number of these are in it primarily to secure political concessions from those that are more likely to win. These teams stand a miniscule, if any, chance and are likely to cut deals and secure assurances of political favours for cabinet-level and sub-national appointments from the likely winners. In exchange, they would validate the mandate of another team and/or lend it financial support and drop out of the race.
Thus, to assess the teams that could be potential frontrunners, it is critical to identify (a) the teams that are least likely to drop out and (b) those teams that Hamid Karzai is most likely to support. These two attributes are central to the outcome of the election.
Least likely drop-outs
The team that seems least likely to drop out is led by Abdullah Abdullah and his running mates Engineer Mohammed Khan — a Pashtun from Ghazni province affiliated with the Hizb-e-Islami party — and Haji Mohammad Mohaqiq, a Hazara and head of the People's Islamic Unity Party of Afghanistan.
Man to man, not only is this team one of the most promising, the team also realises how Dr Abdullah surpassed most expectations in 2009. Dr Abdullah, who claims mixed Pashtun and Tajik ancestry, can expect some backing from the Jamiat-e-Islami party. He would also benefit from the Hazaras whom Mohaqeq would attract. The fact that Abdullah and Mohaqeq have demonstrated an ability to raise resources for their politics is another reason why they are likely to go all the way.
Another team that is highly unlikely to drop out is that led by Dr Ashraf Ghani Ahmadzai. Ghani, a Pashtun, is seen as a technocrat with a vision for Afghanistan. A former finance minister and a well-regarded economist, Ghani is a Kochi and his brother Hashmat is the Grand Chieftain of the Kochi council. If the Kochis vote on ethnic lines, Ghani would not meet with much competition for their votes. Ghani has Uzbek strongman Dostum as his running mate. While this has angered many Pashtoons who have not forgiven Dostum for excesses against them, this disadvantage could be offset by the support Dostum will muster from the Uzbek and Turkmen minority, who account for 10 per cent of the population. Unlike other ethnic groups, there is no alternative to Dostum who could command national stature among the Uzbeks. As his second vice-president, Ghani has picked former Minister of Justice Sarwar Danish, a Hazara.
Ghani's team is unlikely to opt out because of the noticeable rise in popularity for Ghani across the country since 2009. This is a result of his work on transition planning. Another reason is the certainty of securing Uzbek votes.
Unsurprisingly, these two teams led by Abdullah and Ghani are also least likely to secure Hamid Karzai's support. Both these leaders contested in 2009 and neither was willing to compromise or opt out then.
Karzai's roulette
Those wary of Karzai's political intrigues are reluctant to reveal their cards early. But, who is Karzai's bet among these teams? Speculation abounds that Former Foreign Minister Zalmai Rasool enjoys Karzai's tacit backing. He is largely seen as a moderate with royalist connections. Rasool's running mates are Ahmad Zia Massoud — a former first vice-president, brother of the iconic Ahmad Shah Masood and son-in-law of former President Burhanuddin Rabbani. Ahmad Zia could be expected to challenge Abdullah's northern support as well as that within the Jamiat. As his second vice-president, Rasool has picked former Bamiyan governor Habiba Surabi who has been a symbol of women empowerment. This could help marshal support from the female electorate as well as among the Hazaras in Bamiyan.
The other team that Karzai may potentially back is led by Abdul Qayum Karzai, the President's elder brother. The team includes former Minister for Mines, Wahidullah Shahran,i and former lawmaker Noor Akbari. Qayum has no real experience in governance but he hails from the Durrani Popalzai tribe and has been focusing on Kandahar, the heartland of the Pashtoons. Shahrani is an Uzbek and Akbari, a Hazara.
A possible third option but less likely is Sayyaf and his running mates Ismail Khan and Mawlavi Abdul Wahab Irfan. With their religious and jihadi credentials and overt hostility towards the Taliban, Karzai could also turn to this team if he does not see the first two promising enough.
Informed speculation
None of the teams seem as formidable as the one that Hamid Karzai put together in 2009 or in 2004. Yet, given the dynamics, one can reasonably put forth the following conjectures.
First, it is unlikely that there would be more than three, at most four, teams. If all 11 contest, there is a risk that no team would be able to secure the constitutional requirement of securing more than 50 per cent of the votes in the first round because the Pashtuns, Tajiks and Hazaras will be divided. In that scenario, whether the international community would have the wherewithal and the patience to finance the logistics of a subsequent round is debatable. Equally questionable is the appetite among Afghans to deal with prolonged political vacuum. It is in the interest of all political actors to strike compromises based on their calculation of political/material gains from participating or not participating.
Second, none of the teams can win on the basis of their composition. Abdullah's team seems the most promising because of its ethnic representation and the ability of Abdullah and Mohaqiq to mobilise resources on a large scale. Ghani's team enjoys the theoretical certainty of Uzbek votes but it lacks the composition of a team that could elicit support among the Tajiks — the largest minority. Qayum Karzai's team, while resourceful, would also suffer from the same weakness of not having a Tajik running mate. Rasool would be a serious prospect only if backed by Karzai since none of his team enjoys the political clout or a constituency that is large enough to be serious challengers. Similarly, Sayyaf and Ismail Khan have the financial resources but they are serious contestants only if they secure Karzai's endorsement.
Third, while Abdullah's and Ghani's teams are likely to contest the race, any others may actually contest only with Karzai's backing. It seems likely that the final race would be contested among Abdullah, Ghani, and one or two from the remaining nine. These are most likely going to be the teams led by Rasool and either Qayoom Karzai or Sayyaf – whoever earns Karzai's favour.
The election outcome would depend largely on Karzai's endorsement because of his influential patronage networks across the country and the administrative machinery at his disposal. Other factors, though somewhat less important, would be the willingness of the US to showcase this as a clean election.