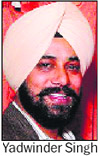 Khanna shootout
No arrest yet, villagers issue ultimatum
Gosla (Khanna), February 4
Residents of Gosla village today formed a five-member action committee to put pressure on the police to arrest those involved in the Khanna shootout in which Kulwinder (21), a local youth, was killed. Khanna Youth Akali Dal (Rural) president Yadwinder Singh Yadu and Jatinder Singh alias GP, an Akali sarpanch of Kauri village, are among 10 persons booked under Section 302 (murder) of the IPC. Hardev Singh, sarpanch of Gosla village, said: "We have given a 72-hour ultimatum to the police for arresting the suspects. We will not relent and continue our protest till the time the culprits are put behind bars."
Form SIT to probe encroachments around Golden Temple, HC tells govt
Chandigarh, February 4
One of the 33 officers charge-sheeted by the Punjab Government for allowing illegal hotels to mushroom in the Golden Temple's vicinity during their tenure today filed an affidavit before the Punjab and Haryana High Court on steps taken by the government in the matter. He informed the court that 33 officers had been charge-sheeted in the matter, he being one of them.
Clergy to discuss calendar row tomorrow
Amritsar, February 4
The Sikh clergy is all set to deliberate on the suggestions made to the Akal Takht by various bodies regarding the Nanakshahi Calendar controversy during its meeting here on February 6. While the Sant Samaj is pushing for reverting to the Bikrami Calendar, other Sikh organisations have advocated the need to implement the original Nanakshahi Calendar. At present, amended Nanakshahi Calendar is being followed.
Badal dares Cong to field Rahul from Bathinda
Muktsar, February 4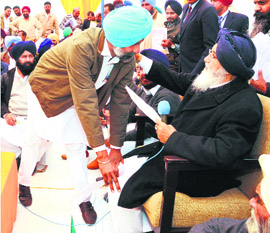 Chief Minister Parkash Singh Badal today dared the Congress to ask its vice-president Rahul Gandhi to contest elections from Bathinda. Interacting with mediapersons during Sangat Darshan here today, he said the state Congress president, Partap Singh Bajwa, was lying on closure of industrial units in the state. "Bajwa is misleading the people, as is his habit," he said. On reports on a possible alliance between the Shiromani Akali Dal (Longowal), headed by former Chief Minister Surjit Singh Barnala, and the SAD, the Chief Minister said he was not aware of any such move.


Chief Minister Parkash Singh Badal at Sangat Darshan in Muktsar. Tribune photo
Soon, relief for small traders
Chandigarh, February 4
Hundreds of small traders in 71 towns across the state will soon come out of the ambit of a sudden inspection by the sales tax authorities. Many traders who have so far shied away from registering themselves for the payment of value added tax (VAT) too can come clean by just paying a minimal one-time tax per annum.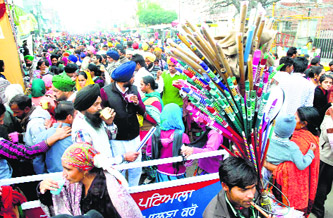 Devotees at the historical Gurdwara Dukh Nivaran Sahib on Vasant Panchami in Patiala. Tribune photo: Rajesh Sachar

MLA on warpath for delay in project
Muktsar, February 4
Delay in widening the Muktsar-Kotkapura highway led Congress Gidderbaha MLA Amarinder Singh Raja Warring to perform 'poojan' today in front of a foundation stone laid by Deputy Chief Minister Sukhbir Singh Badal near a college in August 2012. As soon as Chief Minister Parkash Singh Badal left the college, the venue for his Sangat Darshan, Warring and his supporters started the rituals by spreading a sheet by the roadside. They first washed the foundation stone with milk.
AISSF: Akalis playing politics over 1984 riots
Moga, February 4
Accusing the Delhi Sikh Gurdwara Management Committee (DSGMC) and the Shiromani Akali Dal (SAD) of playing politics over the 1984 anti-Sikh riots, the All-India Sikh Students Federation (AISSF) has dared Manjit Singh, DSGMC president, and the Akali leadership to file criminal case against Union Minister and Congress MP Kamal Nath for his "role" in the Sikh massacre. "The minister allegedly led death squads that attacked Gurdwara Rakabganj Sahib and burnt several Sikhs alive," the AISSF said.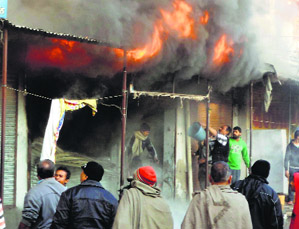 Devouring flames: Three shops were gutted in a fire that broke out in Faridkot on Tuesday. Two fire tenders from Ferozepur and Kotkapura doused the flames. A Tribune photograph

10 lakh rendered jobless: Bajwa
Chandigarh, February 4
Punjab Congress president Partap Singh Bajwa today said that instead of creating 10 lakh new jobs, as promised by the SAD in its election manifesto, about 10 lakh skilled and unskilled workers had been retrenched.
Panj Takht train from February 16
Sangrur, February 4
The Indian Railways will start Panj Takht Special Train, connecting all the five Takhts of Sikhs, on February 16 at 10 am from the Dhuri railway station, 15 km from here. Vijay Inder Singla, Sangrur MP, today said the train would connect Sri Akal Takht Sahib (Amritsar), Sri Kesgarh Sahib (Anandpur Sahib), Sri Damdama Sahib (Talwandi Sabo), Sri Patna Sahib (Patna) and Sri Hazoor Sahib (Nanded). The train would complete its first journey on February 25 at Dhuri.


Punjabi couple in Italy held for killing woman
Rome, February 4
An Indian couple in Italy has been arrested for allegedly killing their flat-mate, an Iranian national, and dumping her naked body, stuffed in a suitcase, in a Venetian canal. Rajeshwar Singh, 29, and Gagandeep Kaur, 30, shared an apartment in Milan with the victim, 29-year-old Mahfab Ahadsavoji, whose body was found off the island of Lido last week and identified through fingerprints.


Class IX student killed for 'honour'
Muktsar, February 4
In what could turn out to be a case of honour killing, a 15-year-old boy was found murdered on the outskirts of his native Maha Badhar village in the district today. A Class IX student, Gurmeet Singh reportedly left his house last night while informing his parents that he was going to collect a book from a friend's house.
20 kg of drugs seized near border
Amritsar, February 4
The BSF has seized 20 kg of contraband, suspected to be heroin, from the Bharobhal post in Amritsar sector late last night. Inspector General Ajay Kumar Tomar said, "Around 1.30 am, BSF personnel raised an alarm after noticing some movement near the border. On being challenged, drug peddlers who had gathered on the Pakistan territory started firing."
Two couples from Abohar killed in mishap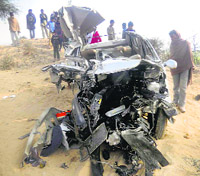 Abohar, February 4
Two couples were killed and three persons injured in a road mishap near Rajasthan's Brahmasar village, 80 km from here, on the Hanumangarh-Sardarshehar highway today. The deceased were relatives of Congress Legislature Party (CLP) leader Sunil Jakhar. A nephew of former Punjab minister Chaudhary Satya Dev was among the injured.
The mangled remains of a car involved in a collision with a trailer near Rajasthan's Brahmasar village on Tuesday. Tribune photo

Woman, paramour held for murder
Gurdaspur, February 4
Four days after the murder of a minor boy, police today claimed to have cracked the case with the arrest of his mother and her lover. Harpreet Singh (14), a Class 5 student, was allegedly thrown into a canal by his mother Tejinder Kaur (40) and her paramour Lakhwinder Pal Singh (20) on January 31.
Trader booked for Rs 2.44-cr fraud
Patiala, February 4
The Excise and Taxation Department has lodged an FIR against Ashwani Kumar, owner of Vishu International, Ludhiana, for showing bogus sale of diesel generator sets to a firm in Rajasthan. Anurag Verma, Excise and Taxation Commissioner, Punjab, said it was found that the dealer had evaded Rs 2.44 crore tax by showing fake inter-state sales. Verma said the firm had obtained registration certificate for the sale of nuts and bolts. It was disallowed trading in iron and steel. At the time of registration, the firm had declared Rs 50 lakh as expected annual turnover, but the same ran into crores. — TNS