Entertainment tax shows highest percentage growth
Bathinda, January 30
Among various taxes levied by the Punjab Government, collections from entertainment tax have shown the highest percentage growth.


District-level dharnas from Feb 3, says Bajwa
Chandigarh, January 30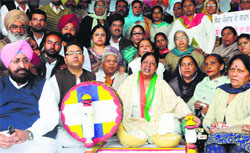 Punjab Pradesh Congress Committee (PPCC) president Partap Singh Bajwa today said the party had decided to step up its agitation to press for a CBI probe into the drug racket and start district-level dharnas from February 3. The first such dharna would be held in Ropar and the last one at Barnala on February 28.

PPCC president Partap Singh Bajwa and Mahila Congress chief Malti Thapar (right) with party workers at a relay fast in Chandigarh on Thursday. Tribune photo: Manoj Mahajan
Shift DGP Saini, Cong tells EC
Chandigarh, January 30
Pradesh Congress Committee spokesman Sukhpal Singh Khaira today sought the transfer of Director General of Police Sumedh Singh Saini saying that he was facing criminal charges in a kidnapping case.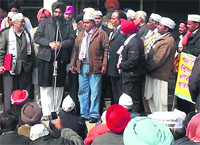 AAP observers on state tour
Chandigarh, January 30
The Aam Aadmi Party (AAP) has sent its senior functionaries as observers to Punjab to take stock of the political scenario. One of its observers Sumel Singh Sidhu held meetings with party activists in Patiala, Sangrur and Mansa.



Sumel Sidhu, National Observer of Aam Aadami Party, addressing a public rally in Patiala on Thursday. Tribune photo: Rajesh Sachar

SAD makes info on grants to Lambi villages public
Lambi, January 30
Facing flak from the Congress over "unaccounted" grants disbursed by Chief Minister Parkash Singh Badal in his Sangat Darshan programmes, the state government has installed huge boards displaying information on works done and funds sanctioned in villages in the Lambi assembly constituency.



State of Industry Ludhiana-I
Cheap Chinese goods

push cycle industry off the track
Ludhiana, January 30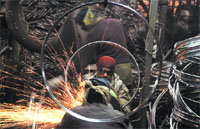 Once an undisputed leader in the manufacture of bicycles and cycle parts in Asia, Ludhiana is fast losing the race to China. The local industry, which is valued around Rs 6,000 crore, has been hit hard by rising imports of relatively cheap parts from China. Not only small units but even bigger players have been reportedly importing parts from China and getting them assembled here.
Workers at a bicycle parts unit in Ludhiana. Tribune photo

Supplier under Mai Bhago got Rs 1.68 cr bogus VAT refund
Bathinda, January 30
One of the four Ludhiana-based firms that allegedly got bogus VAT refund from the Punjab Excise and Taxation Department to the tune of Rs 4 crore is a registered supplier delivering bicycles to the state government under its Mai Bhago Scheme.

Chinese blades cut into region's economy
Chandigarh, January 30
Chinese blades have been causing a considerable damage to the region's economy. Estimates suggest tax evasion by the importers of Chinese paper cutters and blades alone is causing an annual loss of approximately Rs 30 crore.

Staff tussle: DC sends probe report to Chief Secretary
Fatehgarh Sahib, January 30
An inquiry report on the tussle between Additional Deputy Commissioner (ADC) MS Jaggi and revenue officials has been sent to the Chief Secretary, Punjab.

Sikh leaders divided on SIT probe
Amritsar, January 30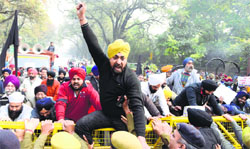 Sikh leaders are divided over the Kejriwal-led Delhi Government's decision to set up a special investigating team (SIT) to probe the 1984 anti-Sikh riots. Some maintain it will serve no purpose. But others like senior Supreme Court lawyer HS Phoolka argue that it will help deliver justice to the victims.


Akali workers protest outside the Congress office in New Delhi on Thursday. Tribune photo: Mukesh Aggarwal
Can't compare 1984 killings, Godhra riots: CM
Malout (Muktsar), January 30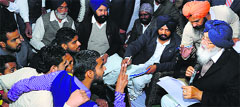 Chief Minister Parkash Singh Badal today said it was wrong to draw any parallel between the killing of Sikhs in 1984 and Gujarat's Godhra riots.


Chief Minister Parkash Singh Badal at Sangat Darshan in Malout on Thursday. A Tribune photograph
Reward us for party loyalty, Marathwada Sikhs to Sonia
New Delhi, January 30
Congress loyalists for decades, Sikhs of Maharashtra's Marathwada region are a disgruntled lot. They say despite having backed the party for over four decades, they have not got any reward.
Minister's diktat leaves forest officers fuming
Patiala, January 30
The recent orders of the state Forests and Wildlife Minister Chunni Lal Bhagat has not gone down well with the forest officials. He stated that forest rest houses could only be booked after getting his permission.


Sikhs be given fair chance to serve in US military: Major Kalsi
Washington, January 30
One of the three Sikhs serving in the US military has appealed to authorities to amend policies so that the community members get a fair chance to serve in the armed forces without compromising their religion.
Sikh Eco Day on March 14
Chandigarh, January 30 EcoSikh, a US-based International Ecology organisation, will celebrate March 14 as the 'Sikh Environment Day'. The aim is create awareness about the traditional teachings on nature preservation in Sikhism.
US Sikh rights group to subpoena Rahul
New York, January 30
A Sikh rights group that has filed human rights violation cases against the Congress party and its leader Sonia Gandhi said it would subpoena the party's vice president Rahul Gandhi before a US court in the 1984 anti-Sikh rights lawsuit. This demand has been strongly rejected by the political party's attorney here. Sikhs for Justice (SFJ) said it decided to subpoena Gandhi after he said in a televised interview that "some Congress men were probably involved in 1984 anti-Sikh riots and that they had been punished for it".


Seeking prize money, witness moves court
Chandigarh, January 30
Nearly 20 years after one of the prime witnesses Balwinder Singh provided clues to the identity of Punjab's then Chief Minister Beant Singh's assassins, he moved the Punjab and Haryana High Court today seeking his share of prize money. Notice of motion has been issued on his plea.


Kidnapped girl rescued, 1 held
Jagraon, January 30
The local police today recovered the girl, who was allegedly abducted from outside her house in Ram Nagar area of the town yesterday morning. A local youth identified as Munish Malhotra has also been held in the case.
Jalandhar police get terrorist Mintu's custody in murder case
Jalandhar, January 30
The local police today brought dreaded terrorist Satinderjit Singh alias Mintu on a three-day production warrant from Pathankot jail to investigate the murder of a seven-year-old child in 2011.
Two killed in accidents
Tarn Taran, January 30
Two persons died and five others were injured in two road accidents here today.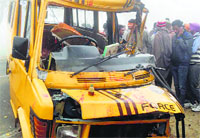 12 schoolchildren injured in mishap
Fazilka, January 30
At least 12 schoolchildren, including two girls, were injured as a school van ferrying them collided head-on with a pick-up van near Kaluwala village on the Fazilka-Ferozepur highway today morning amid dense fog.

The mangled remains of a school van that collided with a pick-up van on Thursday. Tribune photo
5 Hoshiarpur travel agents booked
Hoshiarpur, January 30
The police have booked five travel agents in two cases for duping three persons of Rs 21 lakh on the pretext of sending them abroad.
Infant found abandoned
Fazilka, January 30
A baby girl was found abandoned in a Fazilka-Delhi train today morning.
Sub-Inspector suspended
Hoshiarpur, January 30
Narinder Bhargav, SSP, Hoshiarpur, today suspended Sub-Inspector (SI) Sarabjit Singh posted with the Model Town police station for negligence of duty.