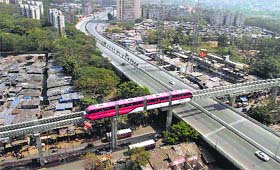 Monorail during a test run in Mumbai on Thursday. The country's first Monorail service will be inaugurated on February 1 by Maharashtra CM Prithviraj Chavan and the commercial operations will begin from February 2. PTI
Aam Aadmi Party to contest 350 LS seats
New Delhi, January 30
The Aam Aadmi Party today said it would contest 350 Lok Sabha seats with a special focus on "corruption and criminalisation" of politics. At its national working committee meeting, AAP spokesperson Sanjay Singh admitted that getting suitable candidates for the parliamentary election was a major challenge.
Cabinet nod for changes in OBC list
New Delhi, January 30
Looking to give another sop ahead of the Lok Sabha elections, the government today gave its approval to the amendment of the Central list of Other Backward Castes (OBCs) to ensure reservation benefits to about 60 castes and communities which have not been able to avail of these so far.
Asaram's riches worth Rs 10,000 crore
Surat, January 30
Self-styled godman Asaram has accumulated wealth to the tune of Rs 10,000 crore and vast tracts of land across the country, the value of which is yet to be assessed, the police said today.
Stand trial for not filing IT return, SC tells Jaya
New Delhi, January 30
The Supreme Court today directed Tamil Nadu Chief Minister J Jayalalithaa to stand trial for not filing her income tax return for the 1993-94 assessment year. A Bench comprising Justices KS Radhakrishnan and AK Sikri directed the trial court to complete the proceedings within four months.


2 more rhinos translocated to Manas National Park
Guwahati, January 30
Two sub-adult rhinos — Gopal and Hari — have been shifted to Manas National Park from the Centre for Wildlife Rehabilitation and Conservation (CWRC) near Kaziranga National Park in Assam.


Rhinos get into a crate at the CWRC for shifting to Manas National Park in Assam on Monday. Tribune photo

india art fair
6th edition unveils mélange of contemporary art expressions
New Delhi, January 30
You can enter a work of art, shake hands with an artist, listen to sounds, watch their performance, even become a participant and admire the many layers of art in conventional media like painting too.
Art lovers at the preview of Art Fair in New Delhi on Thursday. Tribune photo: Manas Ranjan Bhui


Toll booths suspend collection as Raj Thackeray passes by
Mumbai, January 30
Toll collection at three check points between Mumbai and Pune was "voluntarily" suspended by the road building company so as to let Maharashtra Navnirman Sena (MNS) chief Raj Thackeray pass by unhindered.
Tenders for Navi Mumbai airport in Feb
Mumbai, January 30
Tenders for building the Navi Mumbai airport will be floated in February even as the Maharashtra Government grapples with acquiring land in 18 villages. Residents of these villages are seeking higher compensation.
Western Command's help system for veterans
Chandigarh, January 30
To help ex-servicemen, the Western Command has established a "help system" which will act as an interface between the veterans and various government agencies and service providers.
Oppn guns for Meghalaya CM's head
Guwahati, January 30
The opposition National Political Party (NPP) has demanded resignation of Meghalaya Chief Minister Mukul Sangma over his alleged nexus with Garo tribe militant outfit ANVC (B) to facilitate a CBI or NIA probe.
UP more developed than Gujarat: Akhilesh
Firozabad, January 30
Uttar Pradesh Chief Minister Akhilesh today said that in terms of development, his state was in a better position than the Narendra Modi-led Gujarat. Addressing a Yuva Shakti Sammelan here Akhilesh said Modi claimed development in Gujarat, but UP was placed in a better position than his state.
Delhi heist has a Dubai link
New Delhi, January 30
Investigations into Rs 8-crore robbery that took place in south Delhi on Tuesday indicate that the money may have been procured through a hawala network involving a betting racket based in Dubai.
NSG needs woman commandos: Ex-DG
Chandigarh, January 30
Former National Security Guards' Director General JK Dutt today said there was a need to encourage woman commandos to join the special force.
Rajiv Gandhi's killers deserve death: SC
New Delhi, January 30
The condemned prisoners convicted in Rajiv Gandhi assassination case deserve death sentence, the Supreme Court today said and refused to go into the merit of the conviction while hearing their plea on commuting death penalty to life due to delay in deciding their mercy plea.
Not liable to pay taxes for Indian ops: Google
New Delhi, January 30
American multinational Google Inc today submitted to Delhi High Court that it is not liable to pay any taxes in India for its internet activities, as it is not providing any taxable services or earning income from here nor does it have a permanent establishment in the country.