State of Industry Ludhiana-II
Profits of knitwear units shrink
Ludhiana, January 31
Famous as the hosiery hub of the country, Ludhiana is fast losing its significance. From 13,000 units three years ago, the number has dwindled to 12,000. Those associated with the trade say there are several other units that are either on the verge of closure or are in the final stage of shifting to some other state. Providing direct and indirect employment to around five lakh people, the current situation has the industrialists worried.
Students prepare mobile app for paper-free campus
Patiala, January 31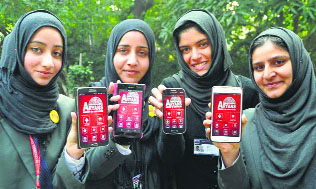 Four Kashmiri girls studying in the Aryans College of Engineering, Chandigarh, have developed a mobile phone application to make their campus paper-free. The girls, Rumaisa, Zeenat, Sadiya and Yusra, all B.Tech students, under the guidance of Manpreet Mann, HoD (projects), have developed the application to circulate important information among students and staff.
The Kashmiri students in Chandigarh on Friday. Tribune photo
Shining Golden Temple interiors soon
Amritsar, January 31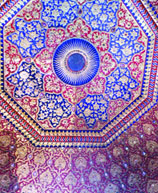 The restoration work on the interiors of the sanctum sanctorum at the Golden Temple has gained momentum and has also started showing some positive outcome. At present, the focus is on preserving the wall paintings on the first floor of the sanctum sanctorum and a team of seven experts is on the job. They have cleaned up a part of the roof in a scientific manner, thus restoring its sheen. After visiting the holy shrine, one can make out the difference with the help of a patch that has been left untouched by the team probably to show the results of the exercise. Apart from cleaning the roof, the experts are working on restoring the wall paintings with the help of stone colours, which are compatible to the existing ones.
Retired IAS officer to join AAP
Chandigarh, January 31
Harkesh Singh Sidhu, who retired as Special Secretary (Labour) today, is all set to join the Aam Aadmi Party (AAP). Sources said he would join AAP next week. Sidhu, who served as Deputy Commissioner of Barnala, Kapurthala and Sangrur, was also sarpanch of his native village before he joined the civil services. He once contested SGPC elections as an Independent.

Nurmahal dera prepares to handle rush of visitors
Nurmahal, January 31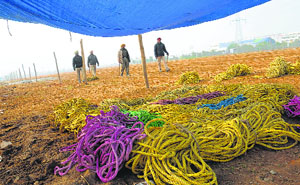 Two days after doctors declared Divya Jyoti Jagriti Sansthan head Ashutosh Maharaj clinically dead, dera representatives continued to maintain that the godman was in a state of deep meditation (samadhi). However, preparations are afoot to handle a huge rush of visitors to the dera in the coming days. A helipad is coming up at Litran village, 7 km from the dera.
Land cleared for parking a large number of vehicles at the Nurmahal dera on Friday. Tribune photo: Malkiat Singh

Cong relay fast fizzles out
Chandigarh, January 31
With the Punjab Pradesh Congress Committee (PPCC) now planning district-level protests to pressure the state government for a CBI probe into the drug racket, the party's 11-day relay fast here has come to a naught. Bustling with activity in recent days, the Congress Bhawan in Sector 15 here wore a deserted look by as early as 11 am today. All the tents, which had been erected for the protest, had been dismantled by then.
State free to lease panchayat land to pvt parties
Chandigarh, January 31
Punjab can now lease village common land to private entities. The Punjab and Haryana High Court yesterday dismissed a petition challenging the lease of village common land to a close relative of Member of Parliament Pawan Kumar Bansal in Sanauli village of Dera Bassi.
Badal: Bill to check food adulteration on anvil
Muktsar, January 31
Chief Minister Parkash Singh Badal today said the state government would soon introduce a Bill for awarding severe punishment to those indulging in food adulteration.
4 business groups surrender Rs 5.75 cr to I-T Dept in raids
Jalandhar, January 31
Owners of four business houses, including a private hospital, of Jalandhar surrendered an additional income worth Rs 5.75 crore during raids by the Income Tax Department.
SAD youths accused of misbehaving with woman
Muktsar, January 31
PPP district chief Jagjit Singh today alleged that three youths belonging to the ruling SAD on Wednesday night came to his restaurant on the Kotkapura road and misbehaved with a woman employee. He alleged that they passed derogatory remarks on the woman and made some vulgar signs in front of her while leaving. However, the police was not taking any action, he alleged.
Rajpura thermal plant begins commercial operations
Patiala, January 31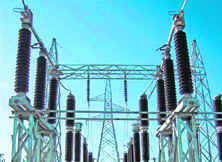 The first unit of Rajpura Thermal Plant, coming up at Nalash village, started commercial operations today. KD Chaudhri, Chairman-cum-Managing Director, Punjab State Power Corporation Limited (PSPCL), said in the first phase, two units of 700 MW each were being set up. He said with addition of 700 MW today and another 700 MW in the coming days, power cuts would be a thing of past. The CMD said the plant was being set up with latest super critical technology. The plant was tested at full load of 700 MW for 72 hours without any interruption and thereafter it underwent two sets of ramp up and ramp down tests before being granted commercial operation status.
CM to lay stone of war memorial on February 12
Amritsar, January 31
Chief Minister Parkash Singh Badal will lay the foundation stone of a war memorial and a museum here on February 12. A meeting to deliberate on the arrangements for the inaugural ceremony was held here today, which was presided over by the Secretary, Sainik Welfare, SR Ladhar.
Sewage treatment plant in Abohar by April
Abohar, January 31
Congress Legislative Party leader Sunil Jakhar, who got Rs 42 crore sanctioned by the state government for a sewage and water supply project, today inspected the construction of the plant near the city bypass.
Make women aware of govt schemes: Minister
Mohali, January 31
Union Minister of State for Women and Child Development Krishna Tirath today said that despite significant strides by women in entrepreneurship, science and arts, most of them remained marginalised.
AIDS control society workers on strike
Chandigarh, January 31
Responding to a nationwide call, activists of the AIDS Control Employees Welfare Association, Punjab, continued their strike today. They staged a dharna at Sector 38 here. Their demands include regularisation of all employees working under the Department of AIDS Control (DAC), salary with all benefits on a par with Central Government employees from April 2012, employees be allowed to continue job in the next phase; and employee participation in policy making. HIV patients all across the state suffered inconvenience since striking employees include those of the antiretroviral therapy (ART) centres. TNS
Govt sends two names for CEO's post
Chandigarh: Punjab has sent the names of VK Singh and R Venkatratnam to the Election Commission of India for appointment of Chief Electoral Officer (CEO). The Election Commission had earlier this week selected Satish Chandra as CEO on the recommendation of the Punjab Government. Chandra is at present with the NHAI. Though his case for repatriation to his parent cadre was closed on his asking, the state government was unaware of the same and sent his name for the appointment. — TNS
No relief for Moga MLA in illegal colony case
Moga, January 31
Troubles do not seem to be ending for Moga MLA Joginder Pal Jain. After dismissing a plea for the suspension of legal proceedings against Jain and his family members in an illegal colony case, a local court on Friday issued orders to produce the defence witnesses on February 17, which means that the trial in the case will continue on merit.
HC quashes selection of PROs
Chandigarh, January 31
The Punjab and Haryana High Court today quashed the selection of Information and Public Relation Officers that had been made in July 2011. Setting aside the selection process, Justice Rajesh Bindal directed the State of Punjab to re-cast the merit list after ignoring five additional marks awarded to the candidates for qualification of Middle and Matriculation examination. The list was obtained from schools in rural areas. The state was also directed to offer appointment to the candidates, who fall in the fresh select list as per vacancies advertised. This exercise is to be completed within a period of three months.


Teacher crushed to death in Sangrur
Sangrur, January 31
A teacher was killed while another was injured in an accident near Valmiki Chowk outside Patiala Gate here. The teachers were going on a scooter after attending a seminar at the District Institute of Education and Training here when they collided with a truck. Shashi Prabha Singla (37), who was posted as a mathematics teacher at Government High School, Nagra, was crushed to death while Promila Rani, also a mathematics teacher at Government High School, Kular Khurd, sustained serious injuries. The truck driver fled the spot. Promila was taken to a private hospital here, from where she was referred to Government Rajindra Hospital, Patiala. — TNS
Opium, poppy husk seized; 2 held
Abohar, January 31
The Narcotics Cell on Friday seized 8 kg of opium after a motorcycle-borne man was intercepted near Bhagu village on the Abohar-Hanumangarh state highway road. Jai Ram of Raipura village in the sub-division has been arrested under the Narcotic Drugs and Psychotropic Substances Act. However, his pillion-riding accomplice identified as Puran Ram Bishnoi of the same village escaped. Another team seized 35 kg of poppy husk and arrested Balwinder Singh of Mahalam village (Fazilka) while patrolling near Bhagsar village. — OC
Transport union chief arrested
Abohar, January 31
The police have arrested Bhim Kumar, who had been appointed president of the Pickup Vans Union by ruling parties recently. Ashok Kumar, who is undergoing treatment at the Civil Hospital here, complained that Bhim, alongwith other workers of the union, had trespassed into his shop, damaged vehicles and stacks and snatched money at gunpoint on Thursday evening. Bholu Modi, Vikas, Ajay of Sant Nagar, Neeraj of Nai Abadi were also booked. — OC