Phone-tap row: Probe in 'final stage'
Kuldeep Chauhan
Tribune News Service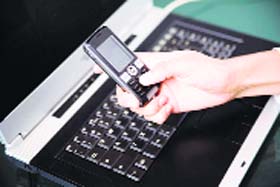 Shimla, February 4
The State Vigilance and Anti-Corruption Bureau (SVACB) claims that the probe in the infamous phone-tapping case is in its final stage and that it has recorded the statements of all connected with the case, mainly the then key Vigilance and CID officials. But even after a year, it has failed to zero in on the culprits.
According to the SVACB sleuths, they have recorded all statements of those connected with the case, including former DGPs B Kamal Kumar and DS Minhas and ID Bhandari, the present Additional Director General of Fire Services.
Minhas, B Kamal Kumar and Bhandari had headed the Vigilance and CID during the Dhumal government, when the phones of certain politicians, mediapersons and other officials and non-official people were allegedly tapped without mandatory permission from the Home Department violating the Telegraph Act, the investigators revealed.
The vigilance has kept Minhas and Bhandari on the edge as probable accused in the link, while B Kamal Kumar, who now lives in Hyderabad, has emerged as its witness in the case, sources revealed. The link to establish the involvement of the then Chief Minister, who also headed the Home Department, is under investigation, they said.
"We have recorded their statements. The probe is in its final stage and we are waiting for some more forensic inputs in the case," AP Singh, IG Vigilance, claimed.
Despite these claims, the Vigilance is yet to probe the role of the landline and mobile phone service providers as to how they allowed the tapping of phones of their customers without written complaints from the Home Department. "We are investigating everyone connected with the case, be it service providers or the then CID or former DGPs or other policemen," Arvind Sharda, DIG Vigilance-cum-media spokesperson, said.
Top officials working in various departments said the phone-tapping probe was significant, as there were certain objectionable conversations in the data retrieved from the hard disks of the computers in the CID and Vigilance offices, which the public should know. They said the case had made it obligatory for the present CID and Vigilance Bureau to put the culprits behind the bars so that the official machinery was not misused for political and individual gains.
The police, in fact, have sealed the data stored in the CID and Vigilance computers, which was retrieved by the Forensic Science Laboratory soon after the Virbhadra Singh government came to power in the state on December 25, 2012.
He accused Dhumal of invading the privacy of individuals and for treating them as criminals by tapping their phones and conversations.
"The culprits will be sent behind the bars in the case as the CID and Vigilance agencies were misused by the Dhumal regime," he had charged.
VB's incomplete groundwork
Vigilance yet to probe the role of landline, mobile phone service providers
Year on, officials still waiting for forensic inputs
The link to establish the involvement of PK Dhumal, the then CM who headed the Home Department, still under investigation