Tenders invited for Shimla's beautification
Shimla, February 2
The beautification plan of The Mall, Shimla, is all set to be a reality with the Himachal Pradesh Tourism Infrastructure Development Board inviting tenders for the first phase estimated to cost about Rs 18 crore.
VIGNETTES
Goodbye, Gorton Castle
When I got up early in the morning of January 29, from my house, I saw the billows of black smoke rising from the southern range and later found out that 62 rooms out of a total of 125 of the five-storey Gorton Castle had been gutted.
Andretta Village
Women spearhead campaign against liquor, drug abuse
Andretta (Palampur), February 2
Women of this small village, which is also known as "village of artists", have launched a campaign to save village elders and youth from liquor and drug abuse. They have formed self-help groups which become active soon after sunset and do not allow anyone to sell liquor or drugs to the village population.
'Don't bring Naina Devi under Town & Country Planning Act'
Bilaspur, February 2
Randhir Sharma, Naina Deviji MLA and state BJP general secretary, has strongly opposed the proposal to include Naina Deviji and its surrounding areas of Ghwandal, Badoh, Dadoh, Badharan, Ambuwala and Mandhyaali etc in the Town and Country Planning Act. The proposal, he says, poses lots of problems including day-to-day official interference in village life of these areas.
More winged guests at Pong this year: Census
Dharamsala, February 2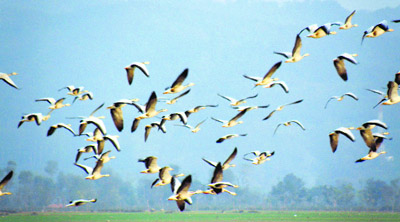 The Pong Dam Lake received more winged guests this year as compared to last year, reveals the census conducted by Wildlife Department. The international wetland received 1, 28, 200 birds of 119 species this year, as compared to 1, 23, 000 birds last year.
Bar-headed geese take flight over the Pong Dam Lake area of Dharamsala. Photo by writer

Bilaspur dentist gets Padma Shri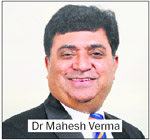 Shimla, February 2
Dr Mahesh Verma, Director-cum-Principal of the Maulana Azad Institute of Dental Sciences, Delhi, has been honoured with the Padma Shri Award for his contribution in dental sciences. Dr Verma, hailing from Bilaspur district, was instrumental in setting up the best dental institute of the country from a small dental department at Maulana Azad Medical College. The "Centre of Excellence" now treats thousands of underprivileged and common citizens every day with the latest facilities.
250 saplings planted at Sahoo
Chamba, February 2
A week-long National Service Scheme (NSS) camp on 'Conservation of Soil, Water and Forests' started at Sahoo in lower Chamba on Friday. It was organised by the local Government Postgraduate College in collaboration with forest officials.
Cong minister starts campaign from Una
Una, February 2
Industry Minister Mukesh Agnihotri began campaigning by presiding over a meeting of all 105 booth in charges of his home segment Haroli yesterday. He spoke on the achievements of the state Congress government during the last one year, and also pinpointed the follies of the Opposition, which, he said, needed to be spread among the masses.
Muslims oppose quota policy
Bilaspur, February 2
Several leaders of the Muslim community here have strongly opposed the present policy of reservation and demanded its immediate reconsideration based on facts and reality of our present social structure.
HP front runner in health, education
Shimla, February 2
The state has emerged a front runner in health, education and investment and the credit goes to the Congress government, said Chief Minister Virbhadra Singh, presiding over an annual function of the Himachal Mahasabha held at Bhargava Auditorium, PGI, Chandigarh, today.
Govt patronising forest mafia in Bilaspur: Former MP
Bilaspur, February 2
Three times former BJP MP and now national vice-president of Bharatiya Kisan Morcha, Suresh Chandel, has accused the state government of patronising "contract, forest and hand pump mafia" in the district under the active involvement of local Congress leader Bamber Thakur.
Oustees threaten to disrupt road work
Bilaspur, February 2
Hundreds of villagers from Bilaspur and Mandi districts under the aegis of the Four-Lane Express Highway Oustees Action Committee staged a demonstration here yesterday. Villagers, led by their action committee president Ram Singh, chief adviser Jagat Ram Sharma and general secretary Madan Sharma, raised slogans and walked up to the Deputy Commissioner's (DC) office.
Assn urges CM to take action on pensions
Bilaspur, February 2
The district unit of the HP State Pensioners Welfare Association on Wednesday reminded Chief Minister Virbhadra Singh of his commitment to accept their long-pending demands in the annual budget of the state. Unit general secretary Jagdish Dinesh and spokesperson Hukam Singh Thakur said the Chief Minister had promised to accept their demands during a state-level conference held at Sundernagar two months back.
HRTC bus service to Jammu, Chd sought
Kangra, February 2
Senior citizens and executive members of the Vivekananda Vihar Development Committee have demanded two HRTC bus services from Kangra to Jammu at 4 pm and from Kangra to Chandigarh at 4 am.
Kisan sabha welcomes opening of college
Shimla, February 2
The Himachal Kisan Sabha (HKS) today staged a victory procession at Koti taking the credit for the opening of the Government Degree College at Koti Chail declared by the state Cabinet yesterday.
Varsity flayed for delay in releasing pension
Palampur, February 2
Dr Susheel Kumar Phull, president, HP Agriculture University Pensioners Association, on Friday criticised the university authorities for not releasing their pension for December despite specific orders of the HP High Court in this regard.
Illegal mining detected, 1 fined Rs 1.21 lakh
Nurpur, February 2
A team of the Mining Department, led by district Mining Officer Jyoti Puri, conducted raids at Chuharpur in the Indora area of this subdivision last evening. The raids were aimed at checking illegal mining in the Chhonchh khad.
People supporting Modi: Dhumal
Hamirpur, February 2
Former Chief Minister PK Dhumal said it was not for the first time that poll surveys were being conducted before the general elections and no party or leader should have any objection regarding their result as these were conducted by reputed organisations and based on public opinion.
BJP: Rebels' return to help party
Nurpur, February 2
The re-induction of the BJP rebels into the party will benefit its prospects in the forthcoming Lok Sabha (LS) elections in the state, said BJP cooperative cell national coordinator and working committee member Ashok Thakur. He was addressing a joint press conference here yesterday with local former MLA Rakesh Pathania, who was one of the three rebels re-inducted into the BJP at Palampur in the presence of Rajya Sabha member Shanta Kumar. Rakesh Pathania thanked the central and state leadership of the BJP for his re-induction into the party. He said he had contested the Assembly elections from the Nurpur constituency as an independent only to defeat the Congress. OC
Decision on LPG cylinders cap hailed
Mandi, February 2
Mandi Member of Parliament (MP) Pratibha Singh has welcomed the decision of the Union government to raise the quota of subsidised LPG cylinders from nine to 12 in a year. In a statement, she thanked UPA chairperson Sonia Gandhi and Prime Minister Dr Manmohan Singh for considering this issue, as this would benefit every household in the country, especially in hill states like Himachal where the use of LPG was helping in saving forests. The MP supported the decision to suspend the Aadhaar-link subsidy transfer scheme which was causing inconvenience to common people. TNS
Internet connectivity for panchayats
Bilaspur, February 2
The state government has taken all possible steps to ensure the all-round development of all areas at the Shri Naina Devi constituency and any anomalies regarding low power supply and scarcity of drinking water are on priority. This was stated by Planning Development and 20-Point Implementation Committee state Chairman Ram Lal Thakur while laying the foundation stone of the Rs 4.5-lakh Panchayat Bhawan at Tarwaad, 70 km from here, recently. Ram Lal said all gram panchayats in the state were getting internet connectivity. OC
Call to extend Palampur MC limits
Palampur, February 2
Residents of 11 panchayats adjoining Palampur town have demanded extension of municipal limits so that they could get amenities such as garbage disposal, streetlights and sewerage. They said the town had expanded fast over the years, but the government failed to extend the limits. OC
Rs 60 lakh for new sabzi mandi at Guler
Nurpur, February 2
The District Agriculture Produce Marketing Committee will spend Rs 60.5 lakh for setting up a new sabzi mandi at Guler. It will benefit vegetable and fruit growers of Nagrota Surian and Dehra area of lower Kangra district. The committee has also proposed to set up small sabzi mandis at Jawali and the grain mandi at Shahpur. — OC