Beauty vs brains… as a theme, mainstream Bollywood doesn't often delve into this realm. And if it does it's mandatory for the intelligent woman to both conform to conventions and transform into a glamour puss. Mercifully no such thing happens here.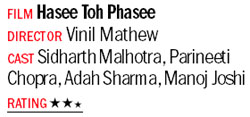 Bollywood heroines come in many shapes and sizes but rarely in a de-glamourised avatar. And as and when she does appear as a simpleton she is a paragon of virtues much like a goddess worthy of worship. Thank God for small mercies, our Meeta (Parineeti Chopra), a research scientist, is not your usual self-sacrificing sugar syrupy girl or glam doll. She cocks a snook at the norms that expect girls to act and behave in a particular fashion. This gal otherwise maladjusted to the world around her possesses both guts and brains. Indeed, the film breaks a very refreshing ground.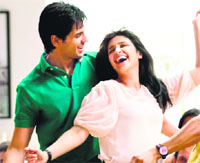 Chalk and cheese: Siddharth Malhotra and Parineeti Chopra
Yet for a film that walks a new path at least in the way it has etched out its female protagonist's character, remains a marriage of unlikely minds. And we are not just talking of the chalk-and-cheese hero and the heroine apparently "unmade for each other" but more precisely the team of producers backing the film. Well, well when Anurag Kashyap and Karan Johar and a host of others like Vikramditya Motwane come together on the same platform, the clash of sensibilities is only expected. And let's admit it, this one is neither a signature Kashyap film nor trademark Dharma production. So, it's not cutting-edge realistic. Nor an over the top showcase lifestyle of the rich and famous. Rather, for once, there is little candy floss romance.
You have the good looking hero Nikhil (Siddharth Malhotra) falling for the pretty winsome Karishma (Adah Sharma) till the quirky genius type Meeta arrives on the scene. Hereafter some moments are truly comic, especially those involving Nikhil's family, the IPS father played by Sharat Saxena in particular.
In a Karan Johar film, expectedly all is well with the respective families on the economic affluence front that is. Even the heroine's family graduates out of a chawl to a posh residence. Yes crore is the new lakh here. The hero needs five crores to set up his enterprise, the heroine wants ten crores to back her revolutionary research. But money is only a sideshow. The conflict here is in the twist in the love tale of course. While the film not only presents new shade of Bollywood heroine, it also gives a new dimension to 'made for each other.' Still the net result is now refreshing, now confusing concoction. Besides the love between our lead pair doesn't reach out to hug you or tug at your heartstrings. And the gaps in storyline are gaping. Why our intelligent heroine behaves and acts in a bizarre fashion and elopes, is never fully explained. Strangely enough despite many dialogue writers on board there are glitches and attention to detail is a casualty.
Still the film has its fun and emotive quotient and for that alone it makes for a watchable fare.
The icing on the cake of course is the acting. Even though the characters are not fully baked each one of them does full justice to it. Parineeti Chopra as the pill-popping scientific brain is just perfect for her part. Siddarth once again makes your heart melt and Adah Sharma looks glamorous in her role. The supporting cast is in sync. Manoj Joshi, playing the part of the father empathetic to his daughters' complexities and exceptional talent, stands out. The romcom may not, as an exceptional one, yet is certainly worth a dekho and one that will leave you with a smile.
Only director happy hai!
Coming from Nila Madhab Panda, this message film is very much on the disappointing side.
Johnson Thomas
THE title implies a contentedness that is not so much in the movie as it is in the mind of the director. This new film by the I am Kalam director tries to take the romantic triangle through a 'friends only' road-trip while clamping the brakes down on a message-friendly ending.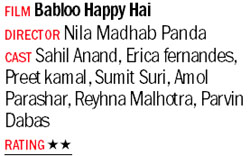 So you have a film about relationships that takes you through the typical Dil Chahta Hai- Zindagi Na Milegi Dobara (and many more after it) set-up where you have three guys entertaining themselves with some dangerous moves, then setting out on a road-trip to freezing Manali before they come-of-age to a realisation that love, responsibility and relationships mean much more than what they experienced previously.
The film begins in New Delhi, where 24-year-old soon-to-be-married Jatin (Sahil Anand) is planning a road trip to Ladakh with his buddies—virgin Harvinder/Harry (Sumit Puri) and gay Rohan (Amol Parashar). But his fiancée Tamanna (Preet Kamal) has other plans for him. She wants him in Manali instead, for a wedding and some NGO work. And she hits him with this news just after he has had the best night of his life with Natasha (Erica Fernandes), one of the hotties at the bachelor's party thrown for him by his best buddies. Needless to say Jatin is remorseful and feels guilty enough to accede. So off they go and after a series of hurdles, misunderstandings and shrilly recrimination, all three young men find new meaning in their lives!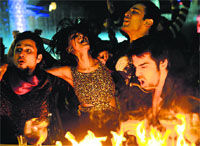 A still from Babloo Happy Hai
Coming from Nila Madhab Panda, this message film (HIV/AIDS sensitisation) is very much on the disappointing side. Other than Subhransu Das' stunningly lush cinematography, there's nothing new being told here. Sanjay Chouhan's script is a little too similar to Hasee Toh Phasee. The first hour in the film is playful and irreverent, typically replete with crass Delhi humour and not much else. Mid-way through it we are transported to a stunning visual paradise called Palang, somewhere close to Manali, a small town in the snow-capped hills which appears to have become a hot-bed for HIV/AIDs and is being rescued by a positive couple Deepa and Harsh (Parvin Dabas). The performances are all very much likeable. Erica Fernandes looks beautiful and can act, so can Sahil Anand, Sumit Suri, Amol Parasher and Preet Kamal. The problem lies in the depiction really. Also, the ending is not altogether convincing.
An engrossing affair
Johnson Thomas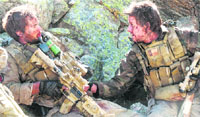 A still from Lone Survivor
THIS film is based on a true experience; it unexpectedly pits an elite bunch of US Navy Seals (on a sensitive mission in the Afghan mountains) against a fierce army of Taliban fighters. The year is 2005, the war in Afghanistan is well underway and efforts to flush out Taliban leaders are at their peak. One such intelligence lead sends the Seals to a remote hideout in the Hindu Kush Mountains of Kunar province. It's code-named Operation Red-Wings and eventually pans out to be brutally bloody with the US side losing almost all of its team, save for one lone survivor.
Lone Survivor is closely based on a memoir by Marcus Luttrell (played by Mark Wahlberg). Adapted from the eyewitness narrative of the now retired Navy Seal, this is the most gruelling American combat movie since Black Hawk Down.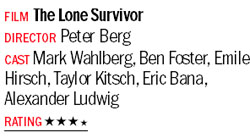 Fundamental deficiencies in script and characterisation notwithstanding, Berg's style of telling the story is blunt. So what we see and experience is visceral and heroic.
Excellent sound work by mixer David Brownlow, fearsome stunt coordination by Kevin Scott, special-effects make-up work by Gregory Nicotero and Howard Berger combine well to make the experience worthwhile. The movie is an immensely involving experience!