State govt orders probe into Hoshiarpur woman's death
Hoshiarpur, February 7
The state government has ordered a probe into the death of a 70-year-old woman, who had suffered a heart attack, at a hospital here. She allegedly died as no doctor was present to treat her due to a function, attended by a Union Minister, held on the premises.

Goa hotelier arrested for sheltering suppliers


Patiala, February 7
In a major breakthrough in the Bhola drug racket, the Punjab Police have arrested a Goa-based hotelier and property dealer for sheltering drug suppliers evading arrest.
operation bluestar controversy


Badal went into hiding before Army op: Capt
Chandigarh, February 7
Accusing Chief Minister Parkash Singh Badal of fleeing to his farmhouse in Bazpur in Uttarakhand during Operation Bluestar, former Chief Minister Capt Amarinder Singh today said he (Badal) was trying to cash in on a politically sensitive issue.

Capt Amarinder Singh


'Reveal details of talks with UK Govt'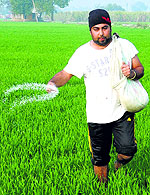 Rain threaten

s wheat crop
Chandigarh, February 7
As light to moderate rains lashed various parts of the state on Friday, experts warned farmers to watch out for yellow rust in wheat crop. Currently the yellow rust attack has been brought under control in Punjab and other parts of the region, but inclement weather is not good for the crop at this stage. It needs sunshine as it is headed towards flowering. "Farmers in yellow rust-hit areas are on alert and are taking measures to check the attack of the fungal disease," said Dr Indu Sharma, Project Director of the Directorate of Wheat Research, Karnal.
A Noormahal farmer sprinkles fertilizer in his fields on Friday

PSPCL chief Chaudhri gets one-year extension
Patiala, February 7
The state government has given a one-year extension to the incumbent Chairman-cum-Managing Director (CMD) of Punjab State Transmission Corporation Limited (PSTCL), KD Chaudhri, despite stiff opposition by a section of power engineers.
Rules amended for CMD's appointment
Chandigarh, February 7
The Punjab Government today amended the rules and terms of appointment for the post of Chairman-cum-Managing Director (CMD) of Punjab State Power Corporation Limited (PSPSCL) and Punjab State Transmission Corporation Limited (PSTCL) a day before KD Chaudhri, the incumbent CMD, was to retire.



power show:

Members of PSEB Employees Federation hold a dharna in Patiala on Friday. Tribune photo: Rajesh Sachar

AC trailer to transport kinnow launched
Abohar, February 7
A young entrepreneur, Suman Taneja, has launched an air-conditioned trailer for transporting kinnows to south India, much to the delight of marketers of A and B grade fruit. However, the rate of C and D grade fruit have nosedived to Re 1 per kg with the state-owned Agro Juice Plant near Alamgarh village on the Abohar-Sriganganagar road (NH-15) suspending processing. Taneja said 1,500 boxes of graded and waxed fruit could be loaded in the trailer.
RMP's body cremated, all six accused held
Malout (Muktsar), February 7


The body of Dera Sacha Sauda follower Mohan Lal, a registered medical practitioner (RMP), was cremated today amid tight security arrangements. He was murdered three days ago.
Several police personnel marching through Malout town on Friday. A Tribune photograph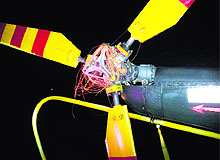 Kite string forces emergency landing
Jalandhar, February 7
The Jalandhar police today claimed that IAF helicopter Chetak made an emergency landing here on Wednesday after a Chinese plastic kite string got entangled in its tail rotor. However, the defence authorities denied this.


The Chinese kite string entangled in the tail rotor of a Chetak helicopter on Friday. A Tribune photograph

Stamp on Udham Singh out of stock
Faridkot, February 7
Several commemorative stamps are printed only once. These are printed in limited quantities and sold for a short period, information procured under the Right to Information Act (RTI) reveals.
Government mulls Police Security Academy
Moga, February 7
Having 'failed' to constitute a special commando unit (SPU) for the protection of Chief Minister Parkash Singh Badal, Deputy CM Sukhbir Singh Badal and other members of their family, the Punjab Government has now decided to set up a state-of-the-art Police Security Academy and Tactical Training Institute.
New tax policy for traders from Feb 13
Mandi Gobindgarh, February 7
To simplify the taxation procedure for traders in B and C category towns, the Punjab Government will introduce a self-assessment scheme from February 13 under which the traders will be required to pay lump sum tax annually.
2 years on, no compensation paid to victims in 8 districts
Chandigarh, February 7
Beneficiaries under the Victim Compensation Scheme 2011 of the Punjab Government in a majority of districts continue to be deprived of the specified amounts in case of loss of life or limb, murder and rape.
SGPC chief woos Kabir followers
Jalandhar, February 7
In what may be an attempt by the Akali leadership to win over Guru Ravidass followers ahead of the Lok Sabha poll, SGPC president Avtar Singh Makkar and Chief Parliamentary Secretary Pawan Tinu attended a religious programme of Dera Sachkhand Ballan at Kathar village near Adampur today.
Private firm builds langar hall, SGPC draws flak
Amritsar, February 7
The Sri Guru Hargobind Sahib Shiromani Dhadhi Sabha today protested against the SGPC move to get the ultramodern Sri Guru Ramdas Langar Hall building at the Golden Temple Complex constructed on contract basis. Akal Takht ex-Jathedar Bhai Ranjeet Singh has also opposed the decision.
Akal Takht Secretariat to get new look
Amritsar, February 7
The Akal Takht Secretariat will soon have an ultra-modern building at its existing location with Baba Narinder Singh Hazoor Sahibwale taking up the 'kar sewa' for the same.
Jyani asks people to take to AYUSH medicines
Fazilka, February 7
State Health Minister Surjit Kumar Jyani, while inaugurating a state-level AYUSH Arogya Mela here, called upon people to patronise the ancient Indian system of medicine. He said it was harmless and eliminated a disease from its root.
Work on new Gurdaspur bus stand hits roadblock
Gurdaspur, February 7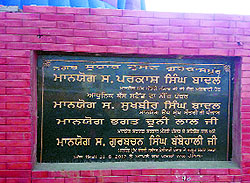 Local residents have for long been peeved at the state of affairs at the bus stand here. To make matters worse, work at the site designated for the new bus stand near the Improvement Trust office no. 7 has hit a roadblock. District administration officials are wary of shifting a religious place on the premises to another location.



The foundation stone of the new bus stand, which was laid by Deputy Chief Minister Sukhbir Singh Badal in 2012. A Tribune photograph

Remission case: HC raps Home Secy for insensitivity
Chandigarh, February 7
The Punjab and Haryana High Court has warned IAS officer-cum-Punjab Home Secretary Raj Kamal Chaudhary and other respondents "to be more careful in future".
Man sends girl's obscene pics to principal, jailed
Ropar, February 7
A local court today sentenced Parminder Singh of Ludhiana to four years' imprisonment along with a fine of Rs 5,000 for sending obscene pictures of a girl via email to her college principal. The accused was arrested after the police registered a case against him under the Information Technology Act (IT) Act in December 2012.
Bail plea of 'guar king' rejected
Abohar, February 7
The court of District and Sessions Judge at Sriganganagar today rejected pleas for granting anticipatory bail to Vikas WSP Ltd Chief Managing Director and Zamindara Party chief Bajrang Dass Aggarwal, his mother Anchi Devi and two others in a gram scam. Aggarwal is better known as the "guar king", being the largest exporter of guar gum.