Explain UK's role in Bluestar, say SAD, BJP
New Delhi, February 5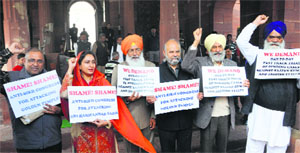 A day after British Foreign secretary William Hague told the British Parliament that a Special Services adviser was sent to New Delhi to offer military advice to the Indira Gandhi Government on Operation Bluestar, the Akali Dal-BJP alliance today demanded answers from the Central Government, asking it to come clean.

Akali and BJP Members of Parliament, enraged at UK's disclosures on Operation Bluestar, hold a protest outside Parliament in New Delhi on Wednesday. Tribune photo: Mukesh Aggarwal

Cong asks Joshi to step down
Amritsar, February 5
The PPCC today demanded resignation of Local Body Minister Anil Joshi following his indictment by the Election Commission, which has ordered the registration of a criminal case against him under the Representation of People Act 1950.
Booking for Panj Takht train begins
Amritsar, February 5
With the Indian Railways all set to launch Panj Takht train from February 16, a long-pending demand of the Sikh pilgrims has finally been met. The tickets for this 10-day journey could be booked from today either online or in person at Dhuri and Sangrur railway stations. The fare included cost of food, lodging etc.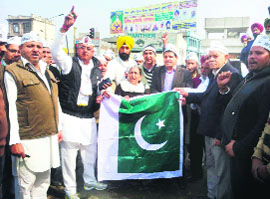 UP in arms: Dalbir Kaur, sister of slain Indian prisoner Sarabjit Singh, staged a protest against the death of an Indian prisoner at a Karachi jail, in Ludhiana on Wednesday. Supported by volunteers of the Aam Aadmi Party, she denied reports of seeking to enter politics. Tribune photograph
More than 12,000 patients on cancer registry
Chandigarh, February 5 More than 12,000 cancer patients have been registered in Punjab and information in this regard sent to the Bangalore-based National Cancer Registry set up by the Indian Council of Medical Research.
Despite govt efforts, no decline in AIDS patients
Bathinda, February 5
Despite the government's anti-AIDS campaigns, there has been a rise in the number of AIDS patients in Punjab. More patients have been registered in Ludhiana than in Amritsar.
State govt sitting on Rs 40-crore grant to PU, despite reminders
Chandigarh, February 5
The Punjab Government seems hardly bothered about releasing the grant of about Rs 40 crore to Panjab University (PU), pending from 2000 to 2009.
Six die in 2 mishaps in Ludhiana
Ludhiana, February 5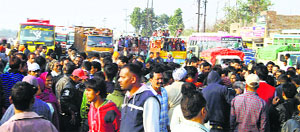 A 50-year-old man and his 26-year-old daughter-in-law were crushed to death under a speeding truck near Tibba Road Chowk on National Highway-I here today. The woman's three-year-old son sustained serious head injuries. The three were riding a motorcycle. The victims have been identified as Mohammad Israr Alam and Khushnuma.

People block a road in protest in Ludhiana on Wednesday. Tribune photo

Power engineers to meet Scindia today
Jalandhar, February 5
A delegation of the the All-India Federation of Power Diploma Engineers will meet the Union Power Minister, Jyotiraditya Scindia, in New Delhi on February 6.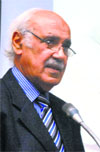 Need to translate documents on Ranjit Singh's rule, says Pak historian
Patiala, February 5
Nearly 8,000 letters and documents written in Persian are lying at Anarkali's Tomb in Pakistan's Lahore city and their translation could provide an insight into the undocumented administrative and personal details of Maharaja Ranjit Singh, says art historian Fakir Syed Aijazuddin from Lahore.
RMP's death: Residents protest police inaction
Muktsar, February 5
A large number of protesters today demanded the arrest of six persons involved in the murder of a registered medical practitioner (RMP) at Malout Civil Hospital yesterday.
Schoolteachers to meet Maluka on February 7
Nawanshahr, February 5
Government school lecturers are up in arms against the state government's proposal to revert the newly promoted lecturers on the basis of new subject-wise seniority lists.
Cops implicating daily wagers: Farm union
Abohar, February 5


Hundreds of residents of Government Seed Farm, under the banner of Zamhoori Kisan Sabha, today held a protest outside the city police station here.
Residents of Government Seed Farm hold a protest in Abohar on Wednesday. Tribune photo

BSF hands over Pak intruder to police
Fazilka, February 5
The Border Security Force (BSF) handed over a Pakistani intruder to the police here after Pakistani Rangers reportedly refused to accept him back. A case has been registered under the Indian Passport Act.
anti-sikh riots
US court rejects Sikh body's plea
New York, February 5
A US court here has rejected a request by a Sikh rights group seeking more time to respond to a motion filed by Congress President Sonia Gandhi to dismiss a human rights violation case against her in the 1984 anti-Sikh riots brought by the group.
HC notice to Principal Secy, Health
Chandigarh, February 5 The Punjab and Haryana High Court today issued a notice to the State of Punjab on a petition seeking that 22 District Health Officers should not be designated as officers under the Food Safety and Standards Act.
Man gets 10-yr jail for rape
Abohar, February 5 A court has sentenced Kalu Ram of Panniwala Mahla to 10 years' rigorous imprisonment in a rape case. The accused had fled with a minor girl of the same village last year.
Moga DTO staff held in road tax scam
Moga, February 5
The Vigilance Bureau today arrested a clerk of the Transport Department in a road tax embezzlement scam. He was posted at the DTO's office here. The scam was unearthed in November last year.
Faridkot schoolgirl abducted, assaulted
Faridkot, February 5
A schoolgirl was reportedly abducted by unidentified youths and beaten up. The 17-year-old girl was returning home from a tuition class on February 3 when she was abducted by car-borne youths.
Patiala police nab four car thieves
Patiala, February 5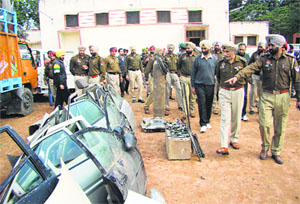 The Patiala police claim to have arrested four robbers who stole cars in Punjab and Haryana and sold these at Ambala for Rs 70,000 each. They would steal cars from Patiala, Chandigarh, Ludhiana, Mohali, Panchkula, Ambala and Karnal. Patiala Superintendent of Police HS Mann said Charanjeet Singh alias Channi of Nihal Nagar in New Delhi, Ramjeet Singh of Ram Tilak Nagar, New Delhi, Harpreet Singh and Krishan Kumar would drive the stolen cars to Ambala, change the number plates and then sell these for Rs 70,000 each.
The Patiala police have seized cars stolen from Punjab and Haryana. Tribune Photograph

Khanna shootout third in 3 months
Ludhiana, February 5
The Sunday shootout in which Kulwinder (21) was killed was the third case of firing in less than three months in Khanna.
Mastermind behind Rs 10 lakh ATM theft held
Hoshiarpur, February 5
The district police claim to have arrested the kingpin of a seven-member gang involved in an ATM robbery.