Auction turns out to be a disappointment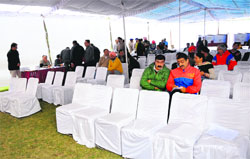 Chandigarh, February 5
The auction of commercial properties by the Chandigarh Housing Board (CHB) turned out to be a flop show.






Empty chairs at the venue for the auction at Sector 9, Chandigarh, on Wednesday. Tribune Photo: S Chandan



Mohali gets paid parking lots
Mohali, February 5
The plan to introduce the paid parking facility in the town has started rolling, with the Municipal Corporation inviting bids for 19 parking lots in five markets.
MC tows away 20 vehicles
Chandigarh, February 5
The enforcement wing of the Chandigarh Municipal Corporation towed away 20 cars, four trucks from the Motor Market at Mani Majra.
Khushwant has high hopes from youth
Chandigarh, February 5

Writer and journalist Khushwant Singh has high hopes from the younger generation, who are better educated and aware of what is going on in the world. Mobile phones, Twitter and Facebook, about which we know nothing, will create a revolution. These views were expressed by Khushwant Singh through a written text during a seminar at Panjab University today.
PU Vice-Chancellor Professor Arun Grover welcomes Khushwant Singh's son Rahul Singh (left) during a seminar at Panjab University in Chandigarh on Wednesday. Tribune photo: Parvesh Chauhan
No stopping kundi connections
Chandigarh, February 5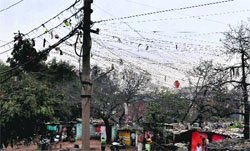 On the one hand, the UT Electricity Department has proposed a 21 per cent hike in power tariff for the next financial year 2014-15, while on the other, it has failed to check 'kundi' connections in various parts of the city, especially in colonies, villages and residential houses falling outside the 'lal dora'.

Kundi connections at Sanjay Gandhi Colony in Industrial Area, Phase 1, Chandigarh. Tribune photo: Pradeep Tewari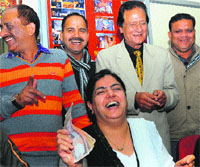 19 aspirants file application
Chandigarh, February 5
To contest the upcoming Lok Sabha election from Chandigarh on the Bhartiya Janta Party (BJP) ticket, a total of 19 aspirants filed their applications today.



BJP candidate Harmohan Dhawan (standing second from right) and Ranjna Shahi in jubilant mood at the Sector 33 BJP office in Chandigarh on Wednesday. Tribune Photo: S Chandan
Now, Lucky to hold rallies, meetings
Chandigarh, February 5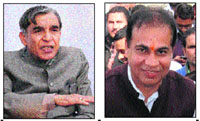 As former Union Railways Minister and sitting MP Pawan Kumar Bansal and his family members are busy holding rallies in the city, former Deputy Mayor and youth Congress leader HS Lucky, has also decided to hold rallies, functions and group meetings with city residents.
Local MP Pawan Kumar Bansal and (right) Congress ticket aspirant Harmohinder Singh Lucky. Tribune photos: Manoj Mahajan
Mohali residents panic, raise concern over police inaction
Mohali, February 5
The spurt in crime incidents in the district, the recent one being the shooting incident at Nayagaon, has spread panic among residents of the area besides raising concern over the deteriorating law and order situation here.
Haryana officials fail to turn up for meeting
Chandigarh, February 5
The Metro project in the Tricity now seems to get further delayed as the representatives of Haryana Government failed to turn up at the meeting organised to sign a Memorandum of Understanding (MoU) among the stakeholders.
Tracking system is key to solving problem of abandoned children: Expert
Chandigarh, February 5
As a matter of grave concern for a highly literate and cosmopolitan city like Chandigarh, abandoning of baby girls continues to be a practice. Records available with hospitals, police and social welfare department tells as many as 44 abandoned baby girls were found in city last two years, 2012 and 2013, from various slums, hospitals and other areas of the city.
Inspectors raise demand for orderly
Chandigarh, February 5
Police Inspectors today demanded an orderly for themselves from senior officers at the Sampark Sabha at police lines in Sector 26. The Inspectors asserted that the orderly was withdrawn from them five years back and in their hectic schedule they require a help at all times.
CYP aims to empower youth
Chandigarh, February 5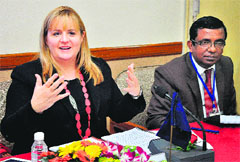 The senior government officials from Commonwealth countries of Asia today convened aseminar of Commonwealth Youth Program (CYP), Asia Region, Sector 12, Chandigarh, to review their priorities for youth development.
Katherine Ellis, director, youth affairs, Commonwealth and Aminul Islam Khan, acting director, Commonwealth Youth Program, Asia, address delegates during the seminar of Commonwealth Youth Programin Chandigarh on Wednesday. Tribune photo
Folk singer Jagir Singh mesmerises audience
Chandigarh, February 5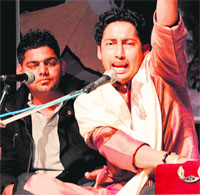 Folk singer Jagir Singh mesmerised the audience during the Dr MS Randhawa Utsav at the Punjab Kala Bhavan, Sector 16, here today. agir Singh passed his Master's Degree from the Panjab University Music Department. Presently, he is doing PhD from Panjab University.






Jagir Singh performs at the Punjab Kala Bhavan in Sector 16, Chandigarh, on Wednesday. Tribune photo: Parvesh Chauhan
School of language, communication at Panjab University soon
Chandigarh, February 5
Panjab University is going to introduce a school of language and communication from the next academic session.
Cancer awareness drive held at village
Chandigarh, February 5
"Aao Gaon Chalen", a project of the Indian Medical Association, HQ, in association with Desh Bhagat University, Desh Bhagat Radio 107.8 FM and NGO "Hara Punjab Khara Samaj" observed World Cancer Day here today.
Technical education summit in Mohali on Feb 8
Mohali, February 5
The Punjab Government, Punjab Technical University (PTU) and the Punjab Unaided Technical Institutions Association (PUTIA) will jointly organise the state's biggest-ever Technical Education and Skill Development Summit here on February 8.
Doaba students excel in PTU examinations
Mohali, February 5
Three students of the Doaba Group of Colleges, Kharar, have secured top positions in the BTech (seventh semester) examinations held by Punjab Technical University (PTU).