State offers to waive sales tax to Bathinda refinery
Chandigarh, February 11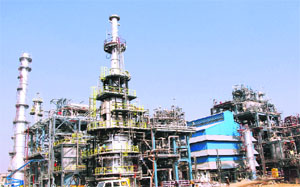 The Punjab Government has offered to waive the central sales tax for the refined petroleum products produced at the Guru Gobind Singh Refinery, being operated by the HMEL (HPCL- Mittal Energy Limited). This is being done despite the fact that the refining of petroleum products is not entitled for any fiscal concessions as this industry is in the "negative list of industries that can be allowed concessions" under Punjab's New Industrial Policy.
Guru Gobind Singh Refinery in Bathinda. A Tribune photo

CM to lay stone of war memorial today
Amritsar, February 11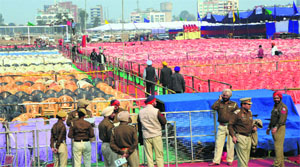 Chief Minister Parkash Singh Badal will lay the foundation stone of the Punjab State War Heroes Memorial and Museum here tomorrow. The function will be attended by Air Force Marshal Arjan Singh, three former Army Chiefs, two former Navy Chiefs anf thousands of ex-servicemen and their kin from across the state.
Preparations underway for foundation stone laying ceremony of a war memorial in Amritsar on Tuesday. Tribune photo: Vishal kumar

Rs 65 cr heroin seized from Pak goods train
Amritsar, February 11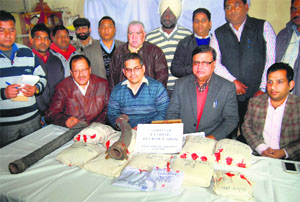 In a joint operation by Custom officials and the Railway Protection Force, an attempt to smuggle narcotics and live cartridges through Pakistan goods train was foiled at the Amritsar railway station today. The officials seized 12.810 kg of heroin valued at around Rs 65 crore in the international market, 34 live cartridges and 150 gm of opium.
Custom officials with the seized contraband in Amritsar on Tuesday. A Tribune photograph

khanna shootout
1 held, Yadu still at large
Ludhiana, February 11 Nearly eight days after a shootout that took place in Khanna where 21-year-old Kulwinder Singh was shot dead, the police today arrested Aakash Kumar, one of the accused.
Badal Govt wasting funds on false propaganda, says PPCC chief
Chandigarh, February 11
Punjab Pradesh Congress Committee (PPCC) chief Partap Singh Bajwa today warned the SAD-BJP Government against wasting public funds on "false propaganda" even as it had failed to pay benefits to employees under various social welfare schemes.
Ahead of General Election, Batala BJYM dissolved
Batala, February 11
In a sudden and unprecedented development before the parliamentary elections, the Batala district BJP unit has dissolved its Bhartiya Janata Yuva Morcha (BJYM) wing.
112 tubewells for kandi areas, says minister
Hoshiarpur, February 11
State Irrigation Minister Janmeja Singh Sekhon today said as many as 112 more tubewells would be made operational for irrigation in the kandi areas of Hoshiarpur, Gurdaspur, Ropar and Nawanshahar districts by April.
Four of wedding party killed in accident
Mansa, February 11
Four persons, including a SAD worker of Mansa village, killed in a road accident when the vehicle they were travelling in collided with a stationery truck on the Fatehabad road late last night. Two persons were critically injured.
Bone, kidney cancer on the rise among the young
Jalandhar, February 9
Spicy Punjabi diet and high liquor intake can trigger cancer, warn experts. While Punjabi women are most prone to breast cancer, Punjabi men are highly vulnerable to prostrate cancer. Oesophagus cancer is prevalent among both Punjabi men and women. Bone and kidney cancer is most common among those in the age group of 15-25 years.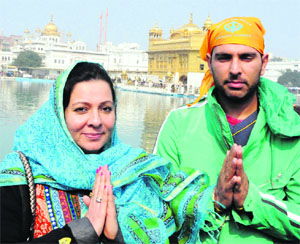 Thanksgiving: Indian cricketer Yuvraj Singh with his mother at the Golden Temple in Amritsar on Tuesday. Tribune photo: vishal kumar
New surgical technique saves life
Patiala, February 11
A patient (name withheld) was referred to Columbia Asia Hospital in a poor state. Investigations revealed that he had liver tumour which had ruptured, leading to extensive blood loss. Since surgery was not possible, the only option for the doctors was TACE ( trans-arterial chemo embolisation)
Patiala's Rajindra Hospital turns 60
Patiala, February 11
Once considered a lifeline for patients of the entire northern region, the prestigious Government Rajindra Hospital completes 60 years of its existence. The foundation stone of the hospital was laid by the late Maharaja Yadavindra Singh on April 15, 1950.
Major fire breaks out at guar unit
Abohar, February 11
A major fire broke out in the main godown of "guar king" BD Aggarwal's export unit in Sriganganagar last night. Flames were doused after about 20 hours of struggle. Since guar powder is highly inflammable, it may take more time to declare the godown totally free of fire, fire officials said.
Centre amends rules to sanction schemes for 25 towns
Abohar, February 11
Convinced of the "inability of the cash-strapped Punjab Government to provide basic amenities to small and medium towns", the Union Government has amended rules to sanction water supply and sewage treatment plants in 25 towns of the state. The funds sought under the Jawaharlal Nehru National Urban Renewal Mission (JNURM) amount to Rs 1,143.67 crore.
1,100 state farmers visit Nagpur festival
Bathinda, February 11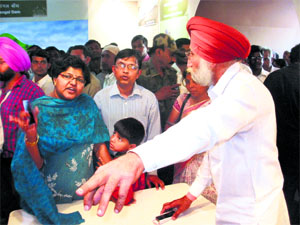 About 1,100 farmers from across the state visited Krishi Vasant in Nagpur (Maharashtra) to learn new farming techniques. Special arrangements were made by the Government of India and the Maharashtra Government to facilitate the farmers' visit at the five-day event, which was inaugurated by the President of India.

Darshan Singh of Rampura Phul, who showcased his environment-friendly chopper-cum-harvester at Krishi Vasant, in Nagpur on Tuesday. A Tribune photo

SGPC for high VAT on cigarettes
Amritsar, February 11
The SGPC today appealed to the state government to increase VAT on tobacco products. Talking to mediapersons here today, SGPC chief Avtar Singh Makkar said the government should increase VAT on tobacco products so that their consumption was curtailed in the interest of the people.
Tension in Phagwara town over posters
Phagwara, February 11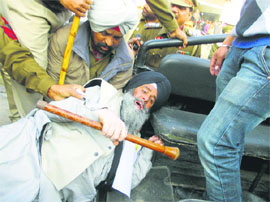 Tension prevailed in the town after Shiv Sena activists objected to pro-Khalistan posters put up by SAD (A) workers to welcome the Khalsa march. Traffic on national highway remained disrupted for more than an hour. Phagwara Superintendent of Police Gursewak Singh Brar reached the spot with heavy police force and removed the banners.
SAD (A) leader Rajinder Singh Fauji being taken away by the police in Phagwara on Tuesday. A Tribune photograph

LS poll: Govt seeks 200 companies of paramilitary forces
Chandigarh: Punjab has sought at least 200 companies of paramilitary forces for smooth Lok Sabha elections in the state. A senior officer, requesting anonymity, said elections in Punjab would be conducted in the same phase as Haryana and Delhi. An announcement in this regard was expected within 10 days.
Re-employed PCS officers shifted
Chandigarh, February 11 As directed by the Chief Electoral Officer, the state government today transferred re-employed Punjab Civil Service (PCS) officers and those posted in their home district.

Satguru's attacker claims he was sexually abused
London, February 11
A Sikh man on trial for the attempted murder of Namdhari sect leader Satguru Uday Singh in Britain has claimed that it was a revenge attack over being sexually abused by the guru 20 years ago. Harjit Singh Toor (27), a non-Namdhari Sikh, appeared before the Birmingham Crown Court this week as jurors were shown video footage of the moment he pulled out a 3-foot axe from his shawl during morning prayers at a gurdwara in Leicester last August. The Namdhari leader suffered a broken arm and a cut nose when he tried to shield himself from the blows in front of horrified worshippers.
Sikh charity leads flood rescue efforts
London, February 11
A British Sikh charity set up to help victims in foreign disaster zones has become one of the first NGOs to despatch humanitarian aid to people affected by floods in southwestern England.
Make care homes for mentally ill functional in a month: High Court
Chandigarh, February 11
The Punjab and Haryana High Court has set a month's deadline for the state of Punjab to make care homes for the "mentally sick" fully functional. The High Court has given 15 days time to the state to circulate a list of hospitals providing healthcare facilities for the "mentally sick".
HC backs state govt's claim on Ashutosh's death
Chandigarh, February 11
Justice MMS Bedi of the Punjab and Haryana High Court today said that the medical examination of "clinically dead" Ashutosh Maharaj would be an "insult to his body". Dismissing a habeas corpus petition in this regard, Justice Bedi suggested in the open court that the body be honourably put to rest.
Five booked for grabbing NRI's house
Phagwara, February 11
The police have booked five members of a family on the charges of grabbing a house of an NRI, Maninderjit Singh, of Rihana Jattan village.