Chadha re-elected Chief Khalsa Diwan president
Amritsar, February 9
Charanjit Singh Chadha was today elected president of the Chief Khalsa Diwan, a 112-year-old body of Sikh philanthropists, for the third consecutive time.
Irked by transfers, teachers on warpath
Chandigarh, February 9
Frustrated at the "illogical" move of the Education Department to transfer 811 schoolteachers (women teachers to girls' schools and male teachers to boys' schools) 11 unions, under the banner of the Punjab and UT Mulazim Sangharsh Committee, will hold a protest march in Bathinda on February 11.
Bathinda protest: Child died of exposure to cold, says pvt doctor
Bathinda, February 9
Dr Vitull K Gupta, a local physician, today contested the Health Department's claim that 14-month-old Ruth may have died of infantile tremor syndrome. He blamed the district administration for the death, claiming the child had died because of exposure to cold. The child's mother was among the teachers protesting in the open against the state government.

CM was arrested much after Bluestar: Capt
Chandigarh, February 9
Rejecting Chief Minister Parkash Singh Badal's claim that he was in jail at the time of Operation Bluestar, Capt Amarinder Singh today said he would release documents in due course to establish that Badal was a free man during the Operation Bluestar and that he was arrested much later.






The dispossessed:

A dogy at the annual dog show in Patiala on Sunday. Tribune photo: Rajesh Sachar
fake certificate scam
Ferozepur police to question six Army candidates
Mansa, February 9
An inter-state gang of cheats reportedly sold fake Class X certificates to six candidates from Mansa, Bathinda and Sangrur during an Army recruitment drive recently. Though the candidates have cleared the exam, they will be brought here for questioning.
Four-laning of Ferozepur-Hussainiwala NH approved
Ferozepur, February 9
The Union Ministry of Road Transport and Highways has approved the four-laning of the Ferozepur-Hussainiwala National Highway 95.
BBMB workshop may produce rail coaches
Nangal, February 9
Area residents can hope for employment and business opportunities in near future as the Bhakhra Beas Management Board (BBMB) has decided to revive its maintenance workshop here.
Woman accuses ASI of implicating husband
Hoshiarpur, February 9
A married woman has accused an Assistant Sub-Inspector (ASI) of implicating her husband in a drug peddling case for refusing to marry him.
SUV slips into drain near Abohar, 5 hurt
Abohar, February 9
An SUV ferrying five members of a marriage party from Ludhiana to Sriganganagar in Rajasthan slipped into a drain near Sayeedwala village, 12 km from here, today.




The SUV that slipped into a drain near Sayeedwala village, 12 km from Abohar, on Sunday. TRIBUNE PHOTO

People fret as power cuts back in Muktsar, Fazilka
Muktsar, February 9
The Punjab Government's claim of making the state power surplus notwithstanding, residents of Muktsar, Abohar, Fazilka and nearby areas are facing unscheduled power cuts ranging from six to eight hours.
De-silting of Ropar lake begins despite protest

Jalandhar, January 9
The state Irrigation Department has taken up a Rs 10-crore project for de-silting the Ropar lakebed to restore the capacity of the wetland and to provide water at the tail ends of Upper Bari Doab Canal (UBDC) and Sirhind Canal in Doaba and Malwa regions, respectively.
The almost dried-up bed of the lake at Ropar. Tribune photo: Malkiat Singh

RinGside view
Out of reach
Hounded by the press over the death of Divya Jyoti Jagriti Sansthan head Ashutosh Maharaj, Jalandhar Deputy Commissioner Varun Roojam and Jalandhar SSP (rural) Jaspreet Singh have stopped interacting with the media. The controversy over the godman's death has not died down over the past two weeks. Now, mediapersons with other queries are having a tough time contacting these officials.



US war veteran cremated with military honours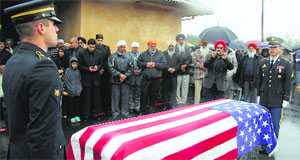 Sacramento/California, February 9
The funeral of Gulf War veteran Parminder Singh Shergill, whom the police shot dead near his house on January 26, was held with full military honours today. Hundreds of members of the Sikh community gathered to mourn his death.

A colour guard team at Parminder Shergill's funeral in Sacramento in the United States on Sunday.

Two held with 20 kg opium
Fazilka, February 9
The district police have seized 20 kg of opium worth Rs 20 lakh from a truck and nabbed its driver and his accomplice. Fazilka Senior Superintendent of Police Ashok Batth said on a tip-off, a police party led by Sub Inspector Sat Pal intercepted a truck coming from Sriganganagar side on the Abohar road near Alamwala village.