Dynamics of engagement
Art is never static and in technology driven times that we live in, it can only become more fluid. Among many other things the recently concluded India Art Fair 2014 testified as to how art is becoming interactive and is no longer merely an object of visual wonder
Nonika Singh



Anindita Dutta's performance act Everything Ends and Everything Matters celebrated the energy of life. Photos: Manas Ranjan Bhui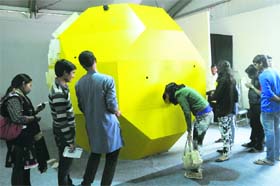 Princess Pea's Project PO Box was an interactive art work that had visitors sharing notes with the artist.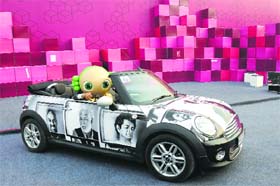 Princess Pea at the India Art Fair 2014
FOR all four days at the recently concluded India Art Fair the queue outside Narendra Yadav's work That Original Might Be A Reflection remained terminally long. Close to it another young artist Princess Pea's work, a huge post office, had viewers patiently filling cards, peeping into her performance through a peephole. Why the visitors even got to exchange gifts and shake hands with the artist. At regular intervals acclaimed artist Dayanita Singh sat behind her art work File Room, a mini museum of sorts and individualised each book for the collector.
While at the Speakers Forum experts deliberated on Public and its Art and how to address the public, art space it seems has already become more egalitarian and reaching out to people in ways not known before. All art is an interaction, a dialogue with the viewer. Today the emphasis on communication is gaining a fresh impetus and artists are busy enthusing new dimensions to their art works. For too long we have nurtured the notion of visual art in very literal terms. So those who believe 'art is only meant to be seen', need to soak in this new lexicon. Art can be tuned into, make you as much of a participant and simply viewed as a performance.
If Anindita Datta's performance act around a spiral clay sculpture caught the viewers' imagination, the blindfolded walk of Joes Garcia Miguel from Portugal evoked as much curiosity. The moment he sat down to unpeel the shards of glass and shells covering his face, laymen not only empathized with the pain he might have been enduring but even bombarded him with queries. No wonder he quipped, "It's thanks to such performances that one has an intense debate."
Indeed, no longer are artists content with a cursory glance that lasts no more than three seconds. They want to engage viewers in what some might dismiss as a spectacle. But the new face of art is not simplistic or an attention seeking gimmick. Actually Princess Pea not only hides her identity all through her performance and otherwise, but even her real name is unknown. Indeed, whatever might be the expression chosen by the artist in question the genesis of it lies in profound issues. Take renowned artist LN Tallur's live art Path Finder. The sculpture of a man sitting in front of a moving wheel throwing mud on him is actually probing into existential dilemmas of mid-life crisis. Princess Pea's search for answers to societal obsession with bodily perfection is what has taken her enroute this journey in which she acquires a cultivated image of a ballooned face with thin legs. She is not only allowing viewers a peep into her alter ego but even gets glimpses of theirs. Amazed by the quirkiness of what people have scribbled on the note pads provided by her, she smiles, "These well might be works of art in itself."
Art has been changing colours and contours since ages. From simple realistic to abstract to bizarre and not so beautiful each time, it has found a new avatar. Just when viewers get ready and used to its latest manifestation, artists usher in a new vocabulary. And now artful has become earful too. To those of us who believe sound belongs to performing art well now, it's extensively used as part of video works an inextricable aspect of visual art practice. But the idea is not to confound the viewer only to make him more participative.
Aditi Das, who works with plastic, has used error sounds for her latest untitled video project. She reasons, "Sound helps the viewer to focus better." In fact, she has been incorporating sounds in her works ever since she made her first video way back in 2008. The work included her breathing sound of suffocation. In Sheba Chhachhi's riveting installation, The Mermaid's Mirror, comprising fluid images of tragedy queen Meena Kumari music is perhaps a given and only accentuates how she collates memory, femininity and cinema. Same goes for Chittrovanu Majumdar's video work Nights of Matryoshka Dreaming. Installed in metal boxes like the good old bioscope of yore as Majumdar tells intimate tales and fantasies of ordinary people, music becomes one with the image. Adept at media and technology he has been integrating video and music seamlessly. Indeed, none of this is a cut and paste job as Das reminds, "Sound is a deep practice."
No wonder this year sound became an independent art project. An innovative project Listen Up curated by Diana Campbell and Tim Goossens had 30 artists corroborating to create what the gallerists call sound art, perhaps the first of its kind. To demystify it or put it simply it is a mobile phone application which can be downloaded for a nominal price changing perceptions not only about art but usage of mobile phones too. At the fair of course, one could simply pick up a headphone and listen to Sumakshi Singh's soundscape or Bangladeshi artist Shumon Ahmed's sound piece. Raskia Kajaria, the director of Exhibit 320, the gallery behind the unique work, agrees that not many gallerists would back such projects. But she can fathom the immense possibilities in this realm and the desire of the art lover to engage at more than a superficial level. While the layman still might be wondering how can sound be part of visual art, the project had men like Chris Decron, director, Tate Modern, London, gushing, calling it pure art which defies ownership. Of course, Abhay Maskara, director of Maskara Gallery, disagrees and feels that while one hopes and believes that art is not created with a buyer in mind all kind of art can be sold. He says, "For instance by its very nature performance act can't be sold. But the fact is that the same is documented by way of photographs and videos. Then all of it, including works of Marina Abramovic, who calls herself 'grandmother of performance act', are sold."
Indeed, what makes art distinctive is not its saleability or lack of it. Nor the medium for that matter. For no one medium is less exciting or dynamic than others. As Maskara puts it, "Even listening can be passive and a performance can be boring. One can zone in and out of anything. But yes the chances of viewers being lazy in this kind of work are less for it compels the viewer to be more attentive." Jiten Thukral of the artist duo Thukral and Tagra agrees. Since an average viewer walks out of the gallery in three minute flat, the challenge of engaging him for longer duration is a catalyst for creating narratives that are unconventional. But the bottom-line always is whether the concept demands an interactive mode. In an installation they created many years ago they made viewers taste vodka and even smell and touch their art. Today their art is known for bearing a flavour and fragrance.
In fact, more and more artists today are offering a tactile experience the viewer won't forget in a hurry. Yadav states that as a communicator he is constantly devising strategies to bridge the gap. So in a fair buzzing with activity he created a work that would put viewer in a silent zone shutting off everything else. By placing him or her in a dark room of sorts grappling with eight reflections of the self, the endeavour was to eliminate the art and the artist and make the self of the viewer an art object. Clearly art is no longer just about a simple gaze but offering an experience for today's viewer is hungering for more. And in order to satiate this appetite, artists are invoking several senses of the viewer not just visual but aural too.
Of course, a canvas and a sculpture too can achieve the same and sing a song to you without sounds. Amidst the overload of art works even a young girl can spot Andy Warhol's canvas of Princess of Monaco. Indeed, conventional mediums can be suffused with energy, rhythm and resonance. Not that these artists are challenging conventional mediums. Often they are using interactive works merely as entry points through which they hope even the layman would gain access into the many layers of their art which also comprises paintings. Finally what matters is not the material which can be an artist's body too but whether the artist has succeeded in transforming the medium.
In fact, today art isn't about this or that. Constantly fusing and blurring boundaries, it could be multimedia or even use motor mechanics and engineering skills. As Anindita Dutta's work says Everything Ends and Everything Matters…. art is always all encompassing as well as marking new beginnings.
Creative buzz
India Art Fair, which came into being in 2008, is the brainchild of its founding director Neha Kirpal. Over the years, the fair has acquired a reputation of not only being an art mart but also as a hub for art aficionados.
Showcasing the biggest names in the Indian art world, it has in recent times been attracting many reputed international galleries as well. The fair represents the latest art trends.
In its four-day buoyant run, the sixth edition of India Art Fair recived as many as 100,000 visitors. Besides, the who's who of the art world, celebrities like Sonam Kapoor made their presence felt.
Renowned curator and art critic Girish Shahane will be the Artistic Director of the India Art Fair 2015.