Support and succour
If you have a caring attitude, patience and a desire to work in a medicine-related field, then here is a career that's just made for you
Usha Albuquerque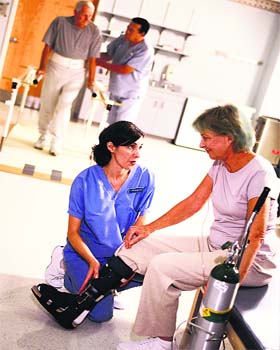 There are 2.19 crore people in India with disabilities who constitute 2.13 per cent of the total population. A large percentage are physically handicapped individuals who suffer from limb malfunctions or abnormalities. Prosthetics and Orthotics is a medical and engineering-based healthcare profession that deals with rehabilitation of people suffering from neuro-motor and musculoskeletal disorders to live a normal life.
A Prosthesis, or what is commonly known as an artificial limb, is an extension or replacement of a missing or damaged body part. It can be an artificial leg, an entire hand or just the palms of hands or feet etc. Prosthetics is the science dealing with artificial replacement of lost body parts and professionals who deal with prosthesis are called Prosthetics.
Orthotics is the science dealing with mechanical correction of orthopaedic deformities, realignment, support of weak parts, prevention of unwanted movement, relieving weight borne by certain body parts, etc. An Orthosis is a device which can give support to weak limbs or help to correct a deformity. It is derived from the Greek word 'ortho' meaning 'to straighten'. Orthotists are professionals concerned with manufacture and fitting of orthosis, which include braces, splints and special footwear that assist movement and tend to lessen the amount of discomfort.
The work
Prosthetics and Orthotics are highly qualified professionals without whom the total rehabilitation of orthopedically handicapped individuals would be incomplete. They work along with physicians, orthopedics, nurses and associated medical professionals. They have to study the reports and records of the patients and have to communicate with patients and their families regarding the treatment.
For accurate fitting and fabrication of the prosthetics and orthotics, they need to make a detailed study of the patient, assess the muscles involved, flexibility, tone etc and take the necessary measurements for making the aids.
They have to prepare the design, select material and prepare a model or cast. Each of the devices need to be custom-made and vary with the nature of disability, body type, and the working and living conditions. The fitting requires several sessions for carrying out trials, making minor changes and adaptations for shape, size and fit, and final approval by the doctor. Materials normally used for the device may vary from wood, leather, plastic, to fiber glass, foam, fabric etc and need to ensure the alignment and proper fitting of these devices so as not to cause discomfort to the patient.
Prosthetics are also responsible for training their patients and their families in the use and mobility of the devices so as to make them confident and independent in society.
Getting in
To handle such skilled responsibilities these professionals need to be highly trained to be able to work competently. There are a number of institutions that offer courses for training in prosthetists and orthotists. The minimum eligibility is Class XII with physics, chemistry and mathematics and/or biology followed by diploma course of two year duration or degree course of 4½ years.
The course is both engineering and medical based. The syllabi includes classes in basic life sciences, basic engineering, prosthetics and orthotics workshop technology, orthopedics, computer studies, physical medicine and rehabilitation, mobility aid, upper and lower limb prosthetics and orthotics, spinal orthotics. After the successful completion of final year examinations, students have to undergo a six- month internship which comprises clinical practice, case presentation and fabrication of different kinds of orthoses and prostheses.
Selection for the course is through an entrance test. The tests usually consist of objective type questions based on subjects — biology, physics, chemistry, maths, English and GK. The questions are based on Senior Secondary School Certificate (Plus II) curriculum.
Many medical colleges conduct courses and practical internship is completed in the teaching hospital. Government of India has also set up a Rehabilitation Council to train paramedical staff and to conduct related activities in rehabilitation. After graduation, in order to practice as prosthetist and orthotist in India candidates must register with Rehabilitation Council of India.
The diploma courses are usually of two years duration. The eligibility requirement for a diploma course is that the candidates should have passed Plus II with science subjects (physics, chemistry, mathematics, biology) or they should have a pass in Plus II in the vocational stream in the trade of machinist or Plus II and ITI certificate in the trade of Fitter/ Turner/ Machinist/ Tool or die maker. Candidates with a pass in the final diploma examinations conducted by the Board of Technical Education of the State Government in mechanical/electrical/ or electronics engineering are also eligible. Candidates with diploma qualifications are employed as technicians.
Job prospects
After completing the course one can work in hospitals, rehabilitation centres, institutes, or with NGOs or multinational companies who are providing rehabilitation services in India and abroad.
Today India is a world leader in practical, low-cost foot prosthesis, ever since master craftsman Pandit Ram Chandra Sharma created the "Jaipur foot" and the orthopaedic surgeon Dr P.K Sethi, brought it to the world's attention. Much emphasis is being laid on development of innovative designs, research and evidence based practice. The emerging trends in new technologies like robotics, neuroscience, electronics and advanced materials have revolutionised the field of Prosthetics and Orthotics. This is a challenging and stimulating field to work in, especially if you have a technical mind, and also like biology, and can work with equipment with skill and precision.
— The writer is Director, Careers Smart Pvt Ltd., New Delhi
Institute watch
Institutes offering the Prosthetics and Orthotics courses
All India Institute of Physical Medicine and Rehabilitation, Mumbai
Christian Medical College, Vellore
Institute for the Physically Handicapped, New Delhi
Government Prosthetics and Orthotics College, Ahmadabad
The National Institute for Rehabilitation Training and Research, Cuttack
Indian Institute of Health Education and Research, Patna
Mobility India, Bangalore
National Institute for the Orthopaedically Handicapped, Kolkata
Pt. Deen Dayal Upadhyay Institute for the Physically Handicapped, New Delhi