STOCK-TAKING: Ravneet Singh Bittu Anandpur Sahib

Beaming with confidence, he hopes to return with a bang
Claims to have brought a host of Central projects to develop his constituency, but his political rivals think otherwise
Arun Sharma

Tribune News Service
Ropar, February 19
With the 15th Lok Sabha term nearing an end and politicians beginning to flex their muscles to claim the ticket from Anandpur Sahib, Ravneet Singh Bittu's name is doing the rounds in the Congress.
Though Bittu claims to have brought numerous projects to his constituency from the Centre and raised issues related to Punjab in Parliament, a section of society, including his rivals, feel the MP failed to live up to expectations. Their main grouse: the MP failed to bring in any major industry to deal with unemployment.
Being a youth leader and given his proximity with Congress vice-president Rahul Gandhi, local residents had high hopes from Bittu. They said he remained absent from the constituency for long periods during the initial years and failed to change the economic condition of the area.
However, Bittu has his share of admirers. Rajinder Saini from Ropar said Bittu was the first politician in the district to respect all elders, but could not give much time to his constituency during the first two years. "Being the Punjab Youth Congress chief, he had to look after party affairs throughout the state, but his efforts and achievements to develop the area could not be ignored completely."
Eye on better margin
Bittu, who won by a margin of nearly 70,000 votes defeating his nearest rival and Shiromani Akali Dal candidate Daljeet Singh Cheema, is confident of repeating his performance, that too with a bigger margin.
Bittu claimed the people in the constituency — which spans the districts of Rupnagar, Shaheed Bhagat Singh Nagar and Mohali — had witnessed tremendous development with funds he got sanctioned from the Centre.
He said more than a dozen projects related to health, education and generating employment had been set up after he took over as MP in 2009 or were in process. In Parliament, the number of questions raised by me was the highest among MPs from Punjab, Bittu claimed.
"Those who are pointing out my absence from the constituency during the first two years of my tenure are probably unaware that I was busy with party work. As the state Youth Congress president, I organised a 45-day 1,500-km padyatra across the length and breadth of the state and went on an indefinite hunger strike in Ludhiana to force the state government to form the Drug Prevention Board and check the drug trade," he said.
The projects
Bittu said the PM Manmohan Singh had recently laid the foundation stone of the Rs 500-crore Homi Bhabha Cancer Hospital and Research Centre at Mullanpur Garibdass in Mohali.
"The Rs 500-crore Indian Institute of Science Education and Research, Mohali, Rs 380-crore National Agri-Food Bio Technology Institute, Rs 100-crore bio-processing unit, Rs 60-crore National Animation Institute, Software Technology Park of India and the Institute of Hotel Management at Mohali were some projects I started to develop the area," he said.
An NCC academy was set up in Ropar and work on the National Institute of Electronics and Information Technology would start soon in the district, Bittu said.
"Farmers of the Kandi area were benefited when I took up the issue of restrictions imposed on them under Section 4 of the Punjab Land Preservation Act, 1897, with the Centre. The Union Government went on to lift the restrictions on the cultivated land of around 51,000 hectare," he added.
"Sri Hazur Sahib Express and Gurmukhi Express were started during my tenure. A new train from Kalka to Katra with a halt at Mohali and Kharar will be started soon. The Railway Ministry has decided to re-open the Bhanupali railway halt near Anandpur Sahib," he said.
In Lok Sabha
I was one of the most successful Members of Parliament to raise different state-related issues in the Lok Sabha, Bittu claimed.
"I have asked 453 questions, the maximum by any leader from Punjab, and participated in 18 debates. That is why I was nominated party whip in the Lok Sabha," he said.
Bittu said the issues raised by him in Parliament included the need to accord Punjabi the status of official language of Chandigarh; Punjab's share in revenue collection from Chandigarh; and need to resume 50 per cent quota for local students of Punjab in Thapar University.
"I highlighted the plight of Kandi farmers; concerns of 800 small-scale truck and bus body builders of Punjab; and the need to open a defence or rail coach factory at Nangal," he said.
MPLADS funds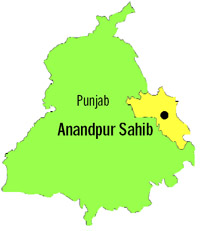 "I have released the entire amount I received under the MPLAD Scheme to carry out development works. At least 33 per cent funds have been allocated for works for the benefit of members of the Scheduled Castes. Out of 1,542 works recommended by me, 607 have been completed and 935 are at various stages of completion," he said.
"Besides purchasing suction-cum-jetting machine for the Nawanshahr Municipal Committee and an ambulance for a community healthcare centre, I recommended construction of community centres, cremation grounds, streets, drains and installation of solar lights," he said.
Rivals' take
Ropar MLA and SAD spokesman Daljeet Singh Cheema termed Bittu's tenure an utter failure. The MP neither has a vision nor the seriousness to serve the constituency, he said.
SAD nominee for the seat Prem Singh Chandumajra said: "I have been staying in Mohali since 1978 and have served the area in different capacities, including member of the School Education Board and Cooperation Minister. I believe that people will give me another chance to serve them."