emerging destinations: delhi-jaipur highway belt
Corridor with potential
The 250-km stretch between Delhi and Jaipur has become a hotbed of real estate development, with areas like Manesar, Dharuhera, Bhiwadi, Neemrana, Kotputli and Alwar becoming the new catchwords for investors
Rohan Sharma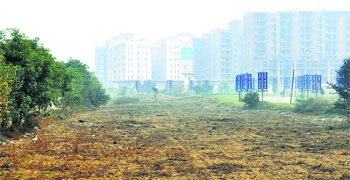 View of residential projects coming up in Neemrana. This development reflects the real estate growth in towns along the Delhi-Jaipur highway. Tribune photos: Sayeed Ahmed
Highways connecting various towns and cities serve a dual purpose. Not only do they provide good connectivity and accessibility, they also serve as nodes which spur development. Typically, the portions of the highways that abut cities lying on these routes witness hectic development activity right from the time projects are first announced. This activity gather momentum as the highway nears completion. The NH-8 connecting Delhi to Jaipur has seen a similar growth trajectory.
Gurgaon, being closer to Delhi and part of NCR, has seen spiralling growth in real estate development. With existing road infrastructure in the form of NH-8 and the Gurgaon city exhausting its land resources nearer the main city, the city boundaries have been pushed further down NH-8. The residential real estate sector has seen exponential growth along this route, with residential projects underway even on the upcoming Dwarka-Gurgaon expressway which runs nearly parallel to the NH-8 and meets it near Sector 82.
Big ticket projects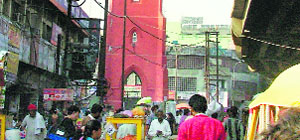 Prominent township projects are coming up on NH-8 beyond the second toll plaza. The major developers active there include Vatika (Vatika City Next), DLF (GardenCity) and Orris Infrastructure. Other major developers on this stretch are Godrej, Emaar MGF, 3C, Ansal API and Spaze, among others.
Manesar, Dharuhera and Bhiwadi are satellite cities of Gurgaon and have a thriving industrial sector. Manesar is also witnessing commercial developments and residential projects by ABW, DLF, SARE and Sidharatha, which have seen good demand on account of their affordability quotient.
Dharuhera has developers like Parsvnath, Vipul, Bestech, Vardhman, M2K, Ferrous Infrastructure and Dwarkadhis, among others.
Bhiwadi is seeing residential developments by the likes of Omaxe, Ashiana Group, BDI, Star Raison Landmark, MVL, Cosmos Infra, Avalon, Krish infrastructure and Piyush Group among other small players that do not have significant development credentials.
Neemrana has attracted heavy industrial investment from Japanese manufacturing firms. Currently, a 1,200-acre Japanese Zone is 70 per cent operational, with heavy investment in manufacturing facilities by firms such as Daikin, Mitsui Chemicals, Nissan, Nippon and NYK Logistics. The Japan External Trade Organisation and the Export Promotion Industrial Park, spread over 3,500 acres, developed by the Rajasthan State Industrial Development and Investment Corporation (RIICO) in several phases, are other industrial zones that have led to this sub-market's emergence as a major industrial hub. Some residential projects by Ashiana, Eldeco and Anant Raj have already been launched. This sub-market has tremendous potential for integrated township projects and low-cost, affordable housing.
Kotputli in Rajasthan has developments by Eklavya Housing and is largely defined by plotted development projects by a host of small, individual developers.
There are a number of developments on the outskirts of Alwar, especially on the Bhiwadi-Alwar Bypass and outskirts of the city. Ansals group is undertaking a residential project, while other projects are by small, individual developers.
Property prices
Prices are a function of demand and supply, and currently are at an all-time high in Gurgaon. With infrastructure development lagging behind in the emerging residential corridors, prices are operating on speculation of future appreciation and investor sentiment. Manesar, by virtue of its locational advantages, has also seen healthy appreciation in residential projects located there.
Manesar is also a well-established industrial town, a nascent office destination and is considered a part of Gurgaon. This has led to significant price increments in housing projects located here.
Dharuhera and Bhiwadi largely catering to affordable housing in terms of amenities and pricing, and prices there have remained largely stable, showing only range-bound growth in projects that are nearing completion.
Neemrana has shown appreciable increment in land values and apartment prices since the Master Plan-2031 was notified and its inherent location and thrust on manufacturing and industries is likely to make this a preferred investment destination going forward.
Alwar and Kotputli have residential prices which are at nearly one-third of prevailing prices in the Gurgaon residential market in upcoming corridors adjacent to NH-8.
The opportunity
There is a definite opportunity in the affordable and mid-income housing segments for developers in these areas, as a majority of the demand is directed towards these segments. Healthy demand for the right kind of project with the correct price point can be expected. Towns like Dharuhera, Bhiwadi and Alwar can expect to see local demand as the first two are major industrial centres, and will see some part of the DMIC development adding to the infrastructure in these towns going forward.
Neemrana is likely to emerge as a major corridor, driving both industrial and manufacturing growth with residential development an offshoot of the increasing housing requirements for the working population and the expatriates likely to be employed here. Its strategic location, strong industrial linkages and prospects of employment generation have led to it becoming a real estate investment hotspot. The government of Rajasthan has already notified the 2031 Master Plan for the Shahjahanpur-Neemrana-Behror Urban Complex. A Korean Dedicated Manufacturing Zone has already been proposed to be set up through an agreement between RIICO and the Korean firms' nodal body, Kotra. With industrial growth acting as a pull factor, real estate development across the office, retail and residential asset classes is likely to find greater traction going forward.
Manesar, too, is expected to be a major node on the DMIC project, with a host of multi-product hubs and industry incentives driving industrial development. This will catalyse good demand for residential projects.
If land prices can be controlled by by the state authorities unlocking more land parcels, the business opportunity in residential development on the NH-8 corridor will see an impetus, with more projects being launched and generating good demand. The norms for ECB for affordable housing are likely to be helpful in lowering financing costs, bringing greater thrust to residential projects in these locations.
The master plan for DMIC corridor's first zone has been notified. Khushkhera-Bhiwadi-Neemrana is being developed as the first node for which land acquisition is almost complete. The Manesar-Bawal region is also one of the investment regions selected for development in the first phase of this industrial corridor. The creation of these investment regions are likely to spur residential investments in these corridors at a greater scale.


Land value
Land values differ based on the expected pricing for residential projects and the projected demand for projects in each location. While in Gurgaon the land values are ~2500-3000 per sq ft in the locations on NH-8 which are closer to the second toll plaza, Manesar has land values in the range of ~2200-2400 per sq ft. Dharuhera's land pricing is ~1100-1400 per sq ft while Bhiwadi is ~800-1000 per sq ft. Neemrana's land prices are in the range of ~800-900 per sq ft, while land value range in Kotputli is ~350-500 per sq ft with Alwar's land values between ~500-600 per sq ft.
Land values are currently at a premium in Gurgaon, and hence are adding to the project costs of developers; which in turn is leading to developers pricing their projects higher to service their debt as well as earn a certain profit margin. Similarly, with land prices rising across all the towns on the NH-8 corridor, project costs are rising. This impacts the profit margin of developers, or impacts sales if project pricing is higher than what could be considered competitive.
Infrastructure
The biggest challenge in these areas is the physical and social infrastructure. Currently, Gurgaon itself suffers from inadequate physical infrastructure in respect of proper roads, regular power and water supply and city sewage disposal mechanism. In the light of this, other cities will need to make infrastructure development a priority and ensure that capacity building takes place in a proactive and progressive manner, keeping in mind the expected demand over the next 10-15 years. However, since all infrastructure projects have long gestation and operation periods, a time period of 10-15 years can be easily taken as reference.
Gurgaon has shown the maximim progress in providing liveable amenities to its residents. Though the internal road infrastructure is developing fairly rapidly in Gurgaon and Manesar, other towns are yet to catch up. Most locations closer to these cities' centres will have provisions of basic amenities; however, since a large portion of development is still underway, amenities are yet to become fully functional.
Towns like Bhiwadi and Neemrana are likely to see faster growth as in the former case residential projects are progressing at a rapid pace, while in the latter, a promise of all-round industrial and residential-led development and a notified Master Plan will enhance the infrastructure progress at a rapid pace.
— The writer is Senior Manager – Research & Real Estate Intelligence Service, Jones Lang LaSalle India