Power of pink
Pink is the colour that stands for many a cause now, right from breast cancer awareness to symbol of gay rights...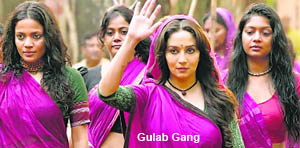 It's the colour of blush, of feminity. The paler shade of it represents fragility but those who associate it with frivolity need to know that pink has more to it than just being cute, sweet and pretty. It promises substance when used to forward the cause of breast cancer, stands for revolution when picked to colour the symbol of gay rights, means happiness when birth of a baby girl is announced and flags off a movement when worn by actors of the Gulaab Gang!
Playing the right notes
Singer-composer Raghu Dixit believes in the reach of independent music. He has set his standards high and hopes to live by them…
It's a classic case of reverse psychology; an instance where challenge plays the motivation rather than encouragement. "I was nineteen when this guy not just made fun of me, but also challenged me to make music," shares Indian singer, songwriter, producer and film score composer Raghu Dixit, while partly explaining the big switch from a post graduation in microbiology to music. There's also a background in Indian classical dancing. He adds, "I took it upon myself and was initially supposed to devote only two months learning music." By now, he has experienced music in all spheres and hasn't left the "wooden instrument" he once called guitar ever since!
Look around

If you are willing to explore the world, India Travel Mart is here to offer you guidance
Beyond the Goa, Kerala and Rajasthan that most have been to or have heard of, there are vast stretches of land offering spectacles. It takes the wanderlust to experience incredible India and its entire splendor. Each name is worth the status of a destination and as you zoom in, every dot on the map leads to an experience.

Step out: India Travel Mart brings together 25 participants in areas like hospitality ventures, travel agencies etc. Photo: Manoj Mahajan

Doc Talk
Chin up
The term double chin generally refers to the presence of a flab fold below the chin resulting in a loss of contour between the lower face and the neck. Double chins, the unwelcome destroyers of facial contour, tend to come with advancing years as we naturally gain weight-and the loose skin, weaker muscles, and free-falling fat do their thing.
Punjabi scope
Hic hic hurray!
Before we get down to talking about the much-hyped film Ishq Brandy, here is one simple question. The film Chandani belongs to Subhash Ghai or Yash Chopra? Second, is Nagaland outside India? You definitely don't need to consult the Encyclopedia Britannica to find out the answers. All you need is some school-level general knowledge.
Celestial influence
"Millionaires don't use Astrology, billionaires do." — J.P. Morgan
While there are some who wish for the stars, there are others, who study them and as Vishnu Sharma, a Chandigarh-based astrologer talks about astrology, he dismisses several notions that most of us have about this ancient science.
Astro turf
ARIES: Your card the "judgement" gives you strength and strong vision. Communication over legal matters, travel plans and education can be postponed and cause undue stress. Tarot message: Put your terms and conditions in writing. Lucky colour: Crimson. Magic number: 33.

Behind the scenes
Casting couch has been an unseen reality for long. With another Bollywood director in the dock, we talk to a few personalities from the film world to know more…
Casting couch makes headlines every few years. Once again, director Subhash Kapoor has landed in the net with actress Geetika Tyagi's alleged claims. In a relatively free setting where torrid love affairs are the order of the day, what makes ground for this practice?
chatter box
Negatively positive
Deepshika has mastered the art of playing negative roles on television. She is currently seen in Madhubala on Colors as a step-mom. She talks about her role and her daughter's reaction to the same.
Star track
An experience called Highway
Alia Bhatt and Imtiaz Ali talk about their labour of love, Highway, from the casting to the travels to their expectations.
A grueling shoot: Alia Bhatt: It was quite adventurous. We travelled across six states and ventured into remote, isolated places. We did physically exhausting things like running, climbing trees and mountains. Going de-glam was very refreshing for me. I didn't have to worry about make-up and my clothes. That helped me focus on my performance. I asked my mother and sister not to join me at shoots because I wanted to be alone and put my capabilities as an actor to test.
first-day-first show
A delightful journey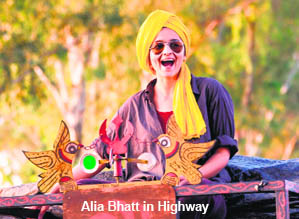 Highway: Directed by Imtiaz Ali and produced by Sajid Nadiadwala, the film, Highway is a Bollywood drama film that stars Randeep Hooda and Alia Bhatt in the lead roles. The film revolves around the life of an imminent industrialist's daughter (Alia Bhatt), who is young, vivacious and is on the highway one night with her fiancé, when she is abducted. While the gang of kidnappers are in a panic because of her father's powerful connections, the leader of this group is adamant about not sending her back and he will do whatever it takes to see this through.
Puppet pleasure
Since its inception in 2001, the Ishara International Puppet Festival has brought to India over ninety international puppetry companies and promoted numerous indigenous productions. The festival will take place from February 24 to March 4 at the Tagore Theatre in Chandigarh. The groups participating in the Ishara International Puppet Festival 2014 are as follows:
Fresh look
The season looks set to be marked by strong directions in terms of colour and product. An ode to travel, the Celio Spring Summer 2014 collection showcases the brand's colour expertise, prints and dip-dye effects.