The world's largest heart mosaic was created in Ludhiana during the Annual Conference of Association of Physicians of India on Friday. Tribune photo: Himanshu Mahajan


World Record

It took 10 hours and 19,825 kg of vegetables to create the mosaic. APICON members, a pharmaceutical company and more than 1,000 people participated
The mosaic measured 480 sq m (5165.858 sq ft). It broke the existing record of 402 sq m mosaic set in Japan last month

Khaira: Advani pressured Indira for Op Bluestar
Amritsar, February 21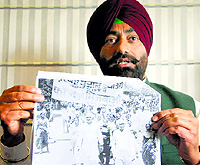 Dubbing the saffron party as "anti-Sikh", Punjab Congress spokesman Sukhpal Khaira today alleged that veteran BJP leader LK Advani pressurised then Prime Minister Indira Gandhi for the Operation Bluestar in 1994. To substantiate his claim, Khaira showed a picture wherein Advani was shown leading "Rosh (protest) march" conducted in May 1984, thus "compelling Indira to send the Army to Punjab".



Congress spokesman Sukhpal Khaira shows the photograph of LK Advani leading "Rosh march" in May 1984, in Amritsar on Friday. Photo: Vishal Kumar

Bulletproof stage for Modi at Jagraon rally
Bathinda, February 21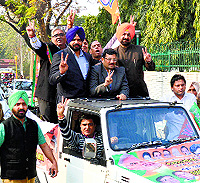 The Punjab Police is preparing a bulletproof stage for BJP's prime ministerial designate Narendra Modi's 'Fateh rally' in Jagraon on February 23. An official said the stage would be at a "safe" distance so as to avert any shoe-throwing incident, as had been reported during Haryana Chief Minister Bhupinder Singh Hooda's rallies recently.

Traders plan protest


BJP state president Kamal Sharma, SAD nominee Manpreet Singh Ayali and other leaders during a car rally in Ludhiana on Friday. Photo: Inderjeet Verma

Sidhu says he won't contest LS poll if Badals didn't want him to
Amritsar, February 21
Putting all speculations to rest, BJP MP Navjot Singh Sidhu today made it clear that he was neither joining the Aam Aadmi Party (AAP) nor would he play a spoiler in case the BJP denied him the ticket from the Amritsar Lok Sabha constituency. He has already stated that he would contest only from Amritsar and nowhere else.
Makkar lying on lawyers' fee: Phoolka


Amritsar, February 21
Noted lawyer and AAP leader HS Phoolka today said the SGPC president's claim that the Sikh body had paid Rs 42 lakh to a panel of lawyers fighting 1984 riot cases was "false."


DSGMC flays Phoolka

HS Phoolka, AAP candidate
'Manhandled', students lock varsity gate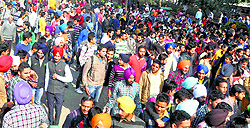 Patiala, February 21
Students of Punjabi University today locked the main gate of the campus for more than an hour following allegations of manhandling by a hostel warden.


Students protest outside Punjabi University in Patiala on Friday. Tribune photo: Rajesh Sachar


Relief cheques not paid, families protest
Muktsar, February 21
The state government failed to disburse compensation cheques to families of farmers, who had committed suicide, at the district administrative complex here today.

Association of physicians conference
Consulting 'Google doctor' is dangerous: API president
Ludhiana, February 21
Sleep disorders have led to a 30 per cent rise in number of diabetic patients. Sleeping for less than five hours and more than 10 hours is harmful and may lead to complexities. This was stated by Dr Shashank R Joshi, president, Association of Physicians of India (API), at its 69th annual conference here today.

President's Standard for 67 Armoured Regiment
Abohar, February 21
General Bikram Singh, Chief of Army Staff, on behalf of President Pranab Mukherjee, presented the 'Standard' to 67 Armoured Regiment at Bikaner Military Station on Friday. A formation of tanks mounting the President's 'Standard' was paraded amidst an exuberant audience.

Soon, weekly Hoshiarpur Express to run daily


Hoshiarpur, February 21
The weekly Hoshiarpur Express from Hoshiarpur to Delhi will soon run daily as the Railway Ministry has accepted Hoshiarpur MP Santosh Chaudhary's proposal in this regard. The new schedule will be announced in the Railway Budget after the General Election.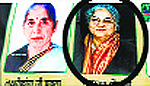 Photo of PM's wife on BJP hoarding defaced
Abohar, February 21
The BJP again found itself in a tight spot as someone today defaced the photograph of Prime Minister Manmohan Singh's wife Gursharan Kaur on a BJP hoarding outside Nehru Park.


The photo of Prime Minister's wife Gursharan Kaur (encircled) on a BJP hoarding. A Tribune photograph


Need to open geriatric units in hospitals: Expert
Ludhiana, February 21
A separate symposium was dedicated to geriatrics (the branch of medicine dealing with the health and care of old people) at APICON.

Panel takes notice of attack on student in Oz


Hoshiarpur, February 21
The State Human Rights Commission has taken suo-motu cognisance of the attack on Indian student Manrajwinder Singh in Melbourne, Australia. A human rights body, Centre for Human Rights Training and Research Association, had complained to the panel.




Managers may usurp dera property, disciple to HC
Chandigarh, February 21
In yet another twist to the controversy over Nurmahal dera chief Ashutosh Maharaj's death, a disciple today moved the Punjab and Haryana High Court, alleging that dera managers had kept the Maharaj's body in a freezer.

Family to move SC, seek post-mortem
Saini's plea dismissed as withdrawn
Chandigarh, February 21
The trial in the abduction and wrongful confinement case against Punjab Director-General of Police Sumedh Singh Saini in Delhi is back on the track with the "unconditional" withdrawal and subsequent dismissal of a transfer application filed by the top cop.
Missing files: Former dy secy arrested
Chandigarh, February 21
The UT police have arrested Yograj Sharma, former deputy secretary, Punjab Civil Secretariat, in connection with the mysterious disappearance of 27 confidential files related to several IAS and PCS officers of Punjab cadre. A total of 35 files had gone missing from the Civil Secretariat. Seven files were recovered in March, 2011.