Police cat Sukhi appears before TADA court in 2 cases
Jalandhar, February 12
Terrorist-turned-police cat Sukhwinder Singh Sukhi is being tried in four TADA cases by a special court at Jalandhar for his alleged involvement in 11 killings between 1986 and 1992. Sukhi, lodged in the Tihar Jail, today appeared before the court of Harpreet Kaur Randhawa in two such cases.
Atta-dal scheme
Only those with 'political links' issued blue cards
Faridkot, February 12
A move of the Punjab Government to induct new beneficiaries under its flagship atta-dal scheme as a "poll-winning" mantra before the Lok Sabha elections has caught the authorities in a bind. There is an overwhelming response to the scheme. The district authorities are facing a tough time in dealing with the deluge of the applications.
Party workers being mobilised for Sukhbir's rally
Nawanshahr, February 12
SAD general secretary Prem Singh Chandumajra today said unprecedented corruption, mis-governance during the Congress-led UPA Government's regime at the Centre and their lack of visionary leadership in the Congress would be major factors leading to the defeat of the Congress and its allies in the ensuing parliamentary elections.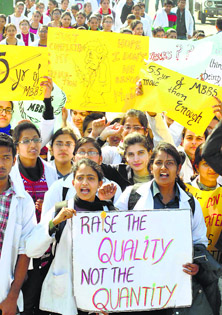 Medical students on warpath as MBBS course gets longer
Patiala, February 12
Students of MBBS and interns of Government Medical College and Rajindra Hospital, Patiala, today participated in the nationwide strike against the Medical Council of India (MCI) ruling, increasing the duration of the MBBS course from five-and-a-half years to seven-and-a-half years. After Class XII, medical students will now do MBBS in four-and-a-half years. Internship will be for two years and they would have to serve in rural areas for a year rural to be eligible for postgraduate courses. The agitating students staged a dharna in front of the outdoor patient department (OPD) of the hospital. They demanded a rollback of MCI order dated November 28, 2013. The students also held a procession.

MBBS students and interns protest in Patiala on Wednesday. Tribune photo: Rajesh Sachar
Agriculture summit to push for uniform marketing
Chandigarh, February 12
Punjab's agricultural economy is in a flux because of lack of vision by policy makers who have failed to create a national agriculture policy to bring about uniformity in marketing to make agriculture more remunerative.
SAD gain is private transporters' loss
Mohali, February 12
Three SAD functions in 12 days have left private bus operators in the state huffing. These operators provide buses to the authorities for ferrying people from various towns and villages to the functions, that too free of cost.
NIT teachers protest Centre's notification
Jalandhar, February 12
The teaching faculty of Dr BR Ambedkar National Institute of Technology (NIT), Jalandhar, suspended classes for the second day today to protest against a Centre's notification that requires the NITs to implement a four-tier system.
Attacker lying, never met him: Satguru
London, February 12
Spiritual head of the Namdhari sect, Satguru Uday Singh, today described as "totally absurd" the claims that he sexually abused a 27-year-old Sikh man facing trial for attacking him with an axe in Britain last August. Giving evidence to Birmingham Crown Court via video link from India, Uday Singh rejected the claims that he had abused Harjit Singh Toor at the Indian headquarters of the Namdhari branch of Sikhism.
Police begin drive to shift mentally ill to hospital
Faridkot, February 12
The police are on the lookout for mentally challenged persons roaming on streets on their own. Station House Officers (SHOs) in Faridkot were given directions in this regard a week ago. They were told to send mentally challenged persons without any guardian to the Institute of Mental Health (IMH), Amritsar.
Rail over-bridge at Gurdaspur to be completed in a month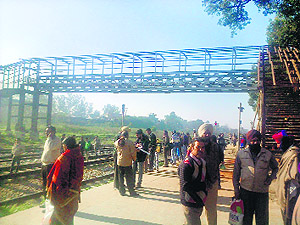 Gurdaspur, February 12
The work on the railway over-bridge (ROB) at the Gurdaspur railway station, which started about two months ago, will be completed next month, say the railway authorities. The proposal of the Rs 83 lakh ROB was pursued by Punjab Pradesh Congress Committee chief and Gurdaspur MP Partap Singh Bajwa after his pet project, the Qadian-Beas railway link, went off the track.

The railway over-bridge under construction at the Gurdaspur railway station. A Tribune photograph

Armed robbers loot showroom
Abohar, February 12
Four armed miscreants looted a Samsung showroom here last night. Aero Vision showroom's staff members Shriram of Dharam Nagari and Dhiraj of Bhagwanpura said a car halted near the showroom around 8.30 pm. Three persons came out and walked into the showroom. One of them pointed a pistol at Dhiraj, the other brandished a sharp-edged weapon on Shriram. As they tried to resist, a miscreant hurt Dhiraj with the sharp-edged weapon.
Allegations anger devotees
Ludhiana, February 12
The allegations of Satguru Uday Singh's attacker, Harjit Singh Toor (27), that the Satguru tried to sexually abuse him have evoked strong reactions at Bhaini Sahib today. Satguru Uday Singh's followers dismissed the allegations as baseless and demanded capital punishment for Toor.
Khanna shootout
Yadu being shielded, says victim
Ludhiana, February 12
A day after the arrest of one of the assailants involved in the shooting incident in Khanna on February 2, the main target, Amrinder Singh Soni, today alleged that the police was trying to save Yadwinder Singh Yadu, president of Youth Akali Dal, Khanna (rural), who was behind the shootout.
Guard against yellow rust: PAU experts
Ludhiana, February 12
In view of the increase in day temperature, Punjab Agricultural University (PAU) experts have warned farmers against the spread of yellow rust in wheat crop. Yellow rust is a serious fungal disease that appears first in the sub-mountainous areas of Punjab in January and spreads to the plain areas the next month.
IT raids in Jalandhar yield Rs 9.4 crore
Jalandhar, February 12
The Income Tax Department raids on seven business units in the region led to their owners surrendering Rs 9.4 crore to the department in the past two days. The raids were led by Income Tax Commissioners - Rakesh Suri (Jalandhar-I) and Sanjay Mishra (Jalandhar-II).
New trains cheer up commuters
Abohar, February 12
The Sriganganagar-Jammu Tawi Express (weekly) with halts at Abohar, Bathinda and Dhuri has been welcomed by city residents. Puducherry Lt Governor Virendra Kataria, who belongs to Abohar, reportedly called on the Railway Minister at Parliament House. He is said to have suggested that the train should be routed through Beas and Amritsar.
Cong alleges politician-police nexus, seeks CBI probe
Chandigarh, February 12
Punjab Pradesh Congress Committee spokesman Sukhpal Singh Khaira today sought a CBI probe into the politician-police collusion to shield SAD leader Yadvinder Singh alias Yadu, a murder suspect. He alleged that the Deputy Chief Minister and Revenue Minister were protecting him. "It is a matter of shame and disgrace for the Badal Government as also the state police that Akali leader Yadwinder Singh Yadu, key suspect in the Khanna shootout, has not been arrested even 10 days after the incident." TNS


Jakhar moves HC on ill-equipped fire brigade


Chandigarh, February 12
Claiming that the situation in Punjab has worsened to the extent that even bare minimum necessities were not being provided, Leader of Opposition Sunil Kumar Jakhar today moved the Punjab and Haryana High Court. He was seeking directions to the government to provide fire fighting equipment in the state, including his constituency — Abohar.
3 sentenced for attempt to murder
Hoshiarpur, February 12
District and Sessions Judge GK Dhir's court has convicted Jatinderjit Singh, Manjit Singh and Paramjit Singh to seven, five and four years of imprisonment, respectively, in an attempt to murder case. On May 3, 2008, a police complaint in this regard was made by a resident of Baddla village, Lakhvir Singh. He said on April 29, 2008, the three accused had brought a girl to his uncle Sohan Singh's tube well.


CBI arrests bank manager for taking bribe
New Delhi, February 12
The CBI has arrested a branch manager of the State Bank of Patiala in Punjab for allegedly taking a bribe of Rs 1 lakh from a person for returning the documents of the land which was mortgaged with the bank.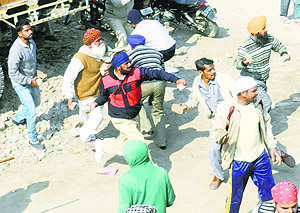 Rival Akali groups clash in Moga, 4 hurt
Moga, February 12
Supporters of local MLA Joginder Pal Jain and former Director-General of Police (DGP) Paramdip Singh Gill clashed here today. Armed with swords and automatic weapons, the groups attacked each other in a bid to capture the office of the truck union. At least four persons were injured.

Akali supporters pelting stones at the other SAD group in Moga on Wednesday. Tribune photo

Rs 4 lakh snatched outside bank
Hoshiarpur, February 12
Three youths snatched Rs 4 lakh from a local grocery shop owner outside a bank at Suthehri Road here this evening.