Jyoti Murder Case


Contradictions surface as father gives fresh evidence
Panchkula, February 12
Several contradictions surfaced in the statements of victim Jyoti's father Buti Ram who gave his evidence against Doon MLA Ram Kumar Chaudhary for the second time before the District and Sessions Court here today.
Accused Doon MLA Ram Kumar Chaudhary
Non-renewal of Mining Lease
Cement plant forced to scale down operations
Solan, February 12
The Darlaghat-based cement plant of Ambuja Cements Limited (ACL) has been forced to shut its operations since Monday following pending clearance of its mining lease.
Kaul urges Oppn to attend House
Shimla, February 12
Himachal Health and Family Welfare Minister Kaul Singh today made a fresh appeal to the BJP members to attend the House as the boycott of the Assembly by the main Opposition party continued for the fourth consecutive day.
100 BJP rebels back in party; HLP leaders not in the mood
Shimla, February 12
Desperate to win all four Lok Sabha seats in the state, the Himachal BJP has taken almost all rebels, barring some leaders, back into the party, but leaders of the Himachal Lokhit Party (HLP), floated by BJP dissidents on the issue of corruption, have spurned all offers to rejoin the party.
Modi's 'chai pe charcha' begins
Chamba, February 12
Narendra Modi launched his "chai pe charcha" campaign here today. He interacted with people through videoconferencing.
Corrupt parties against Lokpal Bill: AAP
Bilaspur, February 12
All parties and leaders who only denounce corruption in public are now gearing up to frustrate the efforts of Delhi Chief Minister Arvind Kejriwal to get the Jan Lokpal Bill passed in the Delhi Assembly.
To counter Modi show, Cong mulls Sonia's rally at Sujanpur
Hamirpur, February 12
To counter BJP prime ministerial candidate Narendra Modi's rally being organised at Sujanpur on February 16, the Congress is planning to hold Sonia Gandhi's rally here.
Government plans IT park at Dharamsala
Dharamsala, February 12
The state government has planned an IT park at Dharamsala. Chief Minister Virbhadra Singh today laid the foundation stone of the IT park at Jagrandal in the Dharamsala Assembly constituency today.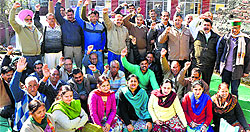 Postal staff on strike, services hit
Una, February 12
Postal services were hit following the strike call given by the All-India Postal Employees' Union here today.


Employees protest outside the General Post Office in Una on Wednesday. Photo: Rajesh Sharma

Rs 84.58-crore lift water supply scheme to benefit 618 villages
Shimla, February 12
Chief Minister Virbhadra Singh laid the foundation stone of the Rs 84.58-crore lift water supply scheme at Gharog, 13 km from here, on Saturday.
'Dhumal misleading people on concessions to industries'
Shimla, February 12
Chief Parliamentary Secretaries Vinay Kumar and ID Lakhanpal today slammed former Chief Minister PK Dhumal for misleading people on the new concessions to industries in the state.
No time-frame for allotment of land to homeless
Shimla, February 12
The state government has formulated a policy for the allotment of land to the homeless in urban and rural areas for the construction of houses, but no timeframe has been fixed for the implementation of the policy. This was stated by Kaul Singh, Health and Family Welfare Minister, who also holds the Revenue portfolio, during the Question Hour in the Vidhan Sabha here today.
Reservation in promotions of Scheduled Castes and Scheduled Tribes


Govt accused of dithering over 85 Amendment
Shimla, February 12
Former BJP minister Ram Lal Markanda on Sunday accused the state government of being anti-Scheduled Castes (SCs) and Scheduled Tribes (STs) and said it was dithering over the implementation of the 85 Constitutional Amendment providing reservation in promotions of SC and ST employees.


Former BJP minister Ram Lal Markanda addresses mediapersons in Shimla

Shopkeeper fined Rs 1 lakh for storing gutka
Shimla, February 12
A fine of Rs 1 lakh was slapped on a shopkeeper for storing gutka in the Krishnangar area here.
Dog menace in Chamba
Chamba, February 12
Dog menace has become rampant in Chamba town and the authorities are still mulling on ways to deal with the problem. The area near the Government Regional Hospital has become their favourite hotspot. Their presence is a continuous threat to those going for morning and evening walks.
Activists demand opening of Baldwara college
Mandi, February 12
Members of various organisations staged a protest outside the SDM office in Sarkaghat here today.
Residents seek degree college in Kullu village
Shimla, February 12
A deputation of residents of Gharagusaini village in the Banzar area of Kullu district, led by MLA Karan Singh, yesterday urged the Chief Minister to open a degree college in the village. It would benefit students of the area to get higher education at their doorstep, they said.
Minor boy booked for molesting Class X girl
Shimla, February 12
A Class X girl, who was invited to a party by her friend, was allegedly given intoxicated drink, taken to some unknown place and molested.
Trials for skiing c'ship organised
Manali, February 12
Trials for the skiing alpine race and snowboarding championship were conducted on the Solang ski slopes, 13 km from here, today.