Fake votes: Amritsar DC seeks legal opinion
Amritsar, February 14
The district administration has started the process of initiating action against Cabinet minister Anil Joshi after getting a communiqué in this regard from the Chief Electoral Officer (CEO), Punjab, last evening.
Badal announces Rs 250 cr projects for Ferozepur dist
Ferozepur, February 14
In an apparent attempt to woo border residents ahead of the Lok Sabha elections, Chief Minister Parkash Singh Badal today announced several projects worth over Rs 250 crores in Ferozepur district.
Cong seeks stay on election sop
Chandigarh, February 14
Congress spokesperson Sukhpal Singh Khaira in a letter to Chief Electoral Officer (CEO) VK Singh here today has sought a stay on the "unconstitutional and populist measures being adopted by the SAD-BJP government to influence voters during the elections."
Clarify stand on Jat quota, Capt to CM
Chandigarh, February 14
Former Chief Minister and president of the All-India Jat Maha Sabha, Capt Amarinder Singh, today asked Chief Minister Parkash Singh Badal to clarify if he supported reservation for Punjab Jats or opposed it.
All peripheral pulses absent, reveals medical report
Chandigarh, February 14
The symptoms that led doctors to conclude Ashutosh Maharaj is dead have finally been revealed. His medical examination clearly shows that the spiritual guru's blood pressure was "not recordable" and the pupils were "fixed and dilated".
Against rules, SGPC member shifts transformer
Muktsar, February 14
In violation of the rules, Shiromani Gurdwara Parbandhak Committee (SGPC) member Navtej Singh Kauni yesterday shifted an electricity transformer from outside his house in Kauni village without informing the Punjab State Power Corporation Limited (PSPCL) authorities. Even though the PSPCL officials claimed rules had been violated, they seemed unwilling to take action against Kauni.
Business delegation crosses over to Lahore for 'India Show'
Amritsar, February 14
A business delegation headed by Dr Jyotsna Suri, senior vice-president, Federation of Indian Chambers of Commerce and Industry (FICCI), today crossed over to Pakistan to participate in the three-day 'India Show' in Lahore that started today.
2 IAS, 7 PCS officers transferred
Chandigarh, February 14
The Punjab Government today issued the transfer/posting orders of two IAS and seven PCS officers as a part of the staff overhaul particularly for the Lok Sabha elections.
punjab progressive agriculture summit — analysis
Fresh efforts being made to revive agro industry
Chandigarh, February 14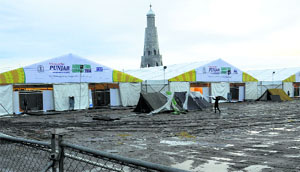 The road ahead for Punjab's staggering agriculture economy is agri industry. However, over the years attempts made by the state government to promote agro processing and agro industry have failed to yield results.

Rain hits preparations for the agriculture summit at Chappar Chiri on Friday. Tribune photo: Vicky Gharu

Western Command honours 19 soldiers
Patiala, February 14
In keeping with its ethos of honouring its brave soldieries, the Black Elephant Division under the aegis of the Kharga Corps organised an Investiture Ceremony here today. In all, 19 officers, Junior Commissioned Officers and officers of other ranks were awarded.
Sukhbir launches Rs 41-cr e-district project in Mansa
Mansa, February 14
To strive for paperless work in the Punjab Government offices, Deputy Chief Minister Sukhbir Singh Badal launched an e-district project from here today.
Bajwa backs EGS teachers
Chandigarh, February 14
Punjab Congress chief Partap Singh Bajwa today said Chief Minister Parkash Singh Badal was misleading people on the salaries of education volunteers recruited under the EGS and other Centre-sponsored schemes.
Aussie gets 11-yr jail for killing Sikh cabbie
Melbourne, February 14
A court in Australia today jailed a man for 11 years for killing an Indian-origin taxi driver and his British passenger by smashing his stolen vehicle into their taxi while being high on drugs.
Rs 30 lakh 'hawala' transactions detected in Jalandhar
Jalandhar, February 14
The Enforcement Directorate (ED) has reportedly uncovered 'hawala' transactions to the tune of Rs 30 lakh between a Jalandhar-based forex dealer Raj Money Changer and Happy Forex, tipped to be one of the biggest 'hawala' operators in the region from whom the ED had already seized Rs 1.3 crore 'hawala' money.
2 held for smuggling rabbits
Abohar, February 14
The police today seized 21 rabbits from a vehicle at Sriganganagar in Rajasthan today, raising concerns that hunting is prevalent in the Abohar Wildlife Sanctuary area.
ASI booked for abduction
Tarn Taran, February 14
Assistant Sub Inspector (ASI) Tilak Raj has been booked for abducting a 22-year-old boy of border township Bhikhiwind, 35 km from here. The youth was missing for the past four months.