Public prosecutor assaulted
Chandigarh, February 14
High drama was witnessed in the District Courts complex in Sector 43 yesterday when a mother-son duo, along with another woman, assaulted a public prosecutor on duty. A case of assault on a public servant has been registered against the three at the Sector 36 police station. The police have arrested Ranvir Singh in the case, while Dolly and the other woman, who is yet to be identified, are yet to be arrested.
Milkha Singh victim of cyber crime
Chandigarh, February 14


Legendary athlete Milkha Singh has become a victim of cyber crime. A fake website has been created in his name without his knowledge. Milkha Singh has filed a complaint with the UT police seeking a thorough inquiry. He has also sought the registration of a case under the Information Technology Act and Sections 420, 467 and 468 of the IPC against the unidentified persons who have created the fake website, milkhasingh.co.in.
Liquor vend employee hurt in firing
Mohali, February 14
An employee of a liquor vend was injured when some persons opened fire in a bid to loot the vend near Sohana late this evening.


Youth brave chill, rain to celebrate V-Day
Chandigarh, February 14
With weather taking a turn for the worse today and Panjab University and colleges remaining closed on the occasion of Guru Ravidas Jayanti, youngsters took their time to venture out to celebrate Valentine's Day.
A day of love to remember
Chandigarh, February 14
For Harsh Sharma and Shami Croker this Valentine's Day was extra special.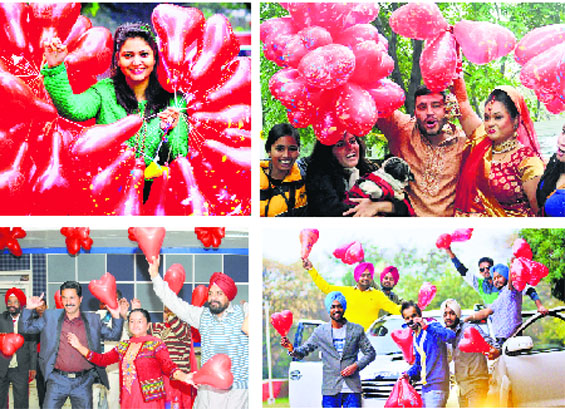 Clockwise (1)A young girl is all smiles on Valentine's Day in Chandigarh on Friday; (2) A Melbourne-based couple hailing from the city celebrates Valentine's Day with their friends and relatives after tying the knot in Chandigarh on Friday (3)Youngsters have a gala time at Sector 10 in Chandigarh on Friday. Tribune photo: Pradeep Tewari: (4) Kidney donor and recipient couples celebrate Valentine's Day at Fortis Hospital in Mohali on Friday. Tribune photo: Vicky Gharu . Tribune photos
Finding love proves costly for 15-yr-old boy
Panchkula, February 14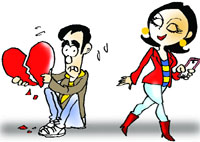 Finding love on Valentine's Day proved costly for a 15-year-old boy. The girl he approached after reading a "make-a-friend" advertisement in a newspaper allegedly duped him of Rs 9,400. Getting the money credited to her mobile phone number and failing to pay the amount to the vendor also landed him in trouble. The incident came to light after the vendor, Sandeep Malik who has his shop at Rally Village in Sector 12-A, took the boy, from the same village, to the Sector 14 police station.
Hospital dedicates day to selfless love
Mohali, February 14
Fortis Hospital celebrated Valentine's Day in a unique way. People who had donated their kidneys to their spouses and the recipients gathered at the hospital's auditorium to celebrate the day of love.
500 flower arrangements on display at PU Rose Festival
Chandigarh, February 14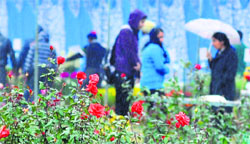 Around 500 submissions made to the flower show and 42 to the photography competition are on display during the Fifth Panjab University Rose Festival.




Despite rain, people visited Panjab University for the rose festival in Chandigarh on Friday. Tribune photo: Pradeep Tewari
UT undecided on excise policy schedule
Chandigarh, February 14
Even as Punjab is all set to announce its excise policy 2014-2015 before the code of conduct for the general elections comes in to force, the UT is still undecided about its schedule to announce its new excise policy.
Preparations in full swing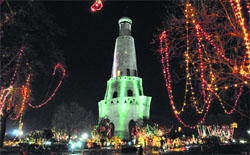 Mohali, February 14
With only two days left for the commencement of the four-day Progressive Punjab Agriculture Summit-2014, senior government functionaries are on their toes giving the final touches to the arrangements at Chappar Chiri here.

The Feteh Burj decked up ahead of the four-day Progressive Punjab Agriculture Summit-2014 to be held at Chappar Chiri village in Mohali on Friday. Tribune photo: Vicky Gharu
Lucky organises 'tea party' for Bansal
Chandigarh, February 14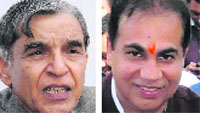 There are no permanent friends or enemies in politics. Following the same principle, Congress district president HS Lucky, who had earlier revolted against sitting MP Pawan Kumar Bansal, is now organising a special "tea party" for Bansal at the Sector 20 community centre tomorrow (February 15).
Pawan Kumar Bansal and HS Lucky
Leaders slam Kejriwal's decision to quit
Chandigarh, February 14
Congress, BJP and BSP leaders in the city have slammed Delhi Chief Minister Arvind Kejriwal's decision to resign while the local unit of the Aam Aadmi Party (AAP) supported the party chief's decision.
CAT order to UT on food safety officer's plea for appointment
Chandigarh, February 14
In an order passed today, the Central Administrative Tribunal (CAT) today directed the UT Administration to consider the UT's senior-most food safety officer for appointment as designated officer under the Food Safety and Standards Act and fill the post on a regular basis in three months than filling it by way of deputation.
Chandikrit-2014 takes off in city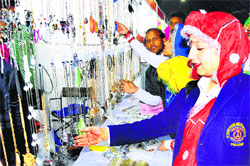 Chandigarh, February 14
A five-day fair, Chandikrit-2014, is being organised by the Chandigarh Administration. The Home Secretary-cum-Secretary Industries, Anil Kumar, today inaugurated the fair at the Parade Ground, Sector 17, here.




Visitors at a stall during the Chandikrit fair in Chandigarh on Friday. Tribune Photo: S Chandan
Veteran Army officers demand say in 7th Pay Commission
Chandigarh, February 14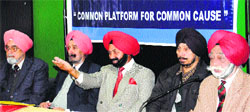 While demanding representation of the armed forces in the newly commissioned Seventh Pay Commission, a section of ex-servicemen from the Tricity said the status of the armed forces had consistently and systematically down graded by the successive pay commissions.
Brigadier Kuldip Singh Chandpuri (retd) addresses a press conference in Chandigarh on Friday. Tribune photo: Manoj Mahajan
Legal literacy camp held for senior citizens
Panchkula, February 14
A special legal literacy camp was held by the District Legal Services Authority (DLSA) at Senior Citizen Club, Sector 25, here today.
Cyber crime seminar held for P'kula police
Panchkula, February 14
A workshop on cyber crime frauds was organised by the ICICI bank at the crime branch, Moginand in Panchkula. Additional Director General of Police (ADGP) SS Deswal and IG Shrikanth Jadhav presided as the chief guests. As many as 100 police personnel were present to attend the workshop
Mega mall partially opened
Mohali, February 14
A soft launch of The North Country Mall, on the Mohali-Kharar road, was done today.



The North Country Mall. tribune photo: vicky gharu
Experts discuss need for penal reforms at seminar
Chandigarh, February 14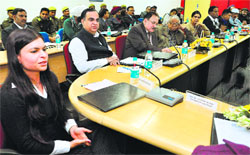 The Institute of Correctional Administration today organised a seminar on the theme of Penal reforms, in association with PRI and Praja at Mahatma Gandhi State Institute of Public Administration, Sector 26, Chandigarh.




Delegates at a seminar on penal reforms at the MGSIPA, Sector 26, Chandigarh. Tribune photo
Hotel inaugurated in Zirakpur
Chandigarh, February 14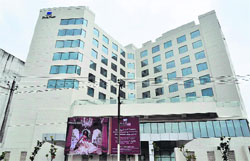 Sarovar Hotels today launched the Park Plaza hotel in Zirakpur. The hotel offers Punjab's largest banquet and conferencing space to accommodate up to 3,000 guests. This is Sarovar's fifth property in the state. Other Sarovar hotels in the state include two hotels in Chandigarh - Park Plaza and Hometel, and two properties in Ludhiana - Park Plaza and City Heart Sarovar Portico.

Park Plaza in Zirakpur. Tribune photo: Parvesh Chauhan
Computer teachers begin 24-hour fast
Chandigarh, February 14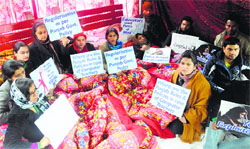 Computer teachers and data entry operators today gathered on the ground near the mosque in Sector 20 for their overnight protest. On the second day of their agitation, they started a 24-hour hunger strike.



Punjab computer teachers stage a dharna to press their demands in Sector 20, Chandigarh, on Friday. Tribune photo: Manoj Mahajan