Sexual harassment case
Kin allege pressure from SAI coach supporters
Hisar, February 14
As the police have failed to arrest the Sports Authority of India (SAI) coach, who was accused of sexually harassing several girl wrestlers, family members of victims alleged that they were being pressurised to withdraw the complaint filed against the coach.
Dead youth's kin block road against police inaction
Fatehabad, February 14
Relatives and local residents blocked vehicular traffic near Laal Batti Chowk on the National Highway-10 here against the alleged police inaction in the death of a youth, Gagandeep, who died under mysterious circumstances a few days ago. The victim's body was found lying by the roadside near Dhangar village on February 9.
Karnal suicide case
Akhil made 3 calls to PCR on fateful night: Lawyer
Karnal, February 14
Suicide victim Akhil Chauhan made three calls to the police control room (PCR) from his mobile phone on the night of February 8, when he consumed some poisonous substance. His family's lawyer Harish Arya claimed this here today. It was being investigated what Akhil said and what action the police took after the call.
Firm Civil Surgeon shunted out
Rohtak, February 14
The Civil Surgeon, Dr VK Govila, has been shifted. He was transferred to Sonepat, but his transfer order was modified, making him the Principal of the State Health Welfare Training Centre here.
Drive launched to spread awareness about khaps
Jind, February 14
The youth associated with khaps launched a campaign on Valentine's Day today to address the issue of misinformation about their stand on love marriage. They distributed literature among youngsters and other residents. The literature carried detailed information about the origin, working and other aspects of khaps.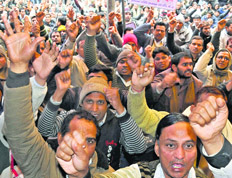 Guest teachers seek higher pay, regularisation
New Delhi, February 14
Guest teachers of government schools in Haryana are holding an indefinite fast here to demand regularisation, higher pay and job safety. They have been protesting at Jantar Mantar since February 8.

Guest teachers protest at Jantar Mantar in Delhi on Friday. Tribune photo: Manas Ranjan Bhui

Regular pay scales for SSA employees
Chandigarh February 14
Chief Minister Bhupinder Singh Hooda said the state government had decided to give regular pay scales to contractual employees of the Sarv Shiksha Abhiyan (SSA). Hooda said this while addressing representatives of the SSA Employees Union who called on him here today.
Midwife booked for illegal abortions
Panipat, February 14
The police have registered a criminal case against a midwife on the basis of a complaint by the Civil Surgeon, Dr Inderjit Dhankhar. Dr Dhankhar said several instruments used for termination of pregnancy had been found from Meena Gupta's residence at Shakti Vihar Colony during a raid by government doctors.
Road blocked over death in mishap
Yamunanagar, February 14
Residents of Hariabans village blocked the busy Khajuri-Jathlana road for over two hours after a village youth died in a road accident this morning. Eyewitnesses said that the motor cycle of Naveen Tyagi (22) was hit by an overloaded tractor-trailor carrying wood on the Karera Khurd village turn. He died on the spot.
Thieves break open ATM
Kaithal, February 14
Thieves broke open an ATM and decamped with Rs 22 lakh from it here last night. The ATM of Punjab National Bank was located just 200 yards from the mini-secretariat on the Karnal road. The thieves also damaged the CCTV cameras and took away a disk installed in the ATM computer cabin. However, no security guard was present in the ATM booth. This was the second such incident in the district in recent past. — OC

Two killed in Jhajjar car accident
Jhajjar, February 14
Two persons were killed and two others injured when their car hit a tree in the Laadpur village in the district today. The deceased have been identified as Dharambir and Bablu, while Rakesh and Ved Prakash have been admitted to the PGIMS in Rohtak. Their condition is stated to be critical. The mishap took place in the morning when the four were going to Badli village from Laadpur. When they reached near Badli, the driver lost control of the vehicle. The car hit the tree and overturned. Dharambir and Bablu died on the spot. TNS

5 booked for abetting suicide
Yamunanagar, February 14
The police have booked a woman and four others for abetment to suicide of a youth of the Railway Colony here. In her complaint to the police, Kiran Bala said her son, Neeraj, got married to Lata of Dhakwali Majri village last year. His wife and in-laws were harassing him, which drove him to commit suicide. TNS

Dearness relief up 17 %
Chandigarh, February 14
The Haryana Government has revised the dearness relief payable to its pensioners/family pensioners from the 166 per cent to 183 per cent with effect from July 1, 2013. A notification to this effect has been issued by the Finance Department. TNS