'Kite strings dangerous for birds'
Karnal, February 6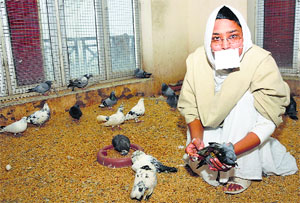 Jeevo Mangalam, the only birds' charitable hospital in the city, has come to the rescue of birds injured during kite flying. "Glass-coated kite strings have become a threat for birds. It acts like a sharp knife. Sometimes, the injured birds are never able to fly again," said Sadhwi Dalima, an attendant of Jeevo Mangalam, the only birds' charitable hospital in the city.
Sadhwi Dalima, an attendant at Jeevo Mangalam, caress a bird in Karnal on Wednesday. Tribune photo: Ravi Kumar

IT official held for sexually assaulting 8-yr-old niece
Kaithal, February 6
The police have arrested an inspector of the Income Tax (IT) Department for sexually assaulting his eight-year-old niece. He was produced in a court which sent him to 14-day judicial custody.
Headmaster suspended on molestation charge
Bhiwani, February 6
A government school headmaster was today suspended for allegedly molesting a Class VI girl. In protest against the incident, villagers locked the school at Surpura village in the district. Headmaster Rajender Kumar had reportedly molested the girl inside a classroom. She reported the incident to her parents who came to the school along with other villagers and locked the school. They demanded strict action against the headmaster.
Panel on labour cooperatives
Chandigarh, February 6
The state government has constituted a District Coordination Committee on labour cooperatives in each district. The DC concerned would be the chairman of the panel, a spokesman of the Cooperation Department said here.
Ad hoc relief for acid attack victims
Chandigarh, February 6
The Haryana Government has amended the relief and rehabilitation of women acid victims scheme to provide ad hoc relief or compensation, medical reimbursement and rehabilitation services to women victims of acid attacks.
13 killed in K'shetra, Jhajjar accidents
Kurukshetra/Jhajjar, February 6
Thirteen persons were killed in separate accident in Kurukshetra and Jjajjar district today. Four people, including two women, were killed when a car they were travelling in collided with a truck on the Kurukshetra-Yamunanagar road, near Ladwa.
Dead staffer's parents too entitled to family pension
Chandigarh, February 6
The Punjab and Haryana High Court has allowed a petition challenging its own decision on the administrative side before holding that the parents of a deceased employee too are entitled to family pension.
President to visit central varsity
Rohtak, February 6
President Pranab Mukherjee is slated to be the chief guest at the first convocation of the Central University of Haryana (CUH) on the varsity campus at Jant-Pali in Mahendragarh on March 1.
2 years on, Ratia farmers await power connections
Fatehabad, February 6
More than two years after Chief Minister Bhupinder Singh Hooda announced electricity connections to all 'dhanis' (hamlets) located in the Ratia Assembly segment on the payment of 5 per cent of the installation charges, Dakshin Haryana Bijli Vitan Nigam (DHBVN) is yet to initiate any action in this direction.
Quota: Jats warn of stir from Feb 23
Narwana, February 6
After waiting for more than a month, khaps and other Jat leaders have threatened to launch an agitation in Delhi if the UPA government failed to issue a notification regarding their reservation by February 22.
Govt turns down demand of PhD holders
Jhajjar, February 6
The government has turned down the demand of PhD degree holders for relaxation in the National Eligibility Test (NET) qualification for the recruitment of Assistant Professors in the college cadre, said Education Minister Geeta Bhukkal here on recently.
State to have 2,500 CSCs
Chandigarh February 6
The Haryana Government has notified the scheme for establishment of Common service centres (CSCs).
Patwari caught taking bribe
Fatehabad, February 6
A patwari was caught red-handed by the State Vigilance Bureau while accepting a bribe of Rs 500 from a farmer. Patwari Jhamman Ram Bishnoi had demanded Rs 500 from Balwant Singh from Kajal Heri village.
Man booked for killing wife
Sonepat, February 6
A 32-year-old woman was allegedly murdered by her husband at her house in Malviya Nagar here today, while she was having bath.
Man strangles wife after altercation
Sirsa, February 6
Manjit Singh, a driver in Haryana Roadways, strangled his wife, Veena (36), after a minor altercation at Rasulpur village of Sirsa this morning.
Woman dies in mishap
Ambala, February 6
A 26-year-old woman was killed in a road accident on the GT Road near Ambala city today. The victim identified as Narender Kaur (26) of Dhankaur village was an instructor at a private fashion designing institute in Ambala Cantt.
Minor at shelter home attempts suicide
Yamunnanagar, February 6
A minor girl living at a shelter home of the Balkunj Institute for Child Care at Chhachhruali attempted suicide by consuming phenyl here last evening.
Man held for murdering brother
Rewari, February 6
The Rampura police have arrested Anil Yadav of Chandawas village for murder of his younger brother, Bhagmal Yadav, whose body was recovered from a shop at Chandawas village, about 5 km from here, on Tuesday.
Jhajjar power plant bags award
Chandigarh, February 6
The thermal power plant at Jhajjar has bagged the Ministry of Power's Gold Shield award in the category of early completion of the power projects in Haryana. The award was given by Union Minister of State for Power Jyotiraditya Scindia at a function New Delhi. — TNS
Youth consumes poison, dies
Yamunanagar, February 6
A youth allegedly committed suicide by consuming some poisonous substance last night. The police said Rinku (23) of Azad Nagar consumed some poisonous substance owing to alleged family feud. — OC